Vice Provost for Faculty Affairs
UND Provost and Vice President for Academic Affairs Eric Link has named Randi Lynn Tanglen vice provost for faculty affairs following a national search.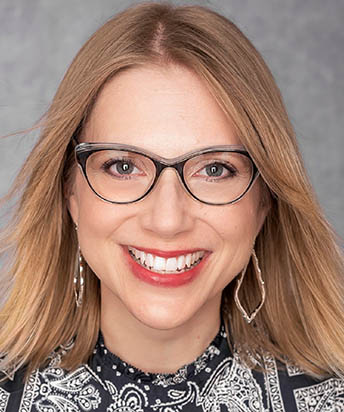 UND Provost and Vice President for Academic Affairs Eric Link has named Randi Lynn Tanglen vice provost for faculty affairs following a national search.
Tanglen's appointment is effective Jan. 17, 2023.
Originally from Sidney, Mont., Tanglen is currently executive director of Humanities Montana, a nonprofit affiliate of the National Endowment for the Humanities in her home state. She has overseen the distribution of almost $1 million in congressionally approved COVID-19 relief funds to cultural organizations throughout Montana.
"I was inspired and energized by the conversations I had with UND faculty and staff from across campus during the interview process, and I am honored to be joining the dedicated team at the University of North Dakota," Tanglen said. "I am grateful to Provost Link and the search committee for this opportunity to work in the service of faculty excellence, achievement and support at such a remarkable institution."
Prior to her role with Humanities Montana, Tanglen was a faculty member at Austin College in Sherman, Texas, and was promoted to the rank of full professor of English in 2019. While at Austin College, she served as director of the gender studies program, interim chair of the English department and director of the Robert and Joyce Johnson Center for Faculty Development and Excellence in Teaching.
Tanglen has degrees from Rocky Mountain College (B.A., English Education), the University of Montana (M.A., English), and the University of Arizona (Ph.D., English).
The vice provost for faculty affairs will oversee all aspects of faculty life at the University, including faculty hiring and onboarding, tenure and promotion policy and processes, post-tenure review processes and policy, faculty professional development, leadership training, award and recognition initiatives and other issues related to academic personnel.
Provost Link added that Tanglen's role will be critically important in building up the ecosystem of faculty excellence at UND.
"Dr. Tanglen will provide leadership and support to improve the faculty experience, working alongside them to find ways to expand opportunities, share and celebrate achievements and enhance support structures," Link said. "We are all excited about the impact that this position, under Dr. Tanglen's leadership, will have on our faculty and in helping move UND forward in a positive, collaborative manner."
As chair of the position's search committee, Jeff Holm, vice provost for strategic programming and special initiatives, expressed his appreciation to the committee members and the UND community for contributing to an effective and rewarding search.
"I am extremely happy that Dr. Tanglen will be joining us at UND as our Vice Provost for Faculty Affairs," Holm remarked. "She will play an important role in our continuing efforts to develop and sustain an excellent faculty across all academic units. She is enthusiastic, personable, energetic, collaborative, and a good listener. Dr. Tanglen also understands the importance of a liberal education and has been successful in scholarly/research activities within her own field.
"I am really excited about the ideas she shared during her visit about how faculty might connect with stakeholders around the state to communicate how relevant and important their work is for both the personal and the public good."