North Dakota Safety Framework Practice Model: Part II Training
Protective Capacity Family Assessment, Case Plan, & Protective Capacity Family Progress Training
**Training opportunity for those who have completed the
initial Safety Framework Practice Model training in the fall of 2020**
Participants will be trained on the four different stages of the Parental Capacities Family Assessment along with the Case Plan and Protective Capacity Family Progress tools. This will include the objectives of each stage, how to facilitate each stage, and how to use the Parental Capacities Family Assessment form for North Dakota.
Learning Objectives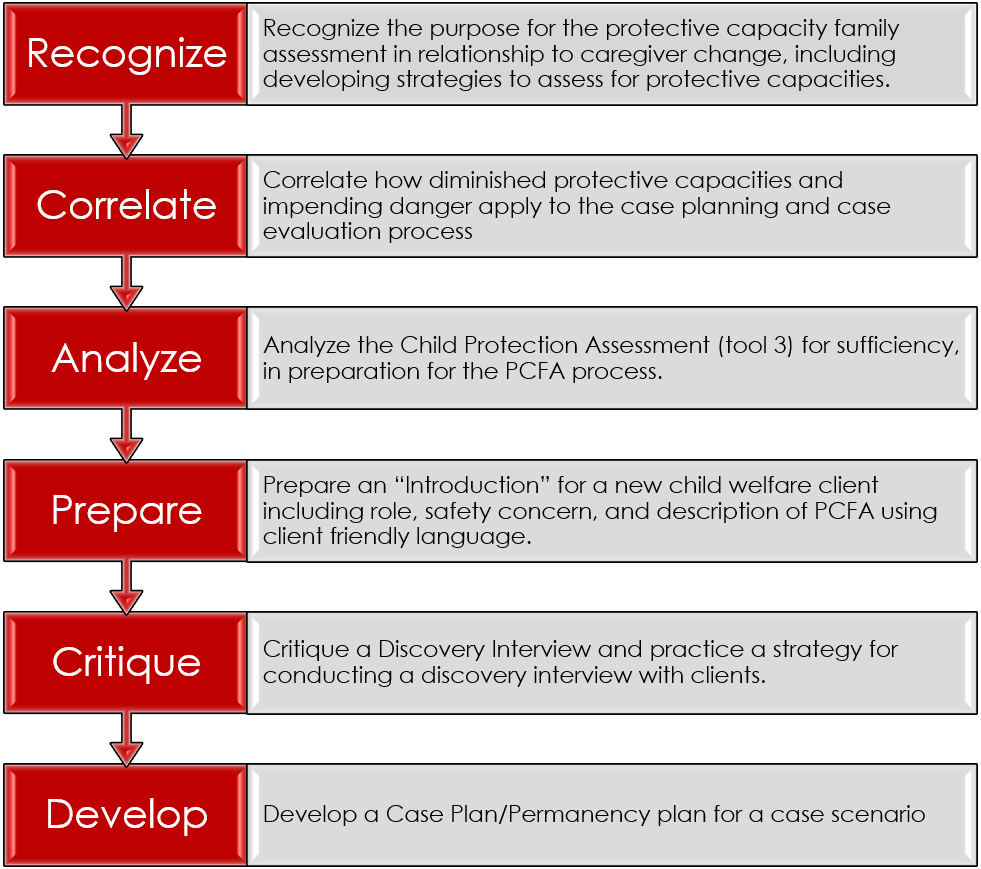 The online, live training will consist of two days from 9:00 a.m. to 3:00 p.m. Central Standard Time. Both days of training are required for Child Welfare workers and supervisors. It is critical that attendees not schedule meetings and home visits during this time as this is mandatory training and is critical to all programs within the Child Welfare system. Attendees must have the ability to concentrate on the framework as well as actively participate in the productive discussions and small group work on how to implement it into their day to day work with children and families. Handout material for the training will be emailed to attendees the week prior.
Since the training will be held online, attendees will need to be present on a computer, laptop, or device where a camera and a microphone can be in use. The camera should be on at all times during the training so that we can ensure that individuals are present and being a part of training.
We will provide up to 10 hours of NDBSWE Continuing Education Units for the online training as it is considered a live training. CEU certificates will be emailed to attendees after completion.

Again, all attendees must have completed the initial Safety Framework Practice Model training in the fall of 2020 to attend this PCFA training.
Child Welfare workers scheduled to complete Child Welfare Certification in the
Spring 2021 Cohort, would not need to complete the following training as this
material will be covered within the certification process.
Registration is available for the following cohorts:
The maximum number of attendees allowed in one session is 33. If the minimum of 20 attendees is not reached for each session, we reserve the right to combine cohorts. Please chose one of the following options to register by clicking in the red box.
Cohort 1 (Supervsior Session): January 13 & 15, 2021 (session complete)
Cohort 2: January 20-21, 2021 (session complete)
Cohort 3: February 1-2, 2021(session complete)
Cohort 4: February 4-5, 2021 (session complete)
Cohort 5: February 8-9, 2021 (session complete)
Cohort 6: February 22-23, 2021 (session complete)
Cohort 7: March 9-10, 2021 (session complete)
Cohort 8: March 22-23, 2021 (session complete)
Cohort 9: March 25-26, 2021 (session complete)
Cohort 10: March 30-31, 2021 (session complete)
Cohort 11: April 5-6, 2021 (session no longer available)
If you have any questions or concerns, please email us at und.cfstc@und.edu