As a young girl, Rebecca Seemann spent back-to-back summers with her family trampling the wooded trails in search of geocaching treasure in every state park in Minnesota.
That's 66 parks in all, and the family sometimes hit as many as four parks in one day.
The treasure might have been a simple collectible card describing the habitat of the ruby-throated hummingbird or the native blue darner dragonfly. But Seemann said you could learn a lot more if you were paying attention.
And that's exactly what the home-schooled Seemann did while growing up outside the tiny town of Zumbro Falls, Minn. She had a way of looking at the world a little differently. Leaves weren't just leaves. And dirt was never just dirt.
"I always liked to know all the little details," Seemann explained. "I liked getting down close to the leaf to see all the little patterns and cells. And with soil, too, there are so many different types to compare. You could rub it onto a page and get like a million different colors.
"You look at it and think it's just dirt, but no, there's so much more that goes into it. If you pay attention to the details in your environment, there's always another layer of information and another layer of cool things happening."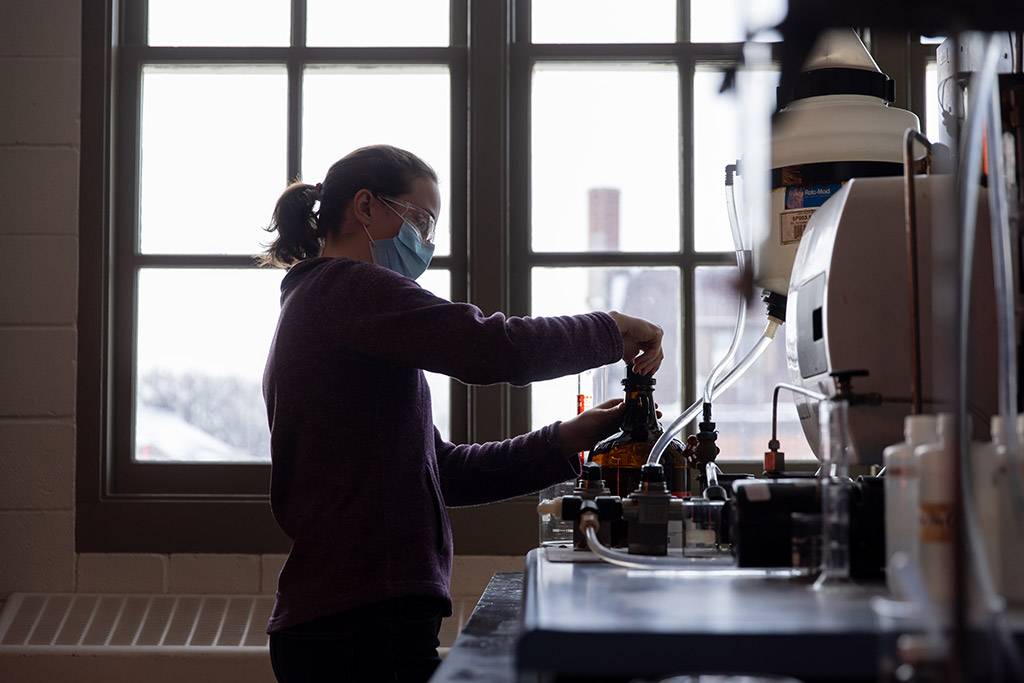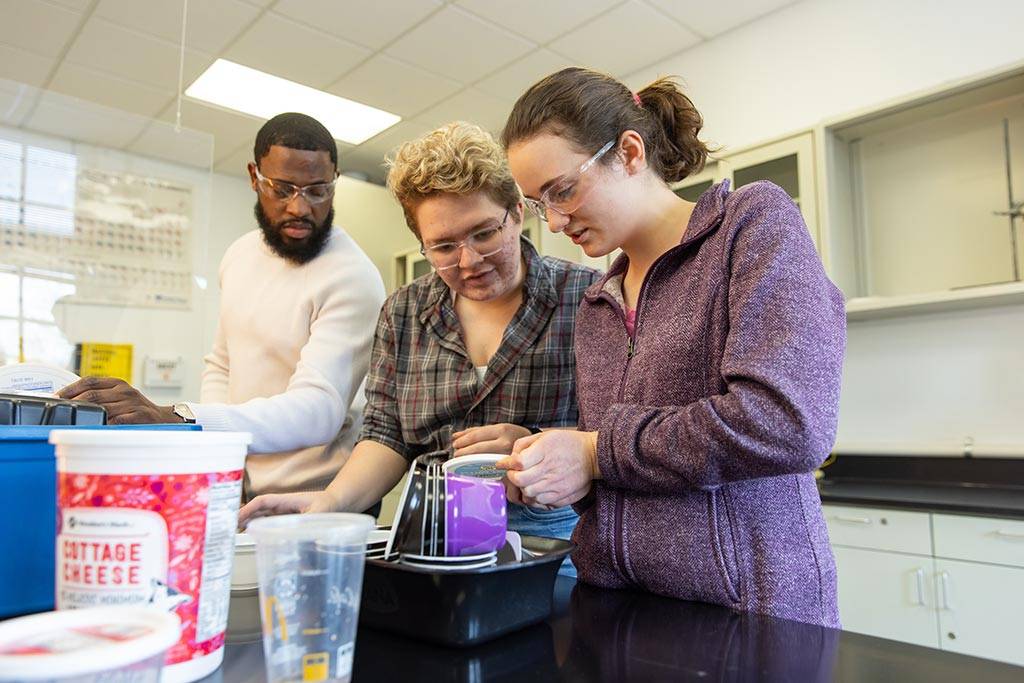 And so it is with the chemical engineering degree program at the University of North Dakota. The program is the perfect catalyst, Seemann says, for turning her talents, background and interest in the natural world into a rewarding career.
"I really love the environment, and I want to preserve it," she said. "The cool thing about chemical engineering is you can go anywhere and do anything, and at UND the instructors and advisors are incredible. They'll work with you and tailor your courses to your own unique career goals. That's kind of their trademark."
It also was a key reason Seemann knew UND was the right fit. She had considered another university but said UND kept "checking all the boxes." For example, Seemann has multiple dietary restrictions, so it was no small potatoes for her to discover UND's large variety of allergen-free meal options.
"It's all good, and it's all something I can eat," she said. "I've gotten to know the cooks, and they're all experts at their jobs."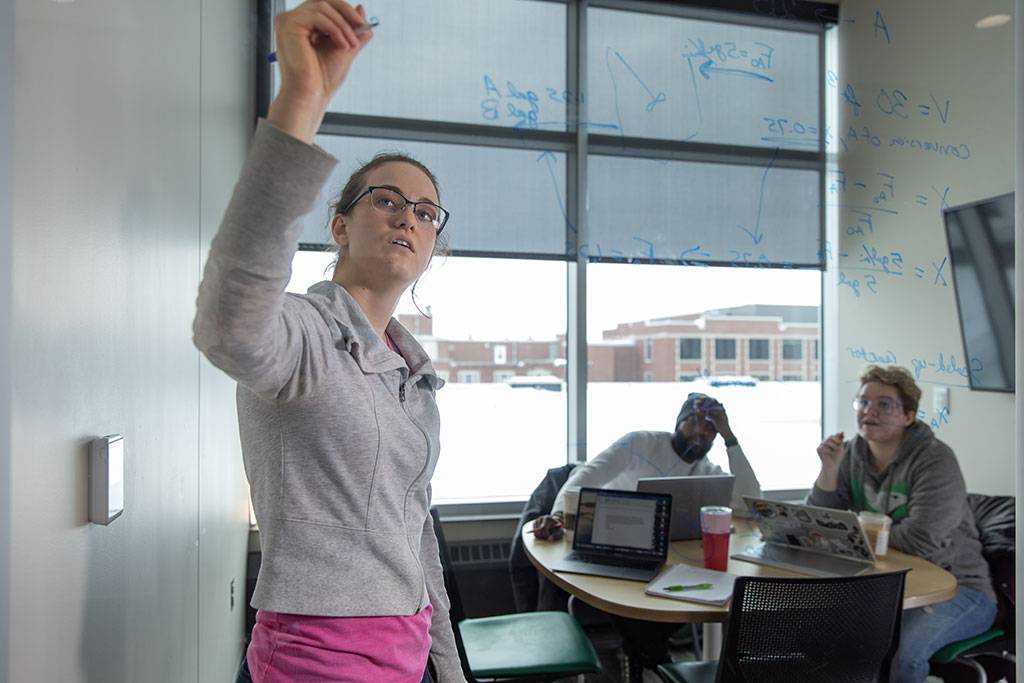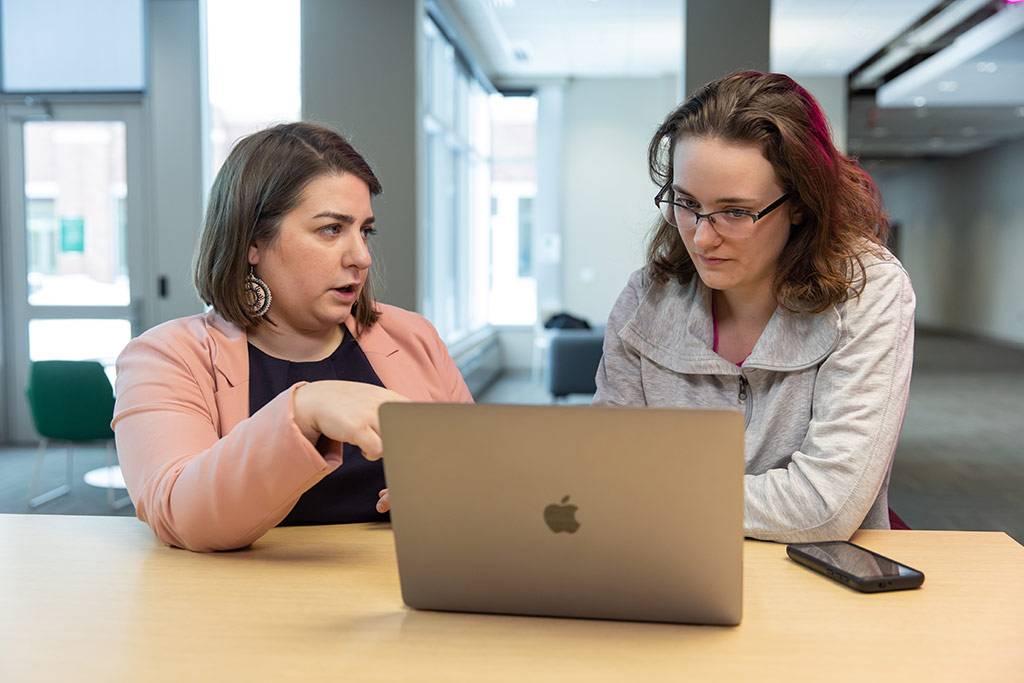 Just as important to Seemann was how easy it was to transfer her college credits. As a high school junior and senior, she had taken classes at a community college and already had racked up an impressive 87 credits and two associate degrees before coming to UND.
Ultimately, every credit transferred, Seemann said, leaving her with only the chemical engineering-specific courses to take.
After she was enrolled at UND, Seemann said her professors were accommodating again when she was offered a six-month internship at Boise White Paper in International Falls, Minn.
"Before I could accept, I needed to know if it was going to work out with my classes," she said. "I asked three different instructors, and they all came back with the same answer: 'We'll work with you. Don't worry about it. We want you to have this great opportunity.' "
At UND the instructors and advisors are incredible. They'll work with you and tailor your courses to your own unique career goals.
And she's glad she did, because it was an internship like no other. Seemann quickly proved she could fill the shoes of full-time employees on the environmental team — first, jumping in for a colleague on maternity leave and later, taking on the role of the wastewater engineer after that executive took a promotion.
Seemann then wound up training the new wastewater engineer, too.
One of her biggest responsibilities was managing the company's industrial landfill. This included regular sampling, upkeep, maintenance and inspections. In the end, the mill manager applauded her by name and said she'd been a good influence on not only the department but the whole mill.
"Every day I was learning," Seemann said. "I look back and think, 'Wow, you really trusted an intern with that?' I'm just glad I could live up to their expectations because it was an amazing experience."
For now, Seemann doesn't know what the next adventure will be. But she does know that thanks to UND's chemical engineering program, she'll forever be looking at leaves and dirt and dragonflies in a whole new way.