Always ready. Always there.
It's more than just a motto for the U.S. Army National Guard. For UND senior Zachary Fischer of Horace, N.D., it's a whole way of life.
The standout music education major and 22-year-old sergeant with the North Dakota Army National Guard's 188th Army Band takes those four words to heart. He's on a mission to spread a lifelong love of music to as many people as he can, and that's not exactly light duty.
It will take skills, teamwork, leadership, camaraderie and a good dose of discipline. Luckily for him, Fischer says, that's just what he's learning at UND.
I was really drawn to UND by the faculty's professionalism and excellence and how much they care for each of their students.
Up and at 'em before 7 a.m., he juggles a full load of classes with regular band rehearsals and hours of practice on multiple instruments — the saxophone is his favorite, but he also plays the piano, trombone, flute, guitar and pretty much everything else.
"It keeps me busy, but I enjoy the busy. I know that every experience I'm having at UND and in the 188th is going to help me in my career," Fischer said. "Music really is my passion, so my time in the practice room doesn't feel like it's something I have to do. It's something that I want to do."
And that amounts to some serious dedication when you're performing at dozens of military functions and public concerts a year — and sometimes, even two shows in one night.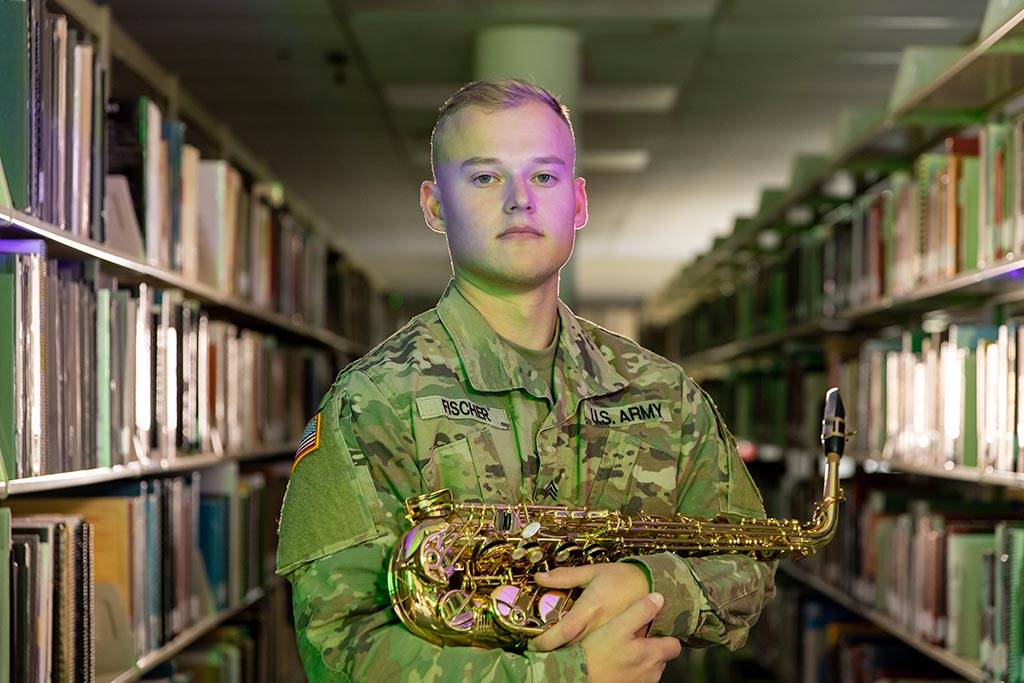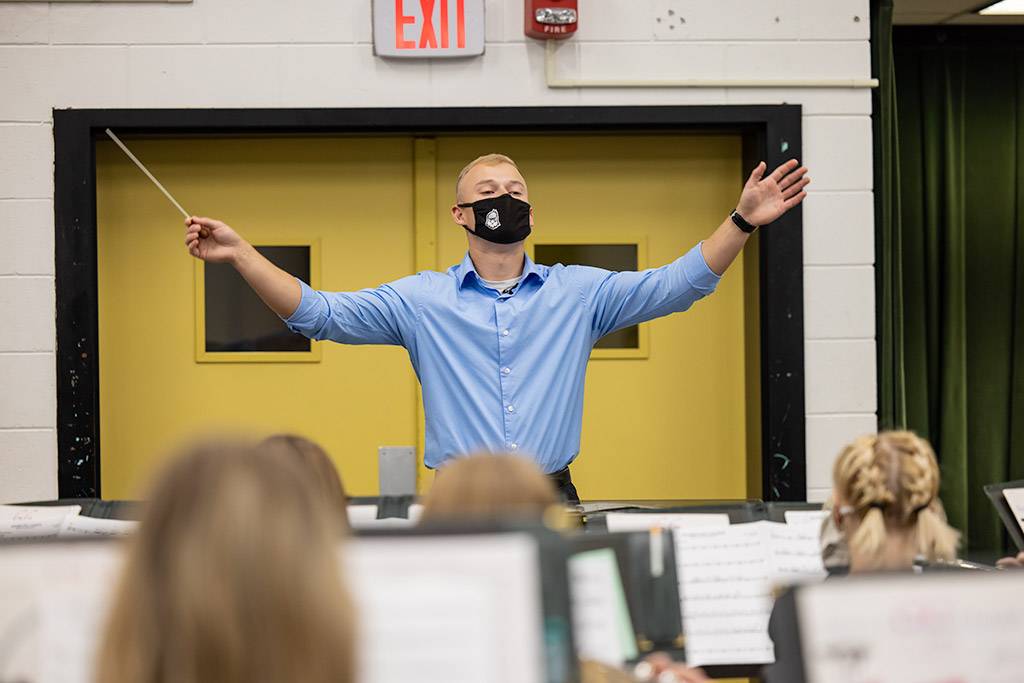 A member of the University Band and UND Wind Ensemble, Fischer also plays with the 188th's concert, marching and jazz bands, along with its saxophone quartet and pop rock band, The Blues in Green.
As the only face of the military that some people will ever know, the various groups perform in parks, schools and other community events statewide.
Between those performances, once-a-month Guard drills and everything else, Fischer also finds time to tackle his homework, go to the gym, manage his Guard unit's website, provide military honors at funerals and give saxophone lessons to four of his own students at Popplers Music in Grand Forks.
"One thing we love to say in the Guard is 'embrace the suck,' " Fischer said with a laugh. "When things get tough, you just have to brace yourself, buckle down and drive through it to get it done.
"It's definitely a balancing act, but it's a really good way for me to boost my knowledge and experience on the music side of things as well as my leadership going into the music education field."
Of course, there are other perks, too. The North Dakota National Guard offers 100% tuition assistance, and he gets a $397 monthly stipend through the GI Bill.
Plus, Fischer says, the work doesn't seem so tough when you're having fun and everyone feels like family. After all, that's what brought him to UND in the first place.
"I was really drawn to UND by the faculty's professionalism and excellence and how much they care for each of their students," he said. "They create such a great family dynamic, and the students really connect as well. We're such a tightknit group, and I've made a lot of connections I'll stay in touch with for life."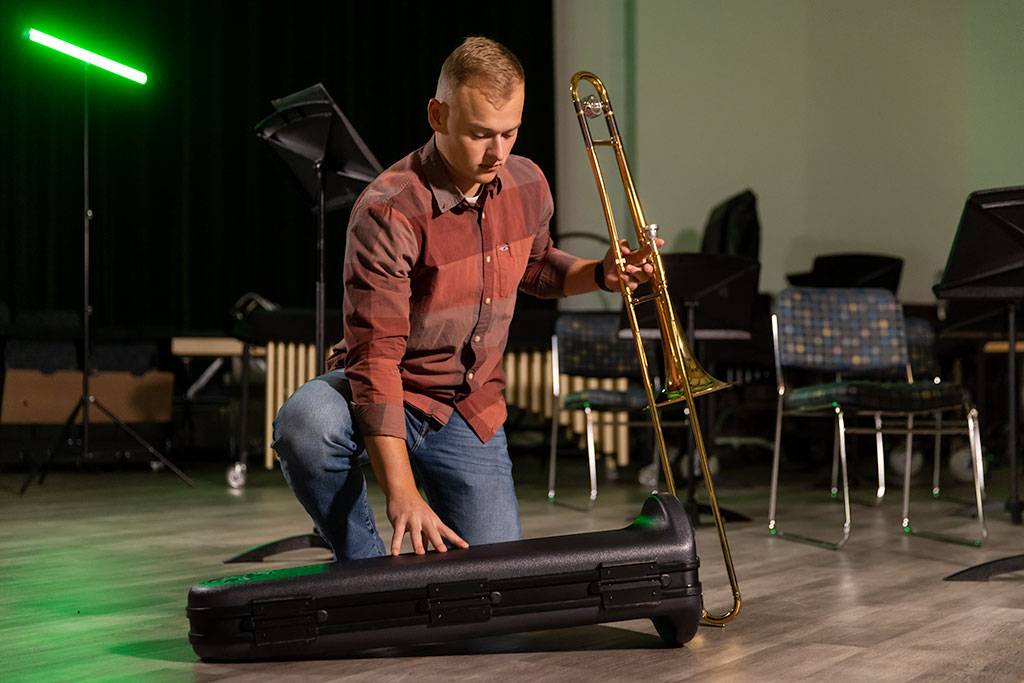 His professors both challenge and inspire him to dig deeper into his passion for music so he can share it in new ways with his students.
Borrowing a quote from his high school band director and current unit commander, James Landman, Fischer said, "I don't think I ever want to leave the stage. I want to be making music with my students until I can't physically walk up on stage anymore."
"I don't need a big, fancy job. I want to be the (high school) band director who's there to have fun and help his students — and supplement that with the military so I can keep performing and connecting with people."
For that, Fischer is always ready. Always there.