Boots to Business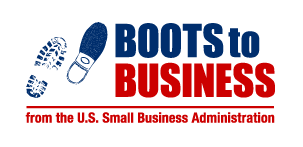 Boots to Business (B2B) is an entrepreneurial education and training program offered by the SBA as part of the Department of Defense's Transition Assistance Program (TAP). This course is open to service members (including members of the National Guard and Reserves) and their spouses.
During this training workshop you will learn about business start-up, market research, financing your venture, picking the correct legal entity, and more, including information about the resource partners available to help you along the way.
2023 Boots to Business Dates
January 18-19
April 19-20
July 19-20
August 9-10
October 4-5
January 17
March 23
June 22
September 21
December 14
January 10-11
April 11-12
August 29-30
October 3-4
Review the national calendar of course dates, create a profile and register for a class near you today!
Boots to Business Benefits