Space Reservations
Host your next graduate-related meeting or event at the Gershman Graduate Center.
Graduate students and the campus community may reserve space, free of charge, for purposes of graduate education.
Gershman Graduate Center Reservations
Please allow 1-2 business days for your request to be processed. Space reservations are not guaranteed or confirmed until an written confirmation has been issued by the Gershman Graduate Center to the person making the request and all other applicable UND event approvals have been granted.
Reservation Guidelines
Booking requests for general meetings and special events can only be scheduled for the current semester and during normal business hours, Monday through Friday.

Space requests for the Fall 2023 semester will be accepted beginning July 1. Space requests for the Spring 2023 semester will be accepted beginning November 1.

Space requests for events held on the back patio and green space will no longer be accepted for the Fall 2023 semester and will begin again in the Spring 2024, beginning May 1.

To view a calendar of room availability after logging into the online portal, go to "Event Book" in the left navigation bar.
Please email gershmancenter@UND.edu or call 701.777.2850 with any questions you have about space reservations.
Event Approval
If your event involves the use of any additional items/services food, alcohol, parking, security, minors attending, guests attending from outside the UND campus community and/or your event has an anticipated amount of 50 or more attendees, you are required to complete the Event Approval Form for Public Safety at least two weeks prior to your event.
When submitting your request, please add Julie Bean as the Gershman Graduate Center building contact on the event approval form.

Requests for alcohol exceptions must be submitted at least three weeks prior to your event.
The Gershman Graduate Center staff will coordinate the use of space and reservations, but is not responsible for event planning or coordination of activities. Authorized representative(s) using the Gershman Graduate Center are responsible for their own event planning and coordination of activities for their event within the space.
Building and Reservation Policies
Responsible parties who reserve space at the Gershman Graduate Center will be responsible for ensuring that all building and reservation policies have been followed.
Meeting Rooms & Event Spaces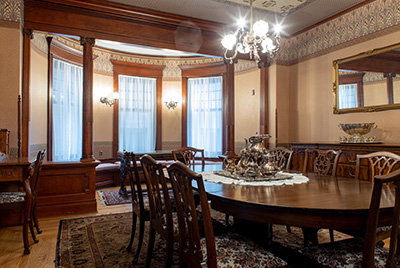 This meeting space consists of the entire first floor level to include a music parlor, library parlor, and dining room. Vintage living and dining room furniture is located throughout the space.

The dining room seats up to 8 people and alcove in the dining room seats six. The music and library parlors seat up to 7 people each. Comfortable standing room capacity is 36.
Max standing room capacity is 45.
Groups of 10 or more with a max capacity of 45 are welcome to reserve the space.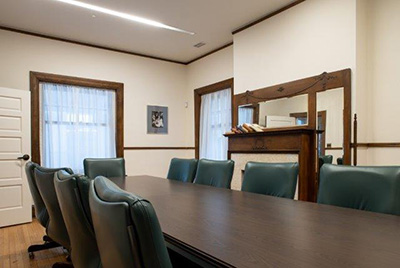 This meeting room is ideal for groups of 10 or less.
The space includes a fixed conference table, conference phone, 65" TV, computer and microphone. Wireless connection for laptops.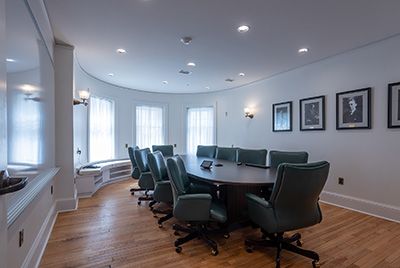 This meeting room is ideal for groups of 10 or less.
The space includes a fixed conference table, 75" TV, computer for web meetings, wireless connection for laptops, and a conference phone.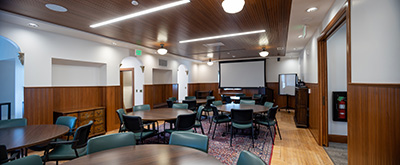 This confirgurable meeting room allows for a variety of meeting and event activities. The space contains 6 round tables with six chairs each. The room can be configured either in banquet or theatre style seating. Banquet seats up to 36 and theatre style seats up to 48.

The space includes a 110" projector screen/projector, ceiling speakers, two wireless microphones, two cameras, computer for web meetings, wireless and direct connection for laptops.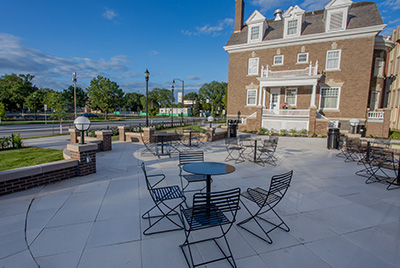 The patio and green space behind the Gershman Graduate Center will be available for special events beginning Summer 2022. Space requests will be accepted for dates no earlier than May 16, 2022.

Space includes 6 patio tables with 4 chairs each. If additional seating is needed, guests will need to reserve additional seating through UND Facilities in consultation with Gershman Graduate Center staff. Patio furniture cannot be removed without prior consent from GGC building management.

Guests reserving the space will be encouraged by GGC building management to develop a back up plan in the event of rain.

24 guest minimum to reserve the space.
Meeting & Event Resources
Catering
For Spring 2022 events that include food, contact University Catering or any licensed food vendor.
Alcohol
For events that include alcohol, submit your request for an alcohol exception.
Parking
Parking arrangements for your event must be prearranged through Parking Services.
Marketing
Utilize digital signs throughout campus to market your upcoming event.
To promote your event or check out others, visit the

Events Calendar.