An Academic and Athletic Force
In a soccer match last season, Katie Moller received a pass and errantly kicked the ball down field. She turned away, disappointed in her effort, only to hear her teammates shouting, "Goal!"
"That is why you always shoot," Moller said, reminiscing about the game. "That is why, no matter what, you take your chances because you don't know what will happen. I think that was the epitome of my career here. No matter what, you need to keep trying."
Moller has more than tried. She concluded her last season with 15 goals, an enviable tally that ranks fourth in the history of UND and the Summit League. Her career total of 31 goals is best in UND's Division I era.
Moller is also a double major in physics and communications, and in her "free" time volunteers for a number of causes.
"Katie is one of the best players I have had the privilege to coach, and she is a wonderfully entertaining to watch," said UND soccer coach Chris Logan.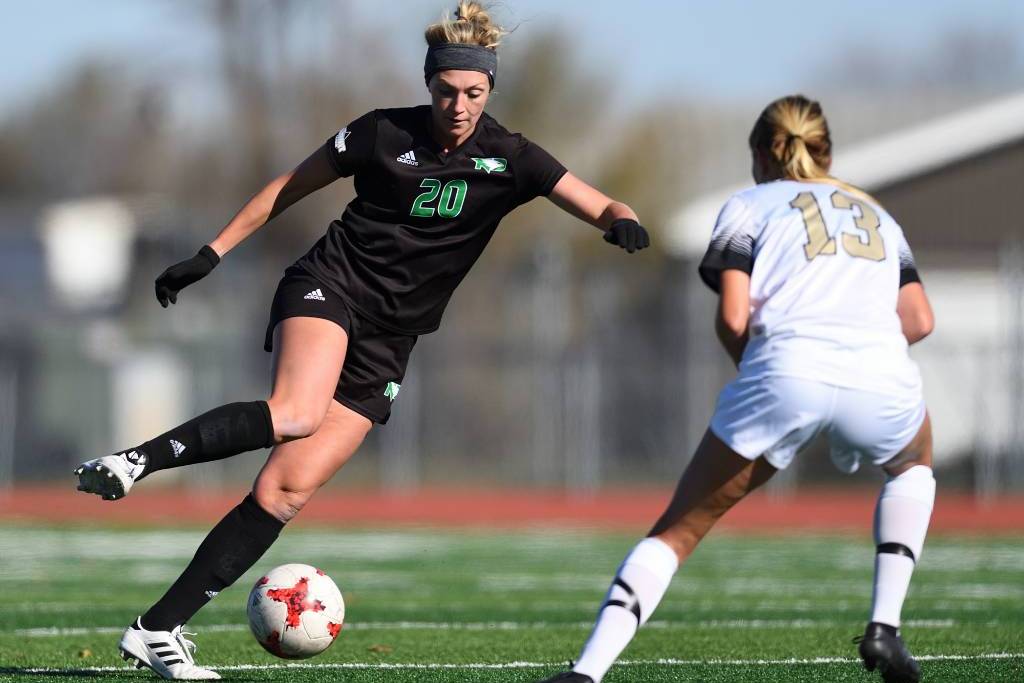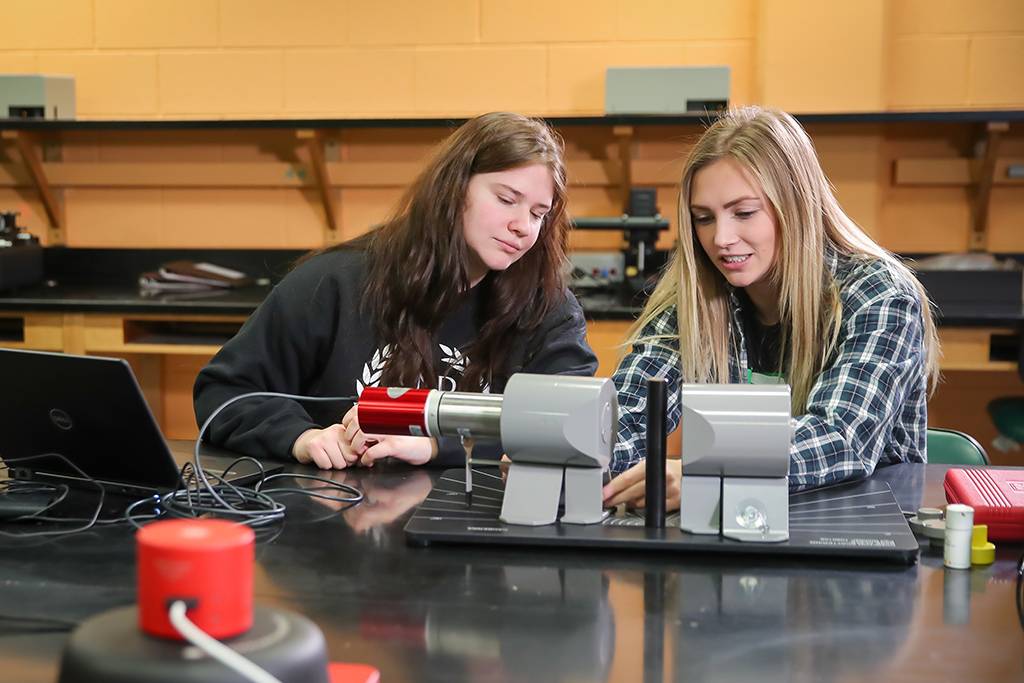 In a testament to her athletic skills, Moller earned the 2018 Summit League Offensive Player of the Year as well as the Senior CLASS Award Second-Team All-American recognition.
"It makes me feel good," she said humbly, "but the biggest thing is that these are not highlighting my accomplishments as much as they are highlighting my team's accomplishments and how far we have come."
Despite her personal success, Moller's aptitude to switch the spotlight to the collective seems instinctive. It's a trait that was engrained in her as three-year old girl from West Linn, Ore., who took to soccer alongside her male cousins.
A decade or so later, Moller pondered quitting the sport. She wanted to be a regular college kid, free of the demands imposed on student-athletes. When seeking financial aid, however, she reconsidered. Several other schools extended soccer scholarships, but she opted for UND.
"I came out and visited, walked on campus and instantly fell in love," she said. "I was like, 'This is home. This is where I need to be.' I took a chance at UND and it ended up being the best decision I have ever made."
I took a chance at UND, and it ended up being the best decision I have ever made.
At UND, Moller quickly proved her knack for the game. In her sophomore year, she became a team captain, tasked with upholding flair and morale.
"I think it was just really cool to help people grow," Moller said, brushing away the personal sacrifices that accompanied the role. "As a captain – that's kind of your responsibility."
Moller's responsibilities rarely ceased off the field, where she studied physics and communications.
Keeping up with a scientific education, a second major and soccer matches was daunting, leaving little time for anything else. Some peers and teachers even encouraged her to focus on academics. Excelling at all of it sounded unfeasible. Moller proved them wrong.
"I live in the physics classroom, and I live on the soccer field," Moller said. "In the classroom, I am the jock, and at practice, I am the nerd. I am most proud that I never let anyone tell me who I should be."
Moller is more than a woman of science and scoring machine in soccer. She's also a passionate volunteer. In the summer leading up to her senior year, Moller journeyed to Guatemala to work with rural communities. She also trained children with the Greater Grand Forks Soccer Club. With her team, she has taken part in so many charitable events that she lost count.
"Someone was telling me my total volunteer hours – I have no idea," she said. "To me, it is not the hours, it is the reason why I am doing it. I am doing it to interact and truly get something out of it for me and the people who I am serving."
Graduating in 2019, Moller has hung up her cleats for good and is venturing into science communication. She aspires to translate complex scientific breakthroughs to the public in plain terms.
She also hopes to inspire other women to pursue degrees in STEM (science, technology, engineering and mathematics) fields.
She intends to make an impact.
Major:

Physics & Communication

Hometown:

West Linn, Ore.

Goals Scored:

31, a UND Division I record