Brock Boeser Credits UND for Hockey Success
Before this year's NHL All-Star game in Tampa Bay, Fla., Brock Boeser took a moment to reflect.
As the 20-year-old sat in his locker — the same locker he used two years earlier when leading UND to a national championship — it didn't take long for the memories to flood back.
"There are so many things that UND taught me," Boeser said. "It grew me into the person I am today. Obviously, I could still be playing there, but things have worked out so far."
No doubt.
NHL All-Star Game MVP, runner-up for the NHL Rookie of the Year, numerous national accolades. Not bad for a would-be "senior" at UND this fall.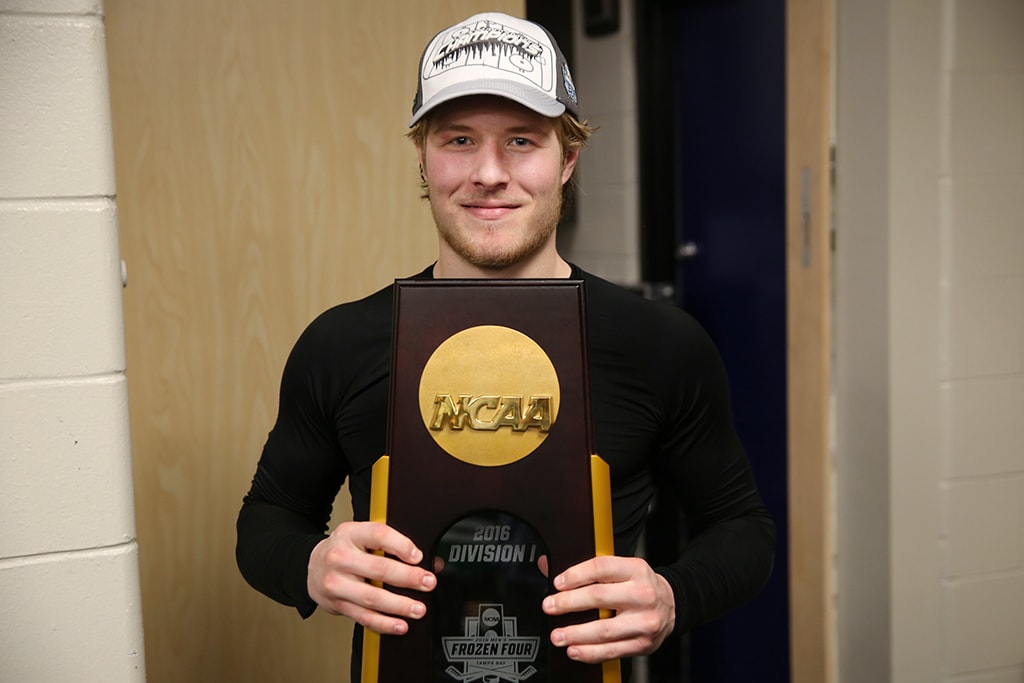 It nearly didn't happen. The Burnsville, Minn., native was set to attend a larger university in the Upper Midwest, but his plans changed.
When he set foot on the University of North Dakota campus, he knew it was the right place.
"I didn't know what to expect," Boeser said. "I just remember there were no students since it was Thanksgiving break, but The Ralph was still sold out. It really showed how much the community loved the school."
"It was smaller compared to other places, but I really like that," he said. "I really like the set-up on campus, where freshmen live close to everything and you meet everyone."
There are so many things that UND taught me. It grew me into the person I am today.
The people, Boeser said, are what stands out about his time at UND.
"Living in the dorms the first year, you really meet a lot of people who love UND," Boeser said. "Not just your teammates, but people from around Minnesota to Bismarck to Grand Forks.
"I've met a lot of alumni from hockey and doing events at football games. Everyone is supportive."
Boeser has his eyes on an even better sophomore season in the NHL. He's been working hard this summer to bounce back after an injury cut last season short. Plus, he plans to take a few online courses to continue his education, hoping to add a degree to that national championship ring.
Hometown:

Burnsville, Minn.

One Leader Who Inspires Me:

T.J. Oshie

Favorite UND Memory:

Winning national championship