Public Heath Grad Works to Prevent Suicide
After swiftly catching a small squishy ball, Alison Traynor tossed it back toward the center of an indoor court. The state suicide prevention director was not working out — far from it.
Traynor was at Garrison, N.D., middle school to talk to teachers about suicide prevention. She had asked everyone to play a game in order to share why they would be hesitant to broach the topic.
"What we like to do is get all the fears and barriers around suicide out on the table," Traynor said.
When she began her social work career straight out of a regional university, Traynor, herself, felt unprepared for the gravity of the deeply personal predicaments she had to help resolve.
She did suicide assessment and intervention, often late at night when victims were most vulnerable. It felt like a vocation. But it was also a solemn task that provoked doubt about the methods she frequently used.
"I was Googling how to ask about suicide," she said. "I defaulted to overnight stays or emergency committals because I was so fearful. I felt like if I am under-prepared as a social worker to handle suicide crises, how many other people are under-prepared."
She set to change this. About four years ago, Traynor became the suicide prevention director with the North Dakota Department of Health. The role requires her to handle emergencies, spread awareness, offer training and engage a coalition of volunteers and survivors.
UND has helped me tremendously to feel more prepared to work both with crisis situations but also with administration, with policy, with the legislature.
As a statewide director, Traynor shoulders a responsibility with no respite but enormous rewards. "[The best part] is working with survivors, working with people who have gotten better," she said, "and certainly getting a call from somebody who says, 'Because of the work that you do and the work that your coalition is doing, I got better.' There is nothing greater than that."
Traynor first encountered the transformative power of social work as an adolescent caught in incidental mischief — the proverbial "wrong people at the wrong place."
"I remember I went to a meeting with social workers and they offered me a cup of coffee after I had gotten into trouble as a teen," she said. "I thought, 'Wow, I want to do that. I want to help people at their darkest times or most embarrassing times.'"
And so she does. Yet, two years ago, Traynor decided to return to the classroom. She could deeply connect with those she served but the management of projects and personnel mandated different skills. She enrolled at the University of North Dakota's online master in public health program, acquiring a policy and administration specialization.
"UND has helped me tremendously to feel more prepared to work both with crisis situations but also with administration, with policy, with the legislature," Traynor said. "I would be hard-pressed to find a way that it has not helped me grow my skills."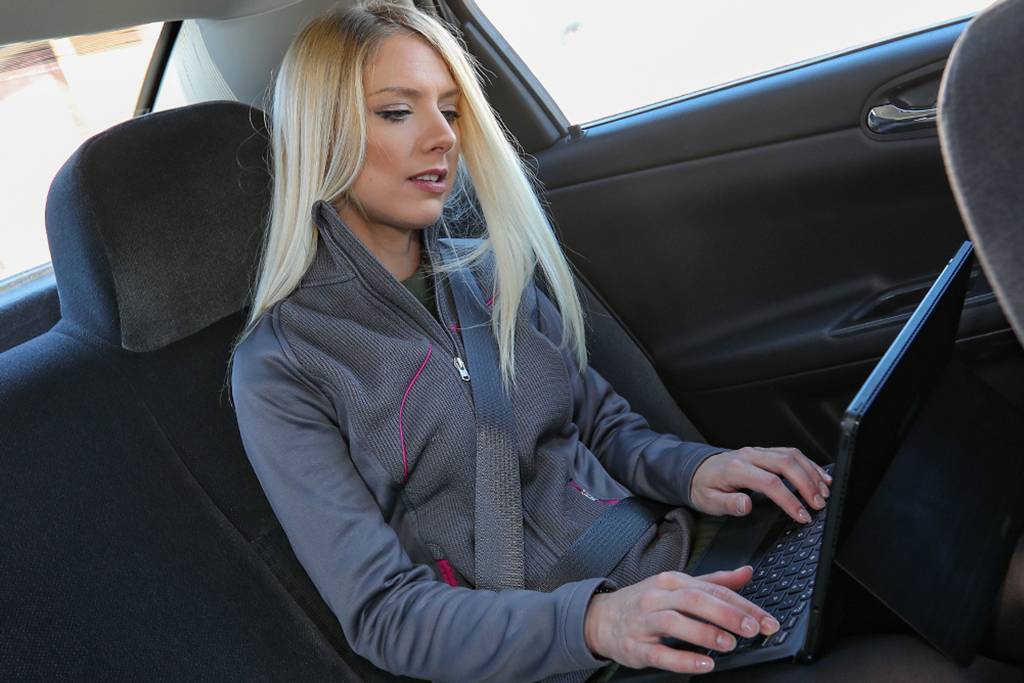 Some of that new expertise Traynor acquired at unconventional locations. She would often log into UND distance classes from a hotel room or the backseat of a car. Yet, regardless of where her schedule took her, she set a goal to visit Grand Forks.
"I could have completed my entire program without stepping foot on campus but, of course, I did," she said. "I traveled there because I wanted to provide presentations in person. I wanted to work with some of my classmates when I had the opportunity to."
Traynor graduated in December 2018. Yet, she is coming back to UND for another degree, a master of social work. For her, it is all about being the best in a profession that could often carve the line between despair and hope for hundreds of others.
Major:

Master of Public Health

Hometown:

Bismarck, N.D.

Profession:

Suicide Prevention Program Director