Trumpeter Takes National Stage
As a young teenager, UND senior Christiena Taralson was certain she'd grow up to work in the medical field. She wanted to save lives and make people whole again.
"I really had my heart set on being a surgeon," she said. "That always was my childhood dream."
And she likely would have followed that path if she hadn't first been stopped cold turkey one November morning in the middle of the Macy's Thanksgiving Day Parade.
The high school junior from Fargo was playing trumpet and just had opened the parade as part of the Macy's Great American Marching Band.
"It was a magical moment. I was playing on Herald Square in New York City. The confetti cannons went off, and I just broke into tears," Taralson said. "I couldn't believe it. Seeing millions of people staring at you. Cameras all over and knowing there were 3 million people watching from home. That's where I decided this is what I want to do for the rest of my life. I was going to be a trumpet performer."
Taralson recently looked back on that life-changing moment and the many rewarding ones she's had since as she followed her dream to the University of North Dakota.
"I toured about seven other schools and checked out all the other music programs. I took lessons from other trumpet professors and was offered a lot of really good scholarships," she said. "But when I met Dr. Ronnie Ingle at UND, I knew instantly he would be able to take me down the right path to succeed. I chose UND because that's where my heart lies. I knew I should be here."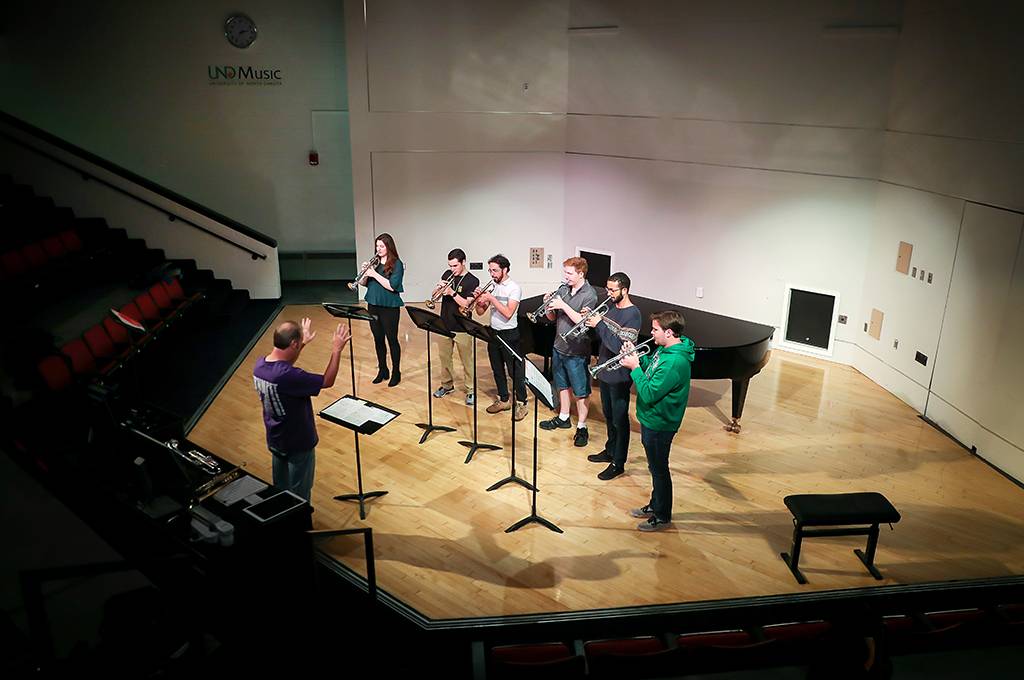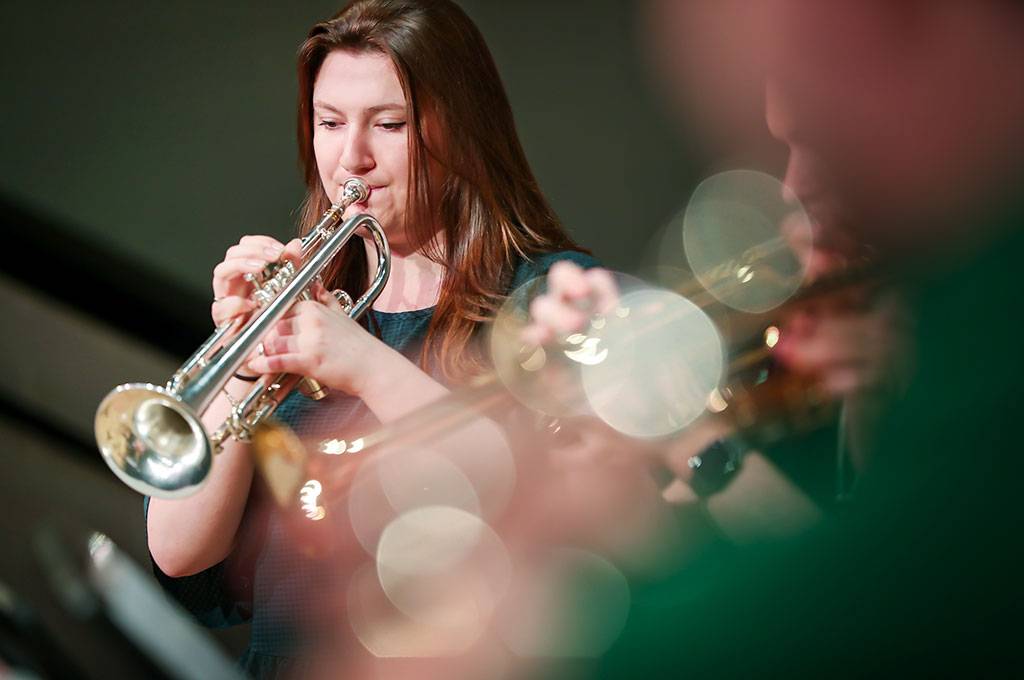 And four years later, she's certain she made the right decision when choosing Music Performance at UND. This past summer, she competed for the first time in the trumpet soloist division at the prestigious Rafael Mendez Brass Institute in Denver. Each year, up to 150 young musicians attend the intense weeklong seminar to learn from the masters — world-renowned faculty and professional musicians — about technical skills, chamber music performance and careers in music.
The students come from everywhere, too. Yale. The Peabody Institute. The Juilliard School. Eastman School of Music. So much top-grade talent in one place can be an intimidating experience. Even so, Taralson kept her wits and took her time as she let her music take the judges and audience to another place.
Shrouded by a stage curtain, the judges couldn't see her performing. Taralson had only her melodic notes to tell the story of a pompous promenade, a graceful ballerina dance and a sorrowful death march.
"I really took my time and centered myself. I wanted to give the music the respect it needed," she said. "I either wanted the judges to love it or hate it. I didn't want them to feel neutral about me. If they hated it … good. At least I knew I got a reaction out of them."
She got more than a reaction. She was awarded first place.
"I won? I couldn't believe it," Taralson said. "That was the talk of the week. Who's this girl from North Dakota? It's really different to switch seats like that and all of a sudden be a role model for these students you looked up to yourself.
"I try not to get intimidated by the Doc Severinsens. They're just another person. I've learned that over my years at UND. I have to get over where they're from. I'm from North Dakota. So what? I can go make it anywhere."
I won? I couldn't believe it. That was the talk of the week. Who's this girl from North Dakota?
Professor Ingle knows she's right about that. He's been teaching students the same lesson for years.
"I don't let my students dwell on the fact that we're not in New York or L.A. They know clearly that doesn't matter in terms of their own success," Ingle said. "Christiena demonstrates the drive, sincere passion and desire to do something great with the trumpet. For Christiena, the sky's the limit. She's going to do anything she sets her mind to, and I'm very excited to see what she's going to do with her career. She's ready to go."
Taralson plans to audition for graduate schools at top trumpet colleges next year. Among the possibilities: Yale, Juilliard and Florida State. Not bad company.
Anyway, those schools don't intimidate her anymore. She's not one to toot her own horn, but she really has met and played trumpet alongside the great Doc Severinsen.
Major:

Music Performance

Hometown:

Fargo, N.D.

Advice:

Find your passion. Go for it. Don't be afraid of it.