Hannah Balderas - Leader in Psychology
Hannah Balderas always keeps in mind the American Indian principle: The decisions she makes today will affect descendants seven generations into the future.
"I want to be a physician and help the seventh generation," Balderas said. "What you do now affects that generation."
That's why whenever an opportunity pops up, Balderas just says "yes."
As a psychology and pre-med student from Twin Buttes, N.D., she is a member of Three Affiliated Tribes and a third-generation UND student whose mother, grandmother, along with many cousins and other relatives, graduated from UND. They pushed Balderas to be involved in student organizations when she joined the University.
Balderas took their advice to heart.
She joined AISES, the American Indian Science & Engineering Society, which works to increase the number of American Indians and other groups in science, technology, engineering and math careers. It was a great fit.
I want to be a physician and help the seventh generation. What you do now affects that generation.
Since Balderas joined AISES, the UND student organization has earned three chapter awards, and Balderas has been named a Sequoyah Fellow, a lifetime member. Named in memory of the Cherokee Indian who perfected the Cherokee alphabet, Sequoyah Fellows are recognized for their commitment to STEM and the American Indian community. They are selected when a donor gives $1,000 to induct a new member.
"I was at a national conference and didn't know I would be inducted," Balderas said. "It was a surprise. To know that someone would donate $1,000 to AISES to induct me made me cry. AISES helped me get a second family. It's a national organization, and I've made friends all over the country who inspire and motivate me. Now I'm motivating others."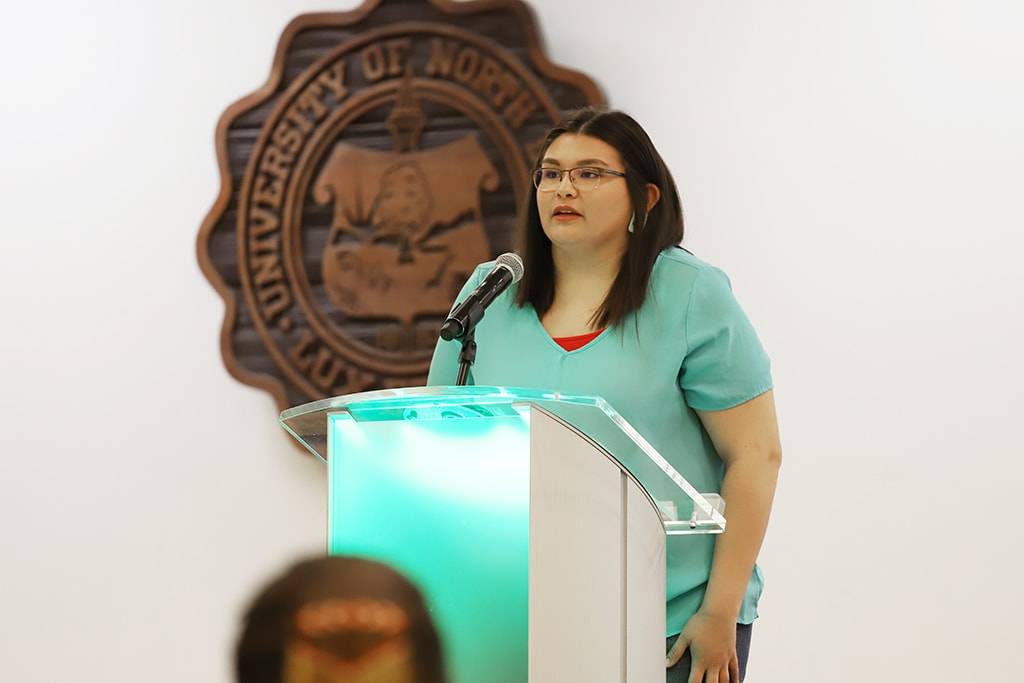 Balderas served as president of the UND Indian Association and the Indian Studies Association. She also was vice president of AISES. She tutors students in the Indians Into Medicine program and also worked for American Indian Student Services as an ambassador and an office assistant, helping to plan events and Time Out Week.
Balderas credits her experience in student organizations with helping her choose a major.
"I changed majors several times and figured out what I want to do through involvement," she said. "Only 12 medical students have graduated from my tribe. A lot of the physicians are non-native and don't understand the culture. It's easier to take care of people when you know their background and incorporate traditional medicines and foods. I want to serve people back home.
"I would not be where I am if I didn't have people who helped on my journey. I didn't do any of this by myself. Their support helps me continue to do what I want to do."
Major:

Psychology, Pre-Med

Hometown:

Twin Buttes, N.D.

Best advice:

Join a student organization