From Follower to Leader
Lauren McCreary always thought she was more of a follower than a leader. And at least in the matters of birth order and college choice, she was right.
A Grand Forks native, McCreary was the fourth and youngest child in the family. Her eldest brother — 10 years her senior — had graduated from the University of North Dakota, as did the brother and sister who followed.
"I guess I had grown up knowing UND all my life," McCreary said. "They sort of paved the way for me, so when it came to applying for college, UND kind of felt like a no-brainer."
But what she didn't know three years ago was just how far she would come. Today, the UND junior majoring in business management is the one paving the way for others.
As a somewhat reserved freshman, McCreary said she never would have dreamed she one day could serve as a student ambassador, be awarded two internships — including one at Walt Disney World — or lead Bek Hall as a resident assistant.
Yet, she's done it all. And she's not finished yet.
At UND, I never felt judged. Everyone was so supportive. And I think because they believed in me, I believed in myself. I found confidence I never knew I had.
Finding her confidence
"I'm usually not that leader type. My nature is more go-with-the-flow … but I also knew I needed to break out of my comfort bubble and try new things if I was going to get the kind of leadership experience I wanted," McCreary said. "At UND, I never felt judged. Everyone was so supportive. And I think because they believed in me, I believed in myself. I found confidence I never knew I had."
Even so, it wasn't always easy, McCreary said. The path to personal growth had plenty of bumps along the way.
For starters, she said she seriously had underestimated the academic rigor of college and the necessary adjustments that come with sharing communal living space with dozens of your peers.
She had been a high school honor student. She'd hung out lots of times with her friends. What could be so different?
"Coming in, I really thought I had a good idea of what to expect," McCreary said with a laugh. "But there were still a lot of surprises. College gave me a real slap in the face. I said, 'This is tough. This is really difficult.' "
Fortunately, she said, she learned those lessons early. It was time for a reset and reality check — so she reached out to her own resident assistant, who turned out to be an inspirational role model.
"She was my rock. She totally got me through my freshman year," McCreary said. "I went to her for advice a lot. She talked me through all my struggles and told me about all sorts of help that UND offers.
"Now that I'm an RA, I really want to give back that way and be that person to lean on and make everyone feel welcome and at home. I want to be to freshmen what she was to me."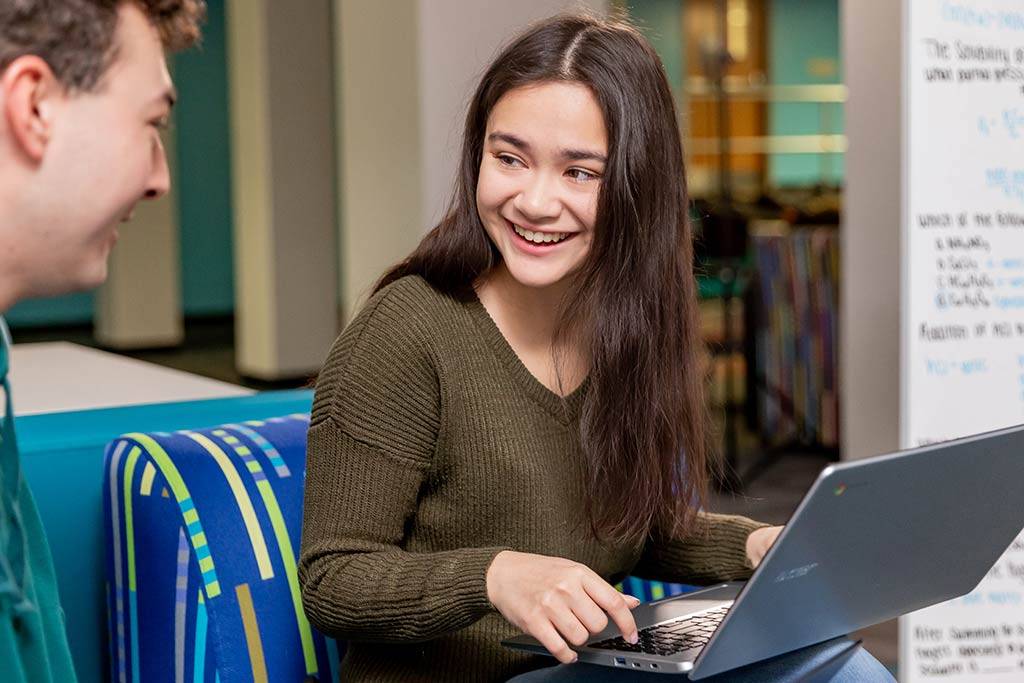 The risk is worth it
McCreary says she's received the same solid support from her professors, academic advisors and campus job supervisors. They were the ones who encouraged her to go for the scary risks. They were the catalyst that helped the follower turn into a leader.
For two years, McCreary worked front and center at the Info Desk in the Chester Fritz Library, one of the most forward-facing spots on campus. As a student ambassador for University Admissions, she led student and parent groups on campus tours. She joined UND's Women in Business Club and also was awarded a videography internship at UND.
And most recently, she landed that coveted Walt Disney World College internship in Orlando, Fla. Nearly 12,000 students apply to the amusement park's popular leadership program each year, but only 2,500 make the cut.
Now just a month away, McCreary says she doesn't know where that next big adventure will lead, but she's certain she'll be ready for the ride.
"I want to show people that even though you're maybe not as outgoing as someone else, it doesn't mean you can't be a leader," she said. "You just can't let the fear stop you from trying. You have to put yourself out there."
Major:

Management

Leadership:

Resident assistant, Admissions ambassador

Internship:

Walt Disney World College Program