Contact
We have three locations to serve North Dakota. Select the location most convenient to you to get started.
Want to stay up to date on the latest information related to procurement and our program? Follow us on Facebook, LinkedIn, or subscribe to our contracting blog.
Bismarck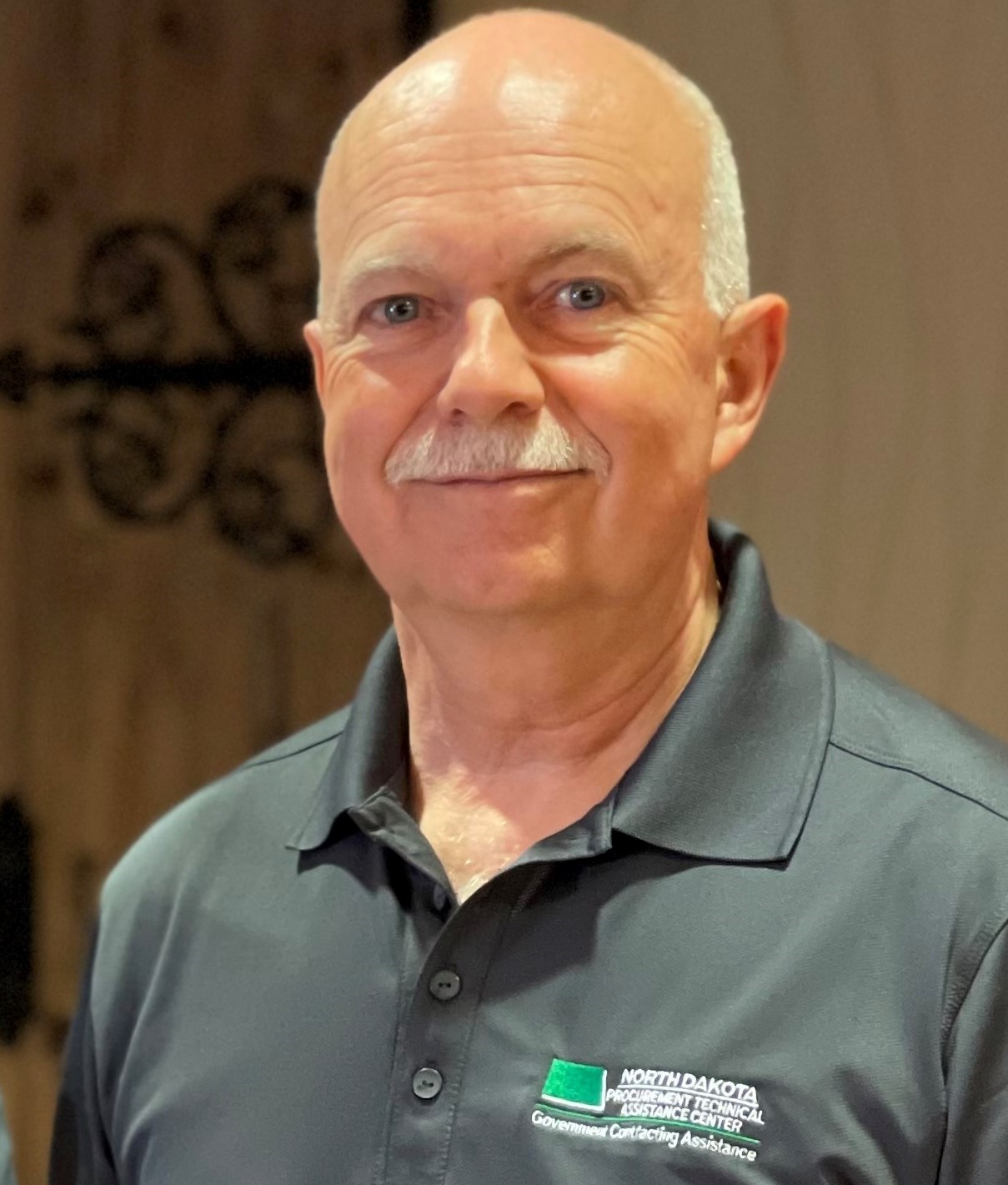 Dave Kleppe
ND APEX Accelerator Program Manager
701.328.5857

1200 Memorial Highway
Bismarck, ND 58504
About Dave
Dave joined the ND APEX Accelerator Program in 2014. He was previously employed with the North Dakota Highway Patrol and retired from the agency as Chief of Staff. His experience includes being responsible for the fiscal management, property and procurement, planning and accreditation, information technology, human resources and training components of the agency.
Dave is certified as a Procurement Officer by the North Dakota State Procurement Office, is designated as a Center for Verification and Evaluation (CVE) Certified Verification Assistance Counselor, and Dave has also completed GSA Schedules training through the Contracting Education Academy.
Dave has taken a leading role in developing the ND APEX client base all across the state, and also building key relationships with program resource partners including multiple state agencies and organizations (ND Department of Commerce, ND Trade Office, ND District SBA office, Air Force bases, Center for Technology, Women's Business Center), regional organizations (economic development agencies, regional councils, certified development corporations, regional Small Business Development Centers), institutions of higher education, and tribal communities. Dave has an exceptional knowledge of the APEX program, its requirements and the subject matter to assist his clients. He holds a Bachelor of Science degree in Criminal Justice from Bemidji State University with a concentration in Business Administration.
Fargo
Cathy Lindquist
ND APEX Accelerator Sr. Procurement Specialist
701.261.0737

417 Main Ave, Suite 202
Fargo, ND 58103
About Cathy
Cathy serves ND APEX program clients across our great state from a Fargo office location. She is designated as a Center for Verification and Evaluation (CVE) Certified Verification Assistance Counselor as well as a Certified Procurement Professional (CPP).
Cathy was executive director of the West Central Minnesota SBDC, located in Moorhead, Minnesota, for more than five years before joining a North Dakota-based engineering firm as its marketing manager. In addition to her years of experience in small business development, she has a background in management, strategy and marketing. She has worked at billion dollar companies and been the first employee hired by a small business – and everything in between. Her dedication and work ethic come in part from growing up on a cash crop farm where finishing everything to the best of one's ability was all in a day's work. Cathy enjoys giving each client personalized care to provide options and solutions.
She and her husband enjoy the outdoors, hiking and visiting historical sites throughout the state and region. Engrained from years of work with small business comes a love of main street and local restaurants.
Minot
Nikki Kallias
ND APEX Accelerator Procurement Specialist
701.340.4343

1925 S Broadway, Ste 2
Minot, ND 58701
About Nikki
Nikki serves ND APEX program clients across our great state from a Minot office location.
She graduated with a Bachelor of Science Degree in Business Administration from Minot State University, with a double minor in marketing and international business. She was a Federal Compliance Officer for more than six years in Minot and also has experience in technical support and cash management.
Nikki is a member of the Minot Chamber of Commerce, participates in Companions for Children Lunch Pal, and is an active member of Sunrise Rotary.