Clinical Psychology Ph.D.
Study human behavior and solve problems as a scientist-practitioner in health services psychology.
As mental health challenges grow, the need for science-based practices and scientifically-based practitioners will continue to increase. UND's Clinical Psychology Ph.D. is accredited by the American Psychological Association (APA). The doctoral program prepares you to work in a variety of contexts in behavioral/clinical science and mental health practice.
Program type:

Doctoral Degree

Format:

On Campus

Est. time to complete:

4-6 years

Credit hours:

92
Why earn a clinical psychology Ph.D.?
Ph.D. in Clinical Psychology at UND
Work closely with experts in the field and licensed professional in the community.

With the INPSYDE scholarship program, UND produced more Native American/First Nations Ph.D. recipients in clinical psychology than any other APA-accredited program.

Delve into research at the Northern Prairie Community Clinic (NPCC).

Earn a stipend as a part-time graduate teaching assistant, and later, off-site clinical supervisee.

Conduct psychological evaluations and perform mental health interventions under the supervision of licensed psychologists.

Complete up to four years of supervised practicum training followed by a full-year clinical internship. You can complete both a master's thesis and a Ph.D. dissertation.
What can you do with a clinical psychology Ph.D.?
Clinical Psychology Ph.D. Courses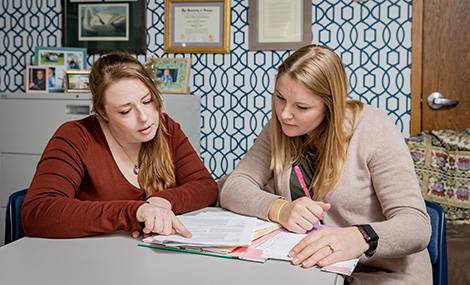 Clinical Psychology Ph.D. Research
Study examines risk factors of sexual abuse.
Why are the daughters of mothers who experienced rape or other sexual abuse twice as likely to become victims themselves?
Learn About The Study