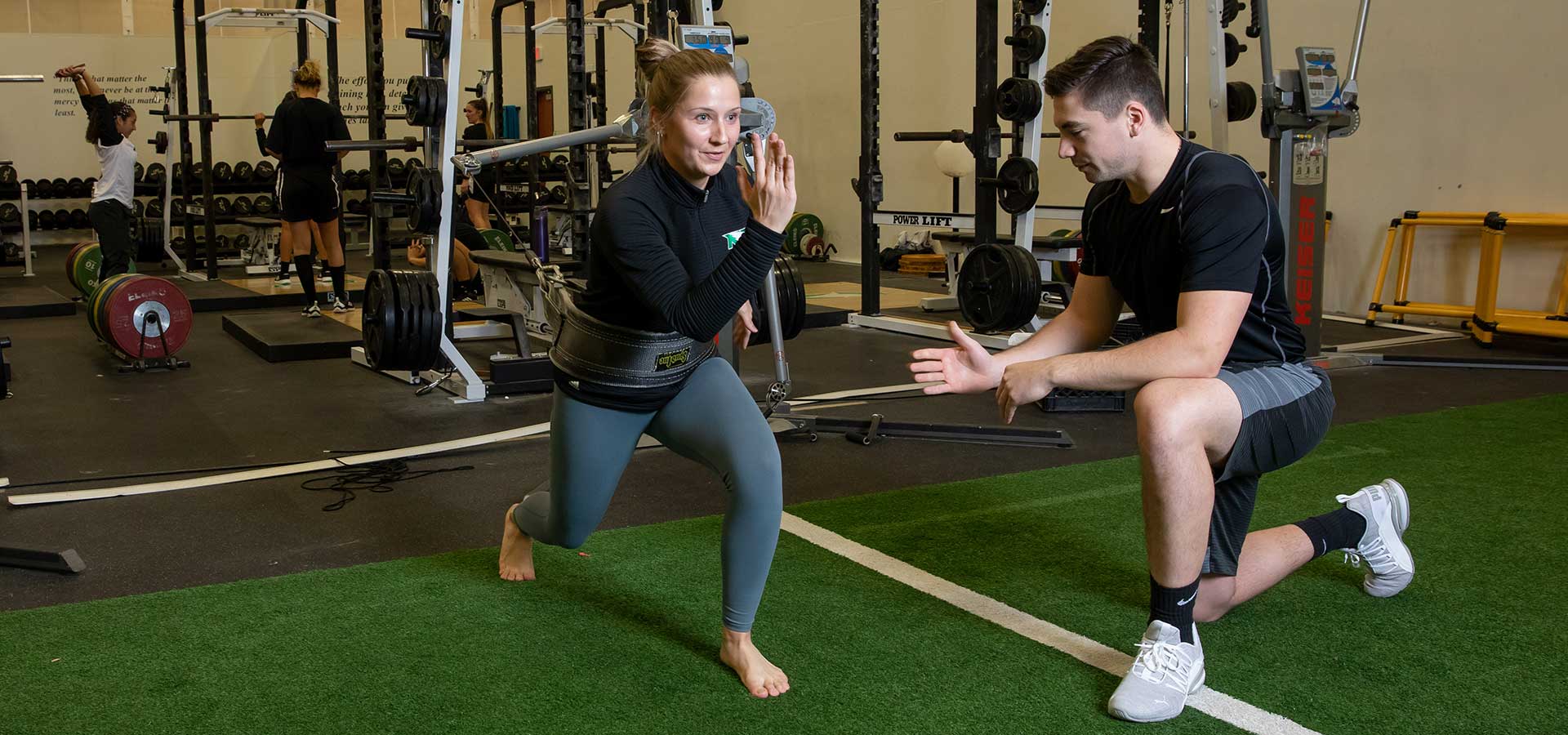 Kinesiology (Accelerated B.S./M.S.)
Become a leader in the fast-growing movement to promote health and fitness.
Health and fitness are critical concerns as rates of obesity, diabetes and other preventable medical problems continue to rise. With an accelerated degree in kinesiology from the University of North Dakota, you'll be prepared to lead in growing specialties such as physical education, coaching, fitness, wellness, exercise physiology and sports training and performance.
Program Snapshot
Program type:

Combined (Major and Master's)

Format:

On-campus or online

Est. time to complete:

4-5 years

Credit hours:

150
Why Study Kinesiology at UND?
Exercise and physical activity positively affect human life physiologically, psychologically and socially. In this industry-relevant degree you will develop a holistic understanding of these impacts.
You can align your accelerated degree with your career aspirations in areas of kinesiology such as exercise physiology, sport and exercise psychology, fitness and wellness, sports coaching and teacher education. You may choose to further your career in industry, academia, or in research with a research institution or university.
Our professors have produced a diverse range of research, breaking new ground in physical fitness and physical activity, anthropometry and sports science, physical performance of athletes and sport and exercise psychology.
With the health and fitness industries continuing to grow, this degree will advance your career possibilities and give you a competitive edge in the workplace.
State-of-the-art Research
Undergrad students play a key role in research projects from the classroom directly into the lab through UND's Biomechanics and Pedagogical Lab. The BiPed Lab allows students to collect 3D Kinematic data through our Vicon motion analysis system. This system gathers infrared light which is reflected off of the unique suits both Erika and Emily are wearing. Specialized cameras collect the reflected infrared data that is converted into a three dimensional representation of the observed activities.
Accreditation
Council for Accreditation of Educator Preparation (CAEP) accredited teacher education program.
Kinesiology is an excellent choice for students interested in health, fitness and physical activity. Our on-campus facilities, such as our specialized exercise physiology and biomechanics laboratories, are a great way to develop practical skills and experience the hands-on nature of this growing industry.

You will learn from world-class researchers (all of our faculty have PhDs), including some of the nation's leading scientists and high performance coaches. Our faculty offers a practical approach to learning, which means you will work on real-world projects and gain direct practical experience.

Work alongside renowned experts in kinesiology, you'll have the opportunity to make a difference in finding solutions to the world's health and wellness challenges.

You'll develop the ability to independently design and execute original research to produce new knowledge.
Job growth outlook for exercise physiologists.*
Projected job growth for athletic trainers through 2026.**
*U.S. Bureau of Labor Statistics: Exercise Physiologists
**U.S. Bureau of Labor Statistics: Athletic Trainers
With a kinesiology degree you will have the opportunity to find work in the sport, fitness and rehabilitation, health, education or recreation industries.
Exercise scientist:

Uses biomechanics, physiology, psychology and performance analysis to assess and improve an individual's fitness, sporting performance and general health.
Strength and conditioning coach:

Prepares athletes for high performance, affording them the greatest advantage in competition.
Personal trainer:

Advises clients on exercise, health, and wellness; develops and delivers individual training programs.
Sports coach/sports psychologist:

Provides expert training advice to athletes and analyzes their performance.
Community and allied health worker:

Supports the work of allied health professionals such as physical therapists, occupational therapists and chiropractors.
Physical educator:

Develops health and exercise lesson plans in line with curriculum objectives and facilitates classroom learning.
Sport development officer:

Coordinates club and athlete participation in sports programs and improves the performance of individuals and teams.
Health promotion officer:

Plans and coordinates health promotion programs for community groups.
Outdoor education and recreation instructor:

Plans and coordinates outdoor group activities.
Researcher:

Plans and conducts laboratory-based investigations, experiments and trials, and analyzes results to broaden scientific understanding.
UND Kinesiology Alumni

Kinesiology alumni have gone on to a variety of successful careers with:
Acceleration
Altru Health System
Coco Enterprises, LLC
Rejuv Medical
Kinesiology Courses You Could Take