B.S. Petroleum Engineering Online
Earn your petroleum engineering degree online from UND while you continue to live and work in your own community.
Petroleum Engineering Online Students
While the majority of your petroleum engineering program is offered online, you'll get to come to the UND campus in Grand Forks, ND to complete portions of the program. Your time on campus is designed to integrate, extend and apply the knowledge you've learned during your online courses. This time may include:
Hands-on labs
Simulators
Opportunities to interact with faculty and other students
As a petroleum engineering student, your are required to attend two labs on-campus. Each lab is one week in length and you'll apply concepts that you've learned theoretically to enhance your understanding of the main concepts that will be reinforced throughout the program.
You also have the opportunity to use the two simulators and visit the North Dakota Geological Survey Wilson M. Laird Core and Sample Library.
The hands on experience necessary for petroleum engineering can only be gained on your campus visit, where you work over a short period of time with dedicated faculty and teaching assistants to build experience and master the job skills you need.
Affordable Online Colleges
UND is one of the most affordable online colleges in the region. For this program, we offer in-state tuition rates regardless of your legal residency. Compare and you'll see UND is lower cost than similar four-year doctoral universities.
Leaders in Online Education
No matter how you customize your online experience, you'll get the same top-quality education as any other on-campus student.
Same degree. All online programs are fully accredited by the Higher Learning Commission (HLC). Your transcript and diploma are exactly the same as our on-campus students.
Same classes. You'll take courses from UND professors, start and end the semesters at the same time and take the same classes as a student on campus.
Real interaction. You can ask questions, get feedback and regularly connect with your professors, peers and professionals in the field.
Your own academic advisor. As an invaluable go-to, they're focused on you, your personal success and your future career.
Free online tutoring. We're here to help you one-on-one at no cost. Plus, get access to a variety of self-help online study resources.
Unlimited academic coaching. Need support to achieve your academic goals or feeling stumped by a tough course? We'll help with everything from stress and time management to improving your memory to achieve higher test scores.
Full online access. Dig into virtual research from the Chester Fritz Library. Improve your writing skills with online help from the UND Writing Center. Get online access to career services, veteran and military services, financial services and more.
24/7 technical support. UND provides free computer, email and other technical support for all online students.
Best Online Colleges
Reportedly high alumni salaries and job placement rates, coupled with affordable online tuition rates make UND a best-value university for online education. UND's breadth of online programs rivals all other non-profit universities in the upper Midwest making UND one of the best online schools in the region.
UND ranks among the best online colleges in the nation for:
Affordability
Student satisfaction (retention rate)
Academic quality (4-year graduate rate)
Student outcomes (20-year return on investment per Paysacle.com)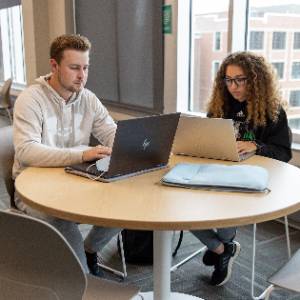 Online Engineering Student Club
The Society of Distance Engineering Students is a club just for online engineering students. You'll connect with online and on-campus students to study and collaborate - uninhibited by the physical distance between you.