Philosophy & Ethics Degree
Bachelor of Arts (B.A.)
Examine life's most profound questions and develop essential skills that make you stand out in the job market.
Philosophy and ethics offers a compelling look at fundamental questions of life, truth, value and meaning. A degree in Philosophy and Ethics Studies from UND broadens your perspective and prepares you to contribute to the global discussion.
Program type:

Major

Format:

On Campus

Est. time to complete:

4 years

Credit hours:

120 (major), 21 (minor)
Why earn a bachelor's degree in philosophy and ethics?
Philosophy & Ethics at UND
Take a deep dive into philosophy and ethics with UND's Why? Radio.

Attend many program-held event on campus and in the community.

Pursue any number of religions and philosophies across the globe.

Conduct high-level research in collaboration with faculty

Celebrate your academic achievements by participating in the Phi Sigma Tau and Theta Alpha Kappa honor societies.
Philosophy & Ethics Careers
Philosophy & Ethics Courses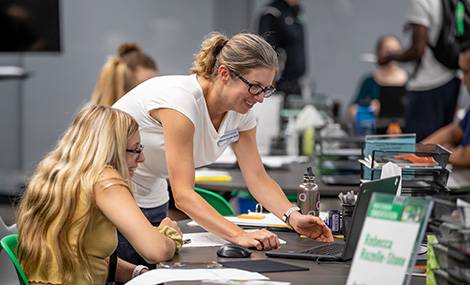 Researching Crisis Fatigue
UND professor, Rebecca Rozelle-Stone, explores why audiences tune out from media messages.
Read Article