Tech Accelerator Space
Lab and office space is available for research units and businesses.
First Floor
The first floor of UND Tech Accelerator building is primarily designed for engineering. There are four lab spaces, four office spaces, and a vivarium.
Although the first floor laboratory spaces were initially designed for engineers in mind, several of these areas could be easier converted to function in other capacities.
Second Floor
The second floor of the UND Tech Accelerator building is primarily dedicated to life sciences and includes:
Five BioSafety Level-2 (BSL-2) spaces
Autoclave
Five office suites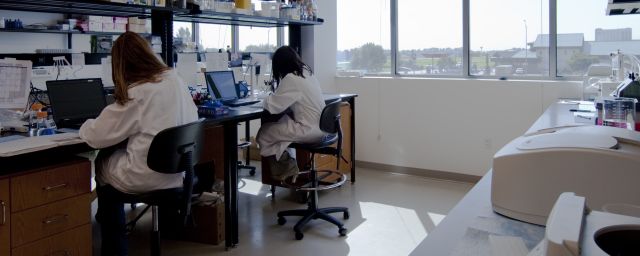 ABSL2 Spaces
The ABSL2 contains 3 suites (between 208 and 320 ft2) that can accommodate up to three individual projects and an ABSL2-E suite (597 ft2, in 2 rooms) that can accommodate one project related to virology, microbiology and molecular biology small animal research or other projects that require BSL2 or BSL2-E bio-containment.
Each bio-containment area has a pass-through autoclave, air interlocks, class II biological safety cabinets and the ABSL2-E suite has a shower and changing room facilities.
In addition, BSL2 spaces within the Tech Accelerator facility and vivarium facilities for quarantine of small animals are also available.
Inquiries can be directed to the Tech Accelerator at 701.777.6882.