Business Administration (M.B.A.)
Reimagine your future with an MBA.
The UND MBA Program will provide you with the tools needed to accept new responsibilities, advance professionally or start a new career path. Coursework focuses on executive management, financial and economic analysis, business analytics and strategy.
Program Snapshot
Program type:

Master's Degree

Format:

On-campus or online

Est. time to complete:

1.5+ years

Credit hours:

34
Why Study Business Administration at UND?
Whether you're a working professional or pursuing an MBA following your undergraduate career, this program is designed to reflect your own needs and interests. You'll choose from one of the following concentrations:
The business analytics concentration provides students with advanced data analytical skills.
The social entrepreneurship concentration uses entrepreneurial principles to address social problems, preparing you for careers in nonprofit management, political science, public administration and business.
The international business concentration focuses on global business practices — you'll even have the opportunity to study abroad at the BI Norwegian Business School.
The government and business concentration focuses on the interrelationship of business and government to our society. You'll study how businesses can and do influence government policies and decisions.
The general concentration is broadest, allowing you to choose from courses in marketing, health care administration, social entrepreneurship and other disciplines.
No matter which track you're on, your education will advance your business functions, decision-making skills and an understanding of internal and external factors affecting management of organizations.
Top MBA Program in the Nation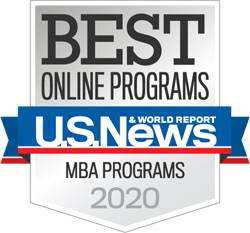 Every accredited business program offers education, but not every program prepares students to make a real impact the way UND does. UND is increasingly regarded as one of the top academic institutions in the nation for business administration. We consistently rank among the best for educational quality, affordability, and career outcomes.
#4 - Best Online Master's Programs in International Business
#2 - Best Online Business Analytics MBA Degree Programs
#9 - top 50 mba in marketing programs
#12 - Top Online Master of Business Administration International Business
#12 - TOP 20 ONLINE MBA PROGRAMS IN THE MIDWEST
#13 - The Best Online MBA Programs of 2019 - 2020
#13 - Best Online MBA in Entrepreneurship Program
#14 - Top Online MBA Programs of 2020
#35 - U.S. NEWS & WORLD REPORT BEST ONLINE MASTERS OF BUSINESS ADMINISTRATION
#36 - The 50 Best Online MBA Programs
-
Accredited MBA Program
This program is accredited by AACSB International, the Association to Advance Collegiate Schools of Business. Accreditation by AACSB International puts the Nistler CoBPA in the top 5% of business schools in the world.
Ready to Lead
In the field or in the classroom, UND students are ready to change the world.
---

#35: UND's rank in U.S. News & World Report's list of Best Online MBA Programs.

---

#14: Rank in Poets & Quants' 2020 list of Top Online MBA Programs.

---

Get ahead while you keep your job. 97% of students in our online MBA program are employed when they enroll.

---

Enjoy interacting with faculty and students in real time as you take live courses over the Internet.

---

Learn from diverse, experienced faculty at the largest business school in North Dakota.
Average salary and bonus paid to MBA graduates*
Companies planning to hire recent MBAs.**
An MBA from UND can take you places. Our grads have gone on to top management positions at companies and organizations including Bank of America, Cargill, Coca-Cola, Delta and the FDIC. You'll find the degree flexible enough to pursue careers in fields such as:
Accounting & Finance
Banking
Engineering
Marketing
Management & Leadership
Military
What can you do with a master's in Business?
A Business degree gives you the strategic skills you need, including:
Accounting
Strategic Planning
Financial Analytics
Project Management
Event Planning
Business Development
UND Business Alumni

Business alumni have gone on to a variety of successful careers with:
Wells Fargo Company
Nisc
Thomson Reuters Corporation
Target Corporation
University of Minnesota