About Housing & Residence Life
Living on campus is one of the best decisions a UND student can make.
Housing staff members are passionate about creating positive communities that facilitate learning, balance, and engaging co-curricular student life. Great things happen when a strong sense of community takes hold!
Contact Our Team
A member of our team is always available for students living on campus. Our central office staff is available during normal business hours, and there is a staff member on duty after hours to assist with emergencies.
Our Mission
UND Housing & Residence Life fosters an engaging residential community that provides continuous opportunities to support personal growth and academic development.
Our Vision
Building residential communities that enhance individual growth and promote responsible stewardship of self and the community.
Living On Campus Information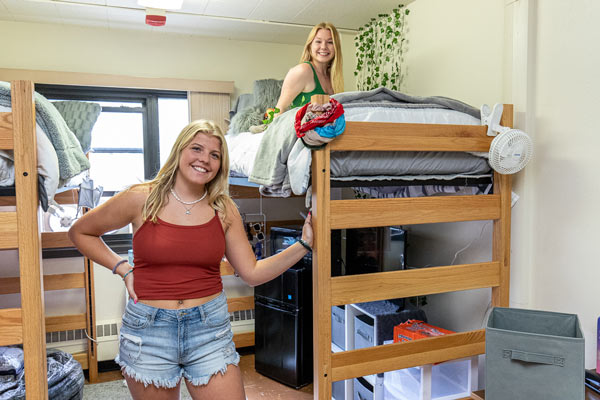 Policies
Policies may vary based on where a student lives on campus.
Agreement & Lease Information
Find the agreement or lease information for where you live on campus.
Buildings & Facilities
Suite-style residence halls available where two or three rooms share an adjacent bathroom with a shower, sink(s) and a toilet.
Private, community cluster residence halls available where the bathrooms have showers, toilets and sink enclosed with a door that locks. Outside the private spaces are several sinks and mirrors.
Furnished apartment-style housing option that has a full kitchen and living room. Reserved for sophomores, juniors, and seniors.
Apartment units in 8 complexes with options for one, two, and three bedrooms.