2018 Student Employment Supervisor of the Year
Stephanie Hoffman named Student Employment Supervisor of the Year
Stephanie Hoffman, Assistant Director of Programs for Wellness & Health Promotions, has been named 2018 Student Employment Supervisor of the Year (SESOTY) at UND.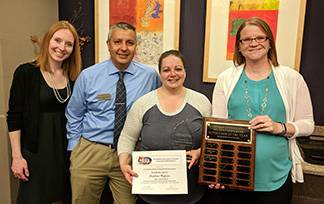 Student employees or colleagues may nominate student employment supervisors for SESOTY whom they feel warrant particular recognition for their performance on the job. Nominations are judged on the following characteristics: mentoring, professionalism and excellent leadership provided to the student employee.
Student Employment received three separate nominations for SESOTY from her colleagues.
In the winning nomination, Karina Knutson, Associate Director of Wellness Promotion, wrote "While supervising students can be challenging, Steph works tirelessly to ensure that her staff are knowledgeable in their area and are able to provide exceptional programs, events and customer service to UND and surrounding community."
Knutson goes on to write "Many previous employees who have worked for Steph have gone on to be very successful in their professional careers- whether it's starting their own personal training and fitness company, obtaining GRA or GTA roles at various universities, acceptance and successful completion to the UND Physical Therapy or Occupational Therapy programs, or full-time employment at our own and other university wellness and recreation centers."
Stephanie's name has been added to a plaque displayed in the Student Employment Office in Career Services.
Stephanie was also named 2018 Student Employment Supervisor of the Year for the state of North Dakota. As a state award winner, Stephanie received a certificate and cash award from the Midwest Association of Student Employment Administrators.