Student Employee Appreciation Week
April 10-14, 2023 is Student Employee Appreciation Week!
Each year, colleges and universities celebrate the contributions student employees make in the workplace. Join us in helping the UND community recognize the impact and contributions our student employees have made as the cornerstone of the campus workforce.
Share Your Student Employee Story
The Office of Student Finance is asking that you share short videos, photos, and experiences to be compiled for a video we will release and share on social media at the end of 2023's Student Employee Appreciation Week.
Please submit your experience or recognition of a student employee to und.studentemployment@UND.edu by Saturday, Apr. 1, 2023 so we can share it with campus!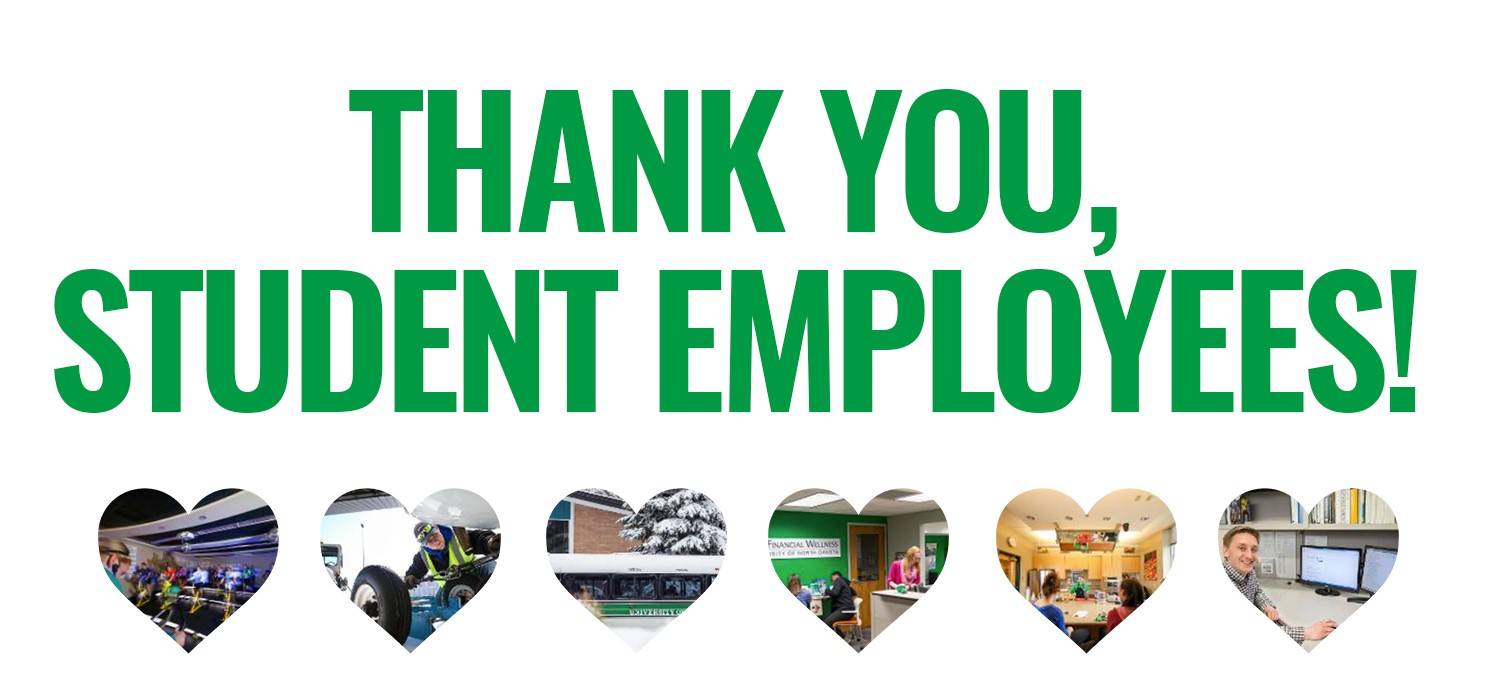 About Student Employment at UND
At UND, over 3,500 students are employed by the University, playing a key role in our education, research, and operational excellence.
Our student employees perform invaluable services with enthusiasm, dedication, and initiative. We depend on this workforce for our daily operations, so let's celebrate them and take this opportunity to plan activities for the entire week, several days, or just one day.
Creative Ideas to Say "Thank You"
Nominate one of your student employees for Student Employee of the Year!
Throwing a pizza party, having a pot-luck, or a build-your-own sundae bar
Decorating your students door or office/work space
Taking your employees out to lunch
Asking staff members to take turns bringing treats each day of Student Employee Appreciation Week
Filling goodie bags with a bottle of water or soda, packs of crackers, popcorn, candy, etc.
Honoring your student employees with a round of applause in your staff meeting
Creating silly awards: best telephone voice, best at making copies, best errand runner, etc.
Having a secret pal that does little things for them throughout the week
Sending a handwritten thank you note, letting them know how much you appreciate all they do
Taking a picture of each of your student employees and posting on a bulletin board in the break room, and write why you are thankful for each one