General Studies Degree
Bachelor of General Studies (B.G.S.)
Personalize your education and take charge of your professional goals with a degree in General Studies.
Enjoy a more flexible approach to your education. UND's Bachelor of General Studies (B.G.S.) major empowers you to choose courses from a variety of academic departments to earn your degree.
Program type:

Major

Format:

On Campus or Online

Est. time to complete:

4 years

Credit hours:

120
Why earn a bachelor of general studies degree?
UND's General Studies Degree
Immerse yourself in another culture through one of 300 study abroad programs

Gain experience in the workplace through an internship

Join any of our 275+ student clubs or organizations

Experience a broad, multidisciplinary education

Opt to earn your General Studies degree 100% online with our enroll anytime online courses

For those who are Active Duty, the General Studies degree program is AU-ABC degree eligible
What can you do with a general studies degree?
General Studies Degree Courses You Could Take
Flexible Online General Studies Degree
Earning your bachelor's degree in General Studies has never been easier. Our 100% online General Studies degree program can be completed at any hour of the day (or night). You never have to come to campus.
You have two flexible and fully accredited options to pursue your online General Studies degree. Both options are offered in an asynchronous format.
Self-Paced Enroll Anytime Online Courses:

UND's enroll anytime courses are offered online and are open for enrollment any day of the year. These courses are self-paced, so you can work at your own pace and have 3 to 9 months to complete the course. Courses are not eligible for financial aid.
Semester Based Online Courses:

Take online courses that follow the standard University semester schedule. You'll interact in a virtual classroom with your instructor and other students. Courses qualify for financial aid.
With asynchronous classes, you do not attend class at a set time. If you need to balance work, family, and other commitments, this flexible format allows you to learn anywhere at any time.
Depending on your instructor, you'll learn online through:
Lesson modules
Streaming video content
Virtual libraries
Posted lectures
Online simulations
There will be times when you interact with your instructor and classmates through online discussion boards, polls, and chat rooms.
Your learning revolves around materials that can be accessed on your own time within a set time frame. However, this is not a self-paced course. You'll have structure and deadlines.
What can you expect from UND's online bachelor's in general studies?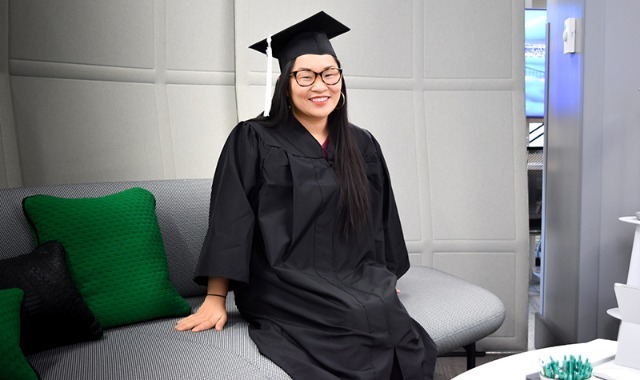 Finish College
Katherine Dachtler completed her General Studies degree 14 years after she started her college career.