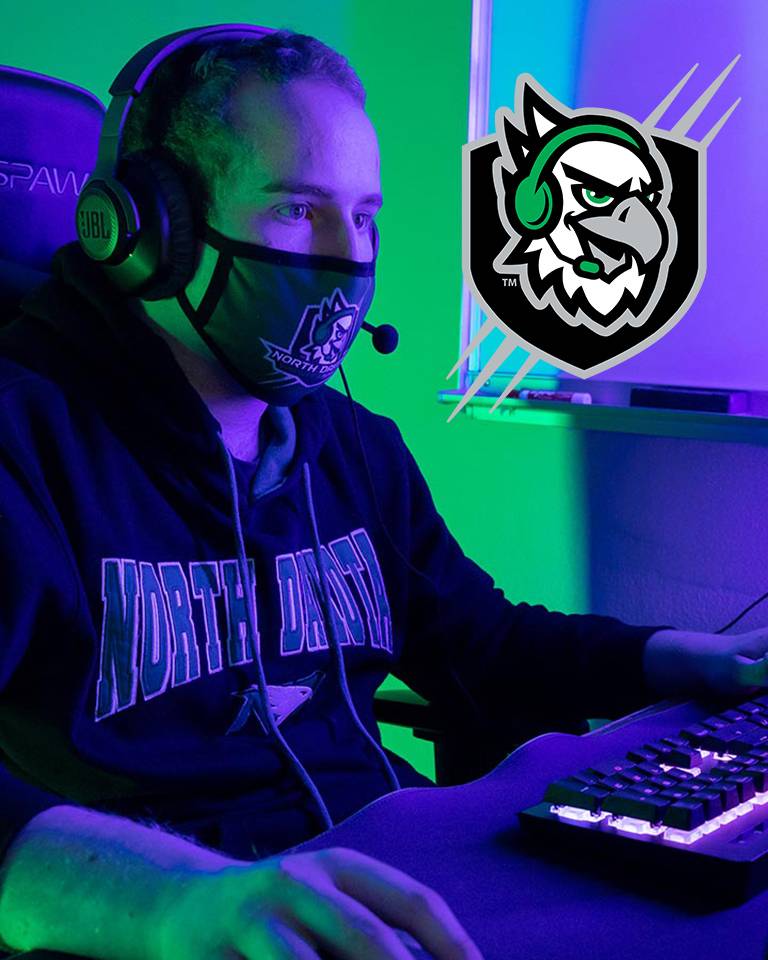 Varsity
North Dakota Varsity Esports provides students with collaborative, competitive and educational experiences through gaming.
Varsity provides services and activities to students of all skill levels and interests.
Varsity Events
North Dakota Varsity Esports hosts competitve rosters for multiple Esport titles. Programs include technical and management roles outside of competition for students that want to learn more about working behind the Esport scene.
Rosters
North Dakota Varsity Esports hosts numerous rosters for students to participate in, and is always looking to add new games to its list of current rosters.
Rocket League
League of Legends
Chess
Valorant
Team Fight Tactics
Call of Duty
Rainbow 6 Siege
About UND Varsity
North Dakota Varsity Esports seeks to provide a gaming community for students enrolled at UND. It is the mission of the esports program to give students a wide variety of experiences and opportunities within esports and gaming to better prepare them for the future. This is accomplished by offering an open-minded, creative environment where staff, faculty, volunteers and students work closely together towards common and diverse goals.
NDVE Program Goals
Offer an inclusive and diverse environment by providing esports and gaming services to any student no matter their age, race, gender, identity, religious affiliation or disability.
Provide a strong community to students in everything from general gaming to competing in national competitions.
Lead students to success, not only in competition, but in their future endeavors by teaching:

Professional practices, community service, sportsmanship, health, wellness, morality, ethics, and goal setting.

Foster an educational, inclusive and competitive environment through academic research, competition and community initiatives.
Uphold a commitment to lifelong learning by staying up to date on the ever evolving trends, research and studies of all industries related to esports.
Varsity Esports Pillars
Competition
We create a competitive atmosphere through the use of Varsity, Junior Varsity, Developmental, and Recreational teams in multiple esports titles such as Rocket League, League of Legends, Valorant, and more. Support staff, volunteer coaches, and student leadership are provided to these teams to help players to maintain a healthy lifestyle and compete in anything from local to national competitions.
The North Dakota Varsity Esports Rocket League Varsity roster is a sanctioned Division 1 (D1) team under the Electronic Gaming Federation (EGF).
Academics
UND seeks to provide academic pathways and experiences for students looking to have marketable skills related to opportunities within the esports industry. This is accomplished through the application of esports related content, courses, degrees, and on-campus opportunities within the North Dakota Varsity Esports Program.
Community
North Dakota Varsity Esports provides events, resources, support, structure, and mentorship to our student communities. We also offer services, resources, activities, and support for local and nearby communities. We host a Minecraft server that is open to anyone.
Service
In 2021 North Dakota Varsity Esports partnered with a North Dakota based marketing agency to run and broadcast the first annual Good Gaming Rocket League competition for the Fargo based non-profit, Haley's Hope.