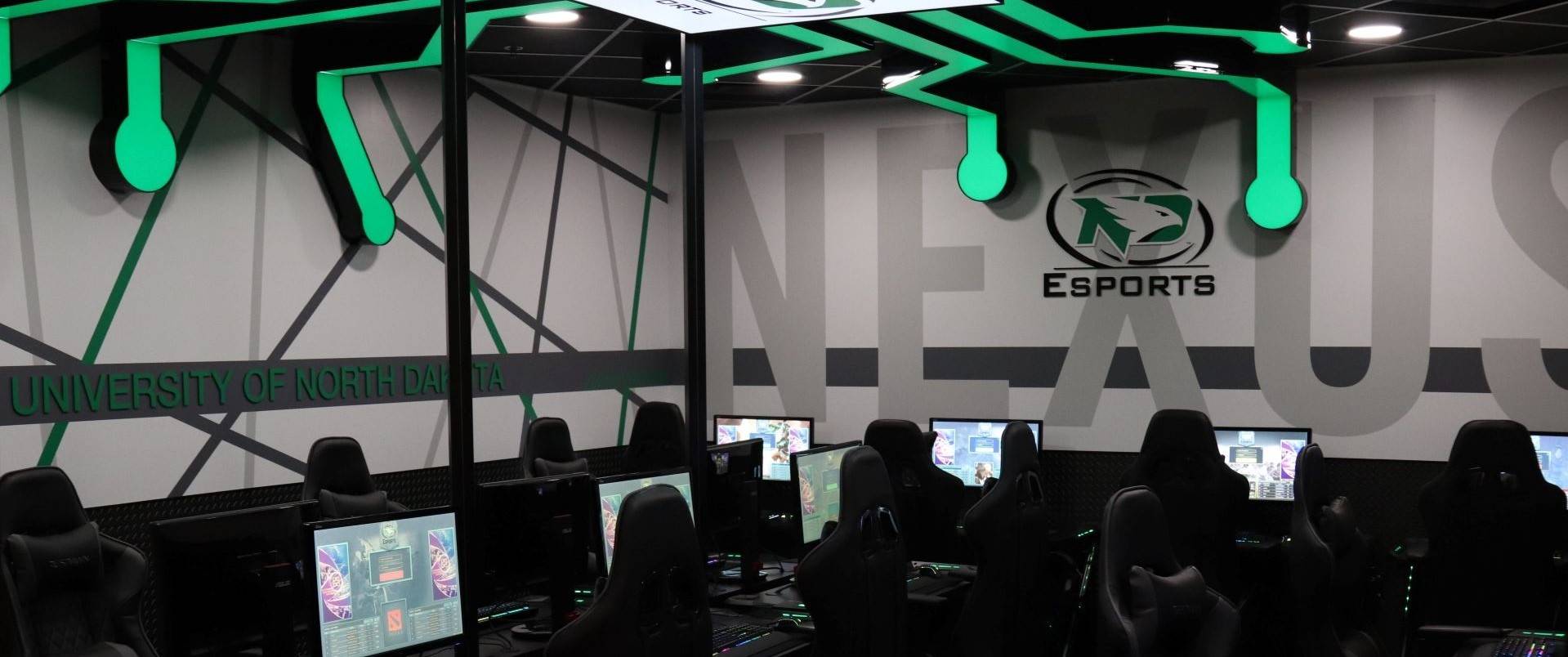 Esports Nexus
Nexus Esports facility at the UND Wellness Center is open!
Serving UND Students and Wellness Center members, the Nexus Esports facility features twelve top-of-the-line gaming PCs that you can use to play your favorite games. Forget about having to drag your expensive bulky PC to campus, or struggling with lag and overheating on your old PC or laptop!
Stop by and say hello, or join in the online conversations on our Discord channel.
We Want Your Feedback
As we develop our programs, we are looking for what you want to see. Help us out and complete a survey.
About Nexus and Esports at UND
We want to show that Esports is beneficial to the overall health of our student body. The intellectual and social benefits that it provides are so important to today's students. The Nexus gaming lounge is located in the Wellness Center to promote healthy ways of gaming, such as taking frequent breaks to exercise, fuel properly, and participate in new activities.
What does NEXUS mean?
Nexus is defined as, "A series of connections linking two or more things, a connected group or series, and the central and most important point or place." We wanted the name to show just how much we wanted this space to bring people together and create a sense of community. Come alone, leave with a new friend!
Create an Account
Creating a Steam account is recommended for saving progress in many of the available games (a League of Legends account will be required to play League of Legends).
Nexus Titles Available
Apex Legends
CS:GO
Destiny 2
DOTA 2
Fortnite Battle Royale
Hearthstone
Heroes of the Storm
League of Legends
Left 4 Dead 2
Legends of Runeterra
Overwatch
Rocket League
Smite
Star Wars Battlefront II
Starcraft II
...and more!!!
Some of the above titles require the user to own their own copy in Steam, Origin, etc.
Nexus Specs
Motherboard - ASUS TUF B365M-PLUS Gaming
Processor - Intel I7-9700F Octacore 3.0GHz
Heat Sink - Cooler Master Hyper 212 RGB Black Edition
Memory - Kingston HyperX FURY Black 8GB 2666MHz DDR4 CL16 DIMM 1Rx8
Hard Drive - Western Digital Red 4TB NAS Internal Hard Drive - 5400 RPM Class - SATA 6Gb/s - SMR - 256 MB Cache
SSD - Samsung 970 EVO 500Gb PCIE NVME M.2
Video Card - ASUS 2060 Super 8Gb GDDR6
Power Supply - Cooler Master 650w 80 Plus Bronze
Monitor - ASUS 24" LED LCD 16:9 1ms 144hz 1920x1080
Headset - Corsair Gaming Void Pro RGB
Keyboard - Corsair Strafe RGB
Mouse - Corsair Glaive RGB
Purchasing Time
To purchase hours or our semester pass, head to the front desk of the Wellness Center. You can pay by cash, check, or credit card. Bring your receipt to the Nexus Esports lounge and an attendant will load your account. Then, you're in!
First visit includes three free hours!
$5 - 2 hours
$10 - 5 hours
$20 - 10 hours
$40 - 20 hours
Semester Pass for $75, which gets you unlimited time at the Nexus for the entire semester.
Rules and Policies
Nexus Punch Cards
Earn free Nexus time by participating in Wellness & Health Promotion events! Get a punch card from the Nexus or from any of the other areas below. Click the links to view more information on upcoming events.
For each of the following events, you get one punch in your Nexus punch card. If you participate in a virtual event, please send an email to michael.wozniak@und.edu requesting a punch. We will verify your participation and make sure you get one!
Just let the Wellness & Health Promotion staff running the event know that you would like your card punched, and they will issue it after the event ends. 3 punches gets you 2 free hours, and 5 punches gets you 5 free hours! Come have fun at our events, fill up that punch card, and redeem your card for free hours at the Nexus!