Honors LLC
Enhance your academic experience through peer support and social engagement of the Honors Living Learning Community (LLC).
The community will be a center for the vibrant intellectual, cultural and social life of the University Honors Program. The Honors LLC encourages students to live, study, play and grow together with like-minded peers!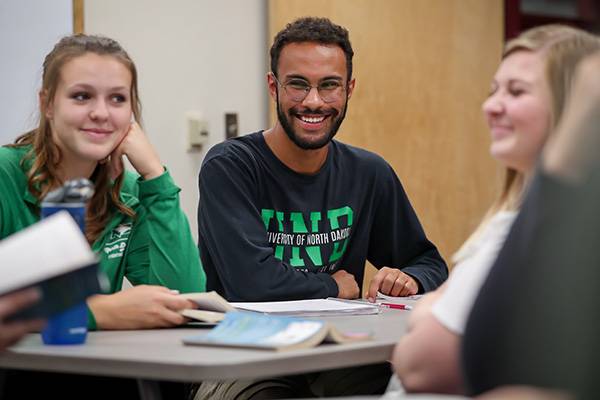 Who lives in the Honors community?
This LLC is designed for:
Students registed in the Honors Program
Students enrolled in first-year Honors courses
Honors students live together in Selke Hall.
How do I apply?
Indicate your preference to live in the Honors LLC when you complete your Housing Application. Assignments for Living Learning Communities will be completed in conjunction with all housing assignments.
What are the benefits of living in the Honors LLC?
This unique living arrangement gives you a ready network of friends sharing your interests and career goals. Being part of this close-knit community will help make it easier for you to get involved in student organizations and campus events. You'll also have learning experiences as early as your first semester on campus designed to assist with your professional development while at UND and beyond.
Faculty and Alumni Connections
Programming coordinated by the Honors LLC will connect members with student organizations, faculty and alumni.
Activities, Events and Programs
Students in the Honors LLC stay busy with plenty of opportunities to get involved. Films, discussions, and celebrations will be hosted by the Honors LLC along with other Honors activities, and projects. Possible events and activities include:
Create a float for the Homecoming parade
Connect with veterans through letters
Bake for the Senior Center
Other activities include T-shirt design contest, scavenger hunt, Harry Potter night, trivia, bowling, movie nights
Learn More About Honors Housing
For more information about the Honors LLC, please contact our faculty advisor.
701.777.3302
Gamble Hall Room 365P
Grand Forks ND 58202-7128