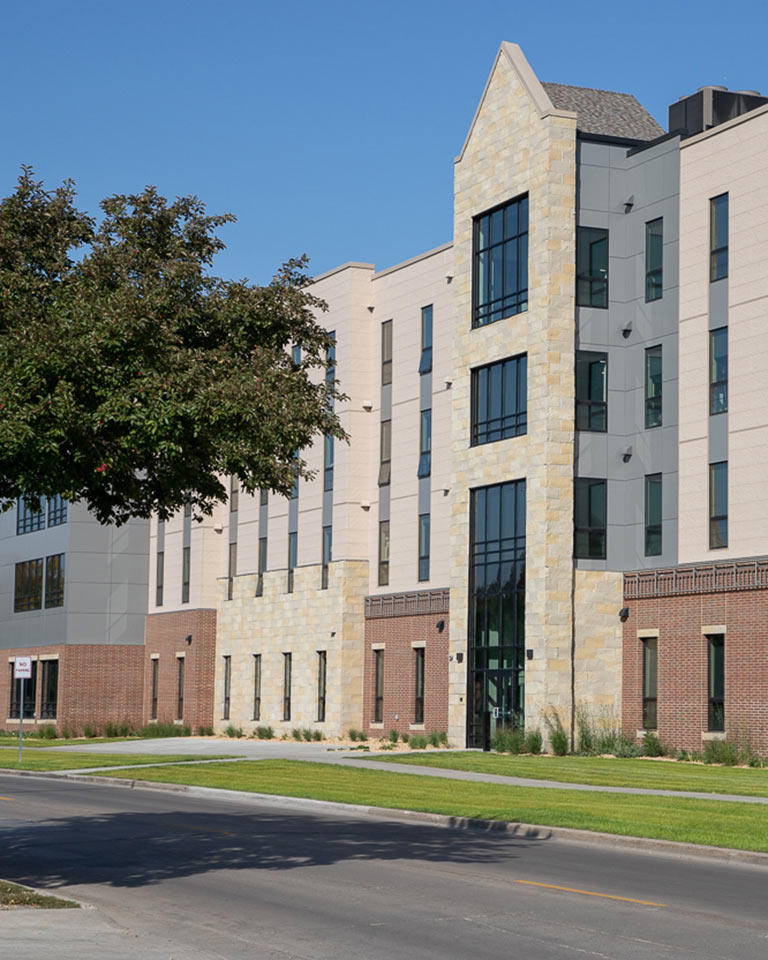 McVey Hall
Standing tall on Stanford Road, the brand new McVey Hall boasts spacious rooms and study spaces for students.
The recently rebuilt McVey Hall opened in the Fall of 2022. Each floor features a laundry room, study rooms and multiple lounges, with kitchenettes on the first and third floors. McVey connects to Brannon Hall, with tunnel access to the Landing Zone and Wilkerson Commons.
McVey Hall features suite-style rooms, with two double rooms sharing a bathroom and shower area. ADA single rooms with suite-style bathrooms and super single rooms reserved for upper-level students are also available.
360 Virtual Tour
Double Suite Style
Super Single; Upper-Level Students Only
ADA Single Room Suite Style
McVey Features
Newly constructed building (opened in Fall 2022)
Wireless and hard-wired internet access in all rooms
Mattress size 36" x 80", extra-long twin
Wardrobe/dresser, desk, and chair
Laundry room on each floor (free laundry included in the room and meal plan rate)
Kitchenettes on first and third floors
Lounges and study areas on each floor
Connected to Brannon Hall with tunnel access to the Landing Zone and Wilkerson Dining Center
24-hour visitation with escorts needed for guests at all times
Location
<Student Name>
<Room Number> McVey Hall
Grand Forks, ND 58202
Note: McVey uses letter with room numbers. Example: 307B