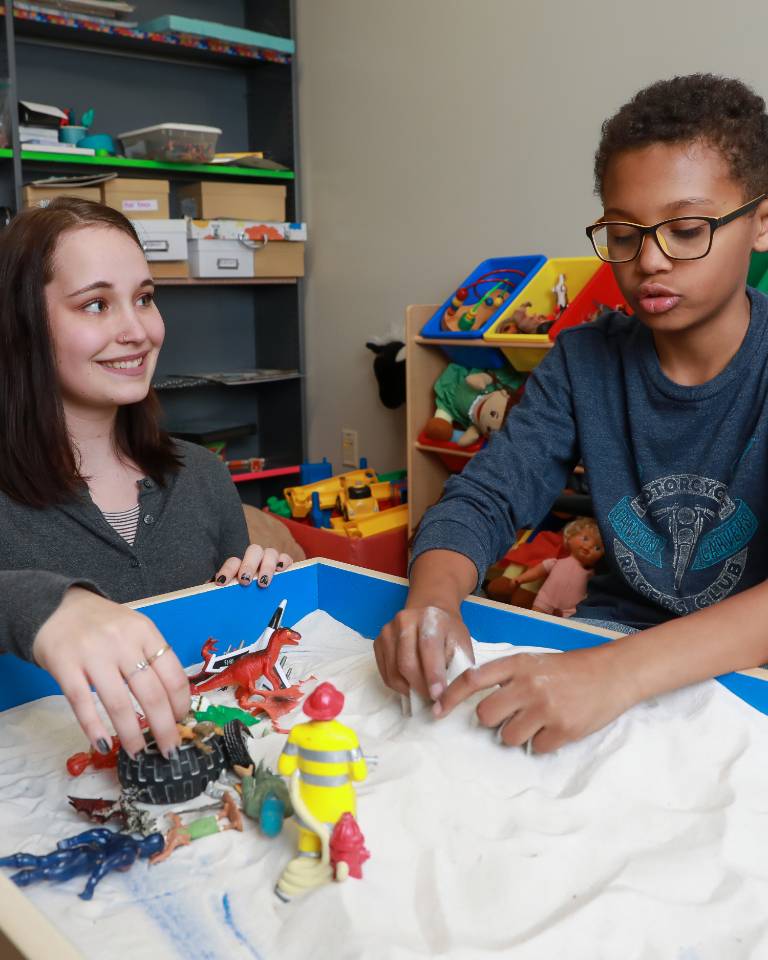 Speech-Language Pathology
Northern Prairie Community Clinic provides a full range of services including evaluation, treatment, screening, and consultation for communication disorders.
Services are also provided to individuals who choose to enhance communication skills such as those involving pitch control and projection. Both individual and group therapy services are available. Graduate students work under the supervision of ASHA certified and North Dakota licensed faculty members.
Complete audiological testing services are provided by an ASHA certified audiologist. These include screening for hearing loss and middle ear disorders, as well as peripheral and central auditory processing assessments. Hearing evaluations to determine candidacy for hearing aids are also available.
Areas of Evaluation and Treatment
Augmentative and Alternative Communication (ACC)
Auditory Processing Disorder
Autism Therapy
Dyslexia
Hearing
Intellectual Disabilities
Laryngectomy/Head-Neck Cancer
Language Delay and Disorders
Neurological Disorders (such as Parkinson's, ALS, etc.)
Pickey/Problem Eaters
Social/Pragmatic Communication Disorder
Speech Sound Disorders, including Cleft Palate
Stroke-Related Disorders (such as Aphasia, Apraxia, Dysarthria, etc.)
Stuttering/Fluency
Swallowing/Dysphagia
Traumatic Brain Injury
Voice and Resonance Disorders and Differences, including transgender voice therapy
Group Therapy
P.A.R.I.S. ℠ groups provide communication support to individuals who have received an aphasia diagnosis after suffering a stroke or other related neurological difficulty.
P.A.R.I.S. ℠ group gatherings are offered weekly with a conversation or literacy (book club) focus designed to promote functional rehabilitation of speech and language skills. Both the literacy and conversation group provide a structured, yet relaxed, learning environment that allows clients to interact and converse using a total communication approach (e.g., gestural, verbal, etc...). P.A.R.I.S. ℠ groups help create a community where clients can share thoughts, ideas, and engage in conversation. Graduate students and supervisor are present to facilitate conversation and assist with supporting the communication needs of all clients.
A typical schedule consists of mini sessions that include whole group discussion with a language focus, reading and/or topic review, vocabulary highlights, small group, word work, and a social break. At the start of sessions, student clinicians share PowerPoint presentations introducing vocabulary for the week and work to assist clients in understanding and expressing details from assigned topic or reading/s. Assistive technology is available to access book data and clients are also provided with augmentative and alternative communication (AAC) options (i.e., communication boards, photo-dictionaries, etc...) to further illustrate language lessons. Examples of books that have been read in P.A.R.I.S. ℠ Literacy include Finding Chika by Mitch Albom, Ordinary Grace by William Kent Krueger and Hatchet by Gary Paulsen.
Language and Literacy is a child-centered group designed for preschool-age children. Typically, the group is comprised of six children and is led by graduate student clinicians under the supervision of a faculty member from the Department of Communication Sciences and Disorders.
The purpose of the group is to target overall speech and language development, pre-literacy skills, and social interactions. All skills are targeted through interactive play as well as structured activities. Weekly themes are used to incorporate specific vocabulary and phonological awareness activities (e.g. rhyming and sound play), building a solid foundation for developing reading and writing skills.
The group meets on Tuesdays and Thursdays from 9a.m. - 11a.m.
SOS Approach to Feeding: A transdisciplinary program for assessing and treating children with feeding difficulties
SOS is an evidence-based program for picky eaters and problem feeders that assesses and addresses underlying causes of feeding difficulties. SOS uses play with a purpose to increase children's comfort level by exploring and learning about different properties of food. Children benefit from peer modeling as they interact with food in a playful non-stressful way, progressing from tolerance through enjoying and tasting new foods.
Preschoolers meet once weekly for Food School to play with and taste new foods, based on a hierarchy of eating.
Older children meet once weekly for Food Scientists, where they discover properties of food through exploration, and increase tolerance for a variety of foods.
Northern Prairie Community Clinic is pleased to offer a two-part speech therapy program to help individuals with Parkinson's regain and maintain effective communication: SPEAK OUT!® followed by The LOUD Crowd®.
SPEAK OUT!® places emphasis on speaking with intent and converting speech from an automatic function to an intentional act. Together, patients and their speech-language pathologist work through a series of speech, voice, and cognitive exercises outlined in a SPEAK OUT!® Workbook.
Upon completion of SPEAK OUT!®, patients transition to The LOUD Crowd®. This maintenance program consists of weekly group sessions led by a speech-language pathologist. The SPEAK OUT!® exercises are performed, and group members provide support, encouragement, and accountability to one another.
Participation in The LOUD Crowd®, along with daily home practice has been shown to help patients maintain their communication skills throughout the progression of Parkinson's.
The SPEAK OUT!® & LOUD Crowd® therapy regimens were developed at Parkinson Voice Project in Richardson, TX.
The Toddler Language Circle (TLC) is designed for children 22 months to 36 months of age. Speech, language and social interactions are targeted through play-based activities. The group is semi-structured to help toddlers anticipate routines and participate in group activities. The group-based model uses peer interaction with various prompts (i.e., expansion, modeling, and imitation) to teach independent communication.
TLC is held twice weekly on Mondays and Wednesdays from 9a.m. - 10:30a.m.