World Geography Online College Course
UND's enroll anytime courses are offered online and are open for enrollment any day of the year. These online courses for credit are self-paced, so it's convenient for you to work on your own time and have 3 to 9 months to complete the course.
Geography 161: World Regional Geography
Credits:

3

Format:

Online - Self-Paced Enroll Anytime

EST. time to complete:

3 to 9 Months

Cost:

$384.88 per credit
Why take this online World Geography course?
The World Regional Geography course is an introductory, 100-level course that, after beginning with basic concepts of geographical inquiry, examines 12 different regions of the world. In many ways, you will make a journey around the world in however many days it takes you to finish the course.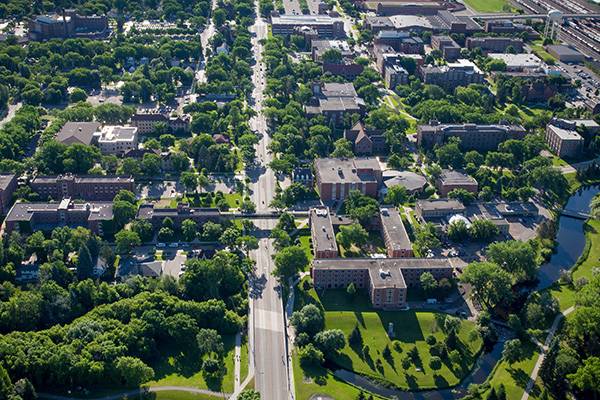 This Geog161 online course will broaden your horizons. It is about the interrelationship between humans and the physical environment in the context of how people engage in cultural uses of land, water, and air as resources such that definite spatial patterns can be noted at the local, regional, sub-continental, continental, hemispheric and global scales.
The world is an extremely complex entity, and this course only touches a small portion of the historical, geopolitical and socio-economic factors that help to explain how parts of the planet are alike but also different. It does, in its small way, help you recognize that you are a member of a highly interdependent set of cultures, nation-states and alliances that range from being in harmony to disharmony at any given time.
World Regional Geography classes online will help you answer important questions regarding people and places:
What is there?
Where is it?
Why is it there?
Why is it important that it is there?
To succeed in this online world geography course, you need to have a spirit of adventure and a curiosity regarding what various places do or do not have in common. You need to have the desire to learn about your entire world, not just what you know already. You will communicate your thoughts regarding relationships within and between places in the context of human-environmental interaction.
Learning Objectives in online World Geography
After taking this world geography undergraduate course, you will be a more geographically literate citizen who can interact more successfully with people outside the USA. All too often, the geographic ignorance of Americans costs us socially, politically, economically and environmentally.
So take a deep breath, exhale and think about somewhere that you would like to visit outside the USA. This course is similar to taking a "round-the-world" vacation, except that it is a lot less tiring, a whole lot cheaper, and a lot less dangerous. Let's begin our journey.
Introduction
Europe's Conundrum of Supranationalism and Devolution
Russia's Fracturing Federation
North America: The Postindustrial Transformation
Middle America: Collision of Cultures
South America: Continent of Contrasts
Subsaharan Africa: Realm of Reversals
North Africa/Southwest Asia: The Challenge of Islam
South Asia: Resurgent Regionalism
East Asia: Realm of Titans
Southeast Asia: Between the Giants
The Pacific Rim's Southwest Anchor: Australia and New Zealand
The Pacific Realm
What's required to take this Word Geography class?
Geography: Realms, Regions, and Concepts. De Blij, H.J. and Muller, Peter O., 2014.16e. Hoboken, NJ: John Wiley & Sons, Inc. (Referred to as TEXT)

• ISBN-10: 1118673956 or
• ISBN-13: 978-1118673959
Lessons & Exams for Geog161 Online Course
You have 3 to 9 months from your enrollment date to complete:
The course will consist of short essays for each lesson and some journal posting assignments.
How will the course appear on my transcript?
You may enroll at any time and have 3-9 months to complete this online course. The college credits you earn will be recorded on your transcript in the semester you register.
Why Take Online Classes at UND?
Here are a few reasons why you should take an online enroll anytime course at UND:
Great customer service – Our registration team is ready to answer questions quickly so you can focus on your coursework.
Affordable – UND's enroll anytime courses are priced at North Dakota's affordable, in-state tuition rate.
Accredited – UND is accredited by the Higher Learning Commission.
Easily transfer credits – Transferring credits is always at the discretion of the institution to which the credits are being transferred. In general, credits from schools/universities that are regionally accredited by the Higher Learning Commission transfer to other regionally accredited institutions. UND's online courses appear on your UND transcript in the same way as other courses.
Flexible 100% Online Course
You'll take this online course at your own pace. Some students thrive in this environment, while other students may struggle with setting their own deadlines. If you have successfully taken an independent study or correspondence course previously, UND's enroll anytime courses may be right for you. Still not sure? Take our online quiz to help determine if online enroll anytime courses are right for you.
Course information including tuition, technology requirements, textbooks, lessons and exams is subject to change without notice.