Computational & Data Science
Our goal is to effectively, efficiently and ethically produce, manage and securely use information in the age of big data.
Data science has been an ongoing area of interest among state and federal funding agencies and prospective students. This research area is critical to provide advances in all areas of society including National Security, Autonomy, Machine Vision/Digital Imaging, Remote Sensing, Hard Sciences such as Chemistry, Physics, Atmospheric Sciences, Medicine, and Biology, and Social Sciences such as Economics, Sociology, Psychology, etc.
Cyber Security does and will impact all levels from individuals to states and at the federal level. Cyber threats represent one of the largest concern in society today, even greater than Intercontinental Ballistic Missiles and physical violence in the world. This threat can only be tackled by experts in the field who understand the challenges and the techniques necessary to solve these problems.
UND Big Data Research
Industries and federal agencies are turning to universities to develop the technology and workforce to collect, store, secure and analyze large quantities of data.
UND is leading the effort to apply analytics, artificial intelligence, machine learning and robotics to support smart progress in energy, agriculture, manufacturing, military defense and cybersecurity.

UND researchers work extensively across disciplinary boundaries with researchers from virtually every school, college, and research group on campus to stimulate research ideas, and solve meaningful grand challenges as set forth by federal and state agencies, and the international community.
UND's current expertise and ongoing investment in Research Computing contribute to most of the research activity on campus, including the Grand Challenges and the UND National Security Initiative.
UND's Capabilities
Improved infrastructure following $1.7 million investment in Big Data storage, computational cores, and personnel over the past 18 months.
Seed funding provided to recruit post-doctoral researchers leading to higher proposal production.
Expanding a highly active core of data analytics researchers focused in cybersecurity, machine learning and algorithm development related to UAS.
Benefits to North Dakota
UND's Big Data research aims to provide a robust data supply chain for North Dakota industry (agriculture, energy, transportation, utilities) with a focus on conversion of data to actionable information.
Data analytics, including but not limited to UAS image analysis, drives company attraction and job creation, while enhancing UND's externally-funded research enterprise.
UND is applying its big data expertise to a number of projects across the state of North Dakota.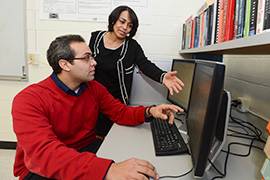 Storm Damage A
ssessment
UND is applying UAS technology with advanced data modeling and analysis to improve electric distribution infrastructure damage assessment and restoration capabilities.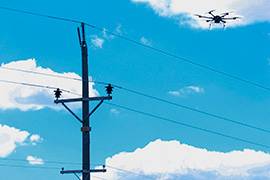 Powerline Failure
UND is using UAS as a tool to conduct aerial inspections of high voltage power lines to aid in the determination of necessary maintenance and repairs.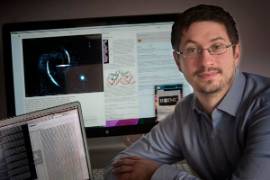 Midwest
Big Data Hub
UND is co-lead of NSF project to determine industry and academic computational needs in the Midwest.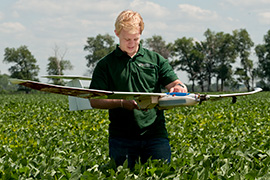 Digital Agriculture
UND is leading a project to network ag producer institutions with big data expertise (Nebraska, Iowa State, Kansas State).