Autonomous Systems
Our goal is to drive the world-changing developments of autonomous systems.
UND, Grand Forks and North Dakota have set the pace for groundbreaking technology in autonomous systems.
Leaders in Autonomous Systems
UND has led integration of uncrewed aircraft systems (UASs) into the National Airspace System, including:
The establishment of a beyond visual line of sight (BVLOS) network that will directly benefit our agriculture and energy sectors.
Supporting defense-related research as part of UND's National Security Initiative, including development of autonomous systems/human-machine teams (from the ground to space) that enhance mission effectiveness and evaluation of counter autonomy systems.

North Dakota and its UAS ecosystem are positioned to drive one of the nation's fastest-growing industries.
The UND

Research Institute for Autonomous Systems

(RIAS) has yielded major funding from the FAA for detect and avoid technology, and industry partnerships with companies such as Xcel Energy have yielded benefits for both industry and UND.
The UND Difference
UND's history and demonstrated expertise has set the foundation for expanding extending UND's research capacity in UAS/Autonomy and mobility across Surface-Maritime-Air-Space (SMAS) domains, from ground vehicles to UAVs and to the emerging paradigms of satellite architecture for defense and commercial applications.
Through our research, we partner with industry to help develop U.S. made systems and train the workforce to build, innovate, and transform them. We are enabling "realizable autonomy" through developing solutions to challenges in:
NAS Integration

Command Systems

Data (networks, computing power, edge computing)

AI (including trust and decision-making)

Communications

Cybersecurity

Materials and

Energy
UND's Capabilities
Best in the nation UAS ecosystem: academic research, training and education; FAA-authorized UAS Test Site; multiple start-ups involved in UAS flight, data acquisition and analysis; major defense contractors Northrop Grumman and General Atomics; Grand Sky UAS Business Park.
Produced a string of firsts in the nation including "detect-and-avoid" and "beyond visual line of sight" research.
Seed funding provided to recruit post-doctoral researchers and promote multidisciplinary research.
Home to the first four-year undergraduate UAS degree.
Benefits to North Dakota
UND's UAS research supports the growing private sector ecosystem responsible for economic development and job creation with both technological and workforce development.
Combines with Big Data research to extract maximum value from UAS derived data (e.g., imagery, sensor data).
UND is a proven leader in UAS with the expertise to help drive the industry's growth.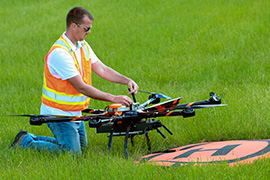 Research Institute for Autonomous
Systems (RIAS)
RIAS was created to take the state to the next level to become a global leader in UAS research application and policy development.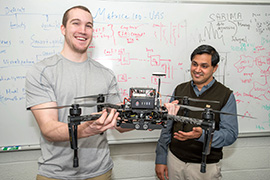 Integration of UAS into National Airspace
We have major FAA funding for research in detect and avoid requirements for beyond visual line of site operations.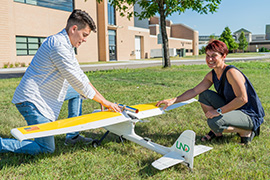 HubNet
We're working closely with Test Site and Harris Corporation on HubNet – the first UAS network in the nation to provide a full range of aviation-grade services for UAS operations.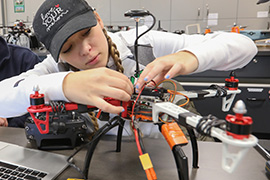 New Small UAS Technologies
UND is playing a major role in "perching" and wireless power recharging research.