Energy and Environmental Sustainability
Our goal is to promote energy security and environmental sustainability.
At a time when much of the focus in the U.S. is on extracting oil from shale and other unconventional sources, the Energy & Environmental Research Center (EERC) at the University of North Dakota is exploring new ways of pulling oil from conventional resources.
"Conventional geologic formations contain oil-bearing rock that's more porous and more permeable than unconventional resources. But what researchers learn from studying them can also be applied to unconventional formations throughout the Williston Basin, which extends into Canada and covers parts of North Dakota, Montana and South Dakota," said Ed Steadman, EERC vice president for research.
The old way of drilling vertical wells into conventional resources has given way to the horizontal drilling and hydraulic fracturing techniques used in the Bakken and Three Forks unconventional shale formations, where more than 95 percent of North Dakota's oil extraction occurs today. The EERC's projects return to the much deeper Red River formation — composed of rock similar to limestone — originally targeted by the oil and gas industry.
"It's a huge enhanced oil recovery target that's estimated to be 400 million barrels of potentially recoverable oil," Steadman noted. "Even though it's conventional — not the Bakken or Three Forks — it's a large target that would have dramatic economic impact. If we could increase our conventional production, that just benefits everyone."
"Each 1 percent increase in extraction translates into $3 billion of oil production. That's what enhanced oil recovery is all about: squeezing that last bit of oil out," Steadman explained.
UND's Capabilities
UND already houses one of the largest and most robust energy research enterprises in the United State with extensive state-of-the-art research capabilities, deep connections with the oil, gas and coal industries, and a national reputation for high quality research and development (>$32 million per year in research expenditures).
The EERC, the Institute for Energy Studies and disciplines across UND conduct scientific and engineering research in a broad range of energy topics:
Clean coal
Enhanced oil recovery from Bakken Shale
Carbon capture and sequestration
Renewables (wind, solar, biofuels)
Return for the state of North Dakota from a 1% oil extraction increase.
Number of current energy research expenditures at UND.
Benefits to North Dakota
UND's energy research is crucial to the success of the energy industry in North Dakota and beyond.
Workforce development.
Accessibility and affordability of energy in North Dakota while environmentally responsible at the same time.
UND helps North Dakota energy remain accessible, affordable and environmentally responsible.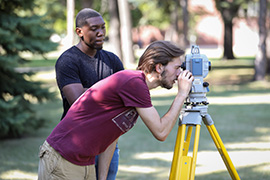 Multidisciplinary Research
We combine the sciences, engineering, economics, law and other disciplines to expand opportunities for energy research.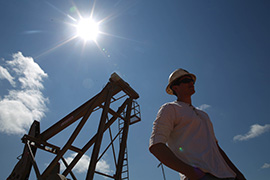 Enhancing Oil Recovery
Every 1 percent increase in recovery means $3 billion in new revenues and hudreds of millions in tax revenue for North Dakota.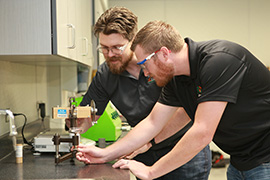 Increeasing Value of Coal
Recovering rare earth elements from coal deposits provide scarce commodities used in electronics applications.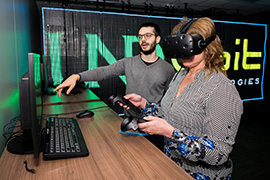 Advancing Carbon Management
Carbon capture, utilization, and storage is an option for companies seeking to combine greenhouse gas mitigation with operations.