Energy and Environmental Sustainability
Our goal is to promote energy security and environmental sustainability.
UND researchers are exploring ways to utilize the state's vast energy resources in a manner that is environmentally sustainable and matches regulatory, political and social expectations, paying particular attention to the inter-relations between energy and food production, water use and ecological integrity.
Leaders in Sustainability Research
We are studying

Hydrogen

-powered technologies
Developing tenewable energy sources
Advancing Battery Storage Pptions
Finding more efficient ways to generate electricity
Discovering how to capture and sequester carbon dioxide to mitigate climate change
UND is leading research on extracting rare earth elements from coal to make our state's resources more valuable while reducing America's reliance on foreign suppliers. Investment in research helps the state adapt smart grid technologies to reduce the cost of electricity and make wind energy more competitive.
UND researchers are exploring new ways to increase oil production from North Dakota's shale deposits where an increase of just 1 percent could generate $3 billion in new revenue and hundreds of millions in state tax dollars.
UND's Capabilities
UND already houses one of the largest and most robust energy research enterprises in the United State with extensive state-of-the-art research capabilities, deep connections with the oil, gas and coal industries, and a national reputation for high quality research and development (>$32 million per year in research expenditures).
The EERC, the Institute for Energy Studies and disciplines across UND conduct scientific and engineering research in a broad range of energy topics:
Clean coal
Enhanced oil recovery from Bakken Shale
Carbon capture and sequestration
Renewables (wind, solar, biofuels)
Return for the state of North Dakota from a 1% oil extraction increase.
Number of current energy research expenditures at UND.
EnergySeminar
Benefits to North Dakota
UND's energy research is crucial to the success of the energy industry in North Dakota and beyond.
Workforce development.
Accessibility and affordability of energy in North Dakota while environmentally responsible at the same time.
UND helps North Dakota energy remain accessible, affordable and environmentally responsible.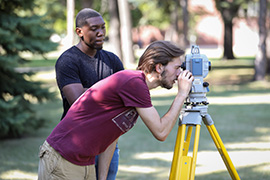 Multidisciplinary Research
We combine the sciences, engineering, economics, law and other disciplines to expand opportunities for energy research.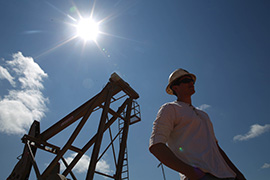 Enhancing Oil Recovery
Every 1 percent increase in recovery means $3 billion in new revenues and hudreds of millions in tax revenue for North Dakota.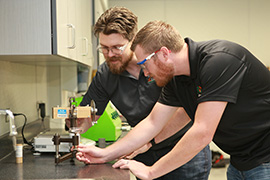 Increeasing Value of Coal
Recovering rare earth elements from coal deposits provide scarce commodities used in electronics applications.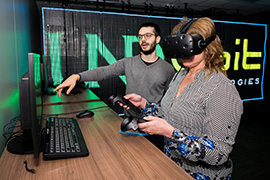 Advancing Carbon Management
Carbon capture, utilization, and storage is an option for companies seeking to combine greenhouse gas mitigation with operations.