Human Health
Our goal is to address health challenges through basic, clinical and translational discovery.
North Dakota has high rates of cancer, Alzheimer's and substance abuse, with an aging population and health care disparities in rural and tribal areas, said Colin Combs, champion of the Grand Challenge to transform health care in the state.
Marc Basson, associate dean at the UND School of Medicine & Health Sciences (SMHS), sees opportunities to reinvent health care across North Dakota by partnering with hospitals and patients to pioneer medical advances. The SMHS has received more than $50 million in federal funding over the last 15 years to examine such vexing questions as how environmental factors can lead to cancer, but has not focused on patient research.
An institute for clinical studies would take advantage of federal and private funding for clinical trials of medications and devices. Successful developments would benefit patients, save hospitals and patients money and improve health care across the state, as well as lower Medicaid expenses paid by the state.
An investment from the state would jumpstart the research while ensuring future returns with a healthier workforce, better access to health care and revenues from drug and device development. The program could be self-funded within a few years, said Basson.
UND's Human Health Capabilities
UND's SMHS has robust research capabilities in a variety of diseases prevalent in North Dakota:
Cancer
Stroke
Parkinson's
Alzheimer's
Multiple Sclerosis
Addiction
Aging
SMHS has a strong clinical/patient treatment presence across North Dakota and connections with provider networks.
UND's SMHS and allied health disciplines are major providers of the state's healthcare workforce. UND's allied health disciplines (nursing, social work, occupational therapy, physical therapy, physician assistant, public health, kinesiology) provide valuable training for the North Dakota healthcare community (e.g., the majority of North Dakota's nurses are UND graduates) and carry out research.
Dollars of federal funding annually, creating high value job opportunities.
With the state's only medical school, UND has a long history of expertise, research and excellence.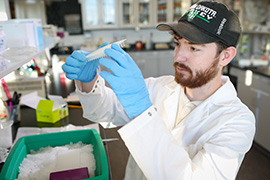 National Institute of Health and Centers
of Biomedical Research Excellence
Continuous funding for 15+ years and has provided $50+ million in federal funding during that span.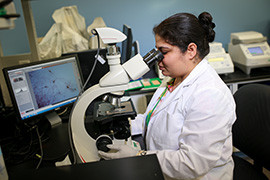 Neurosciences, Infectious Disease and Epigenetics
COBRE funding has created nationally competitive research programs (e.g., studies of how environmental factors can lead to cancer).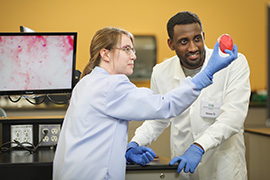 All-Time Highest Level of
Research Funding
Ten SMHS investigators hold the highest National Institutes of Health (NIH) award available.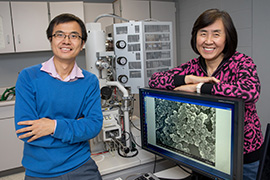 Clinical and Translational Research
The SMHS is leading a partnership from across UND, the state and beyond to help counter high rates of cancer with the support of a $20.3 million, 5 year grant from the National Institutes of Health.