Focus Areas
RIAS is built upon five primary focus areas:
Autonomous Platforms
Application
Data Supply Chain
Cyber Security
Policy
Autonomous Platforms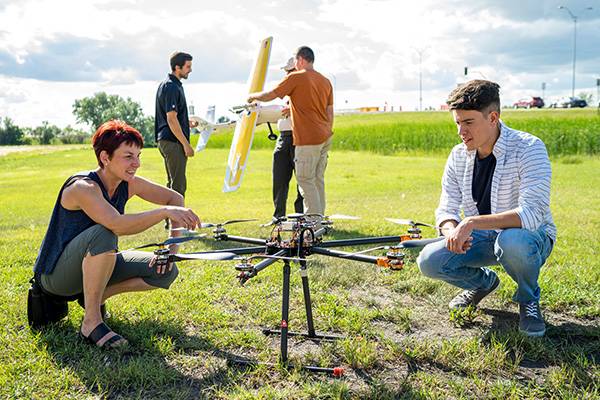 The RIAS Autonomous Platforms group has expertise in Detect And Avoid (DAA), human factors, safety, counter-autonomy, sensor/payloads, and propulsion.
Autonomous Platforms Team
Develops technologies for integrating autonomous systems into airspace and other domains.
Ensures the long-term well-being of operators through advanced human factors research.
Promotes societal safety through development, testing, and utilization of autonomous systems.
Develops technologies for countering adverse autonomous systems.
Applications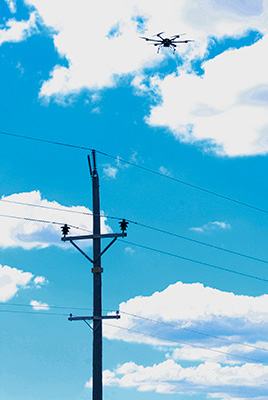 At every level of UND, faculty and staff work towards realizing the state's goal of becoming the global capital for applied UAS research.
To that end, one of the university's deans, Dr. Bradley Rundquist, continues to perform research in the UAS space around remote sensing and object classification. His work has propelled the University of North Dakota to become a major source of employees for agencies like the National Security Agency and the National Geospatial Intelligence Agency.
UND faculty and students work to set up UAS operations.
Similarly, Dr. Forrest Ames' expertise in aerodynamics, thermodynamics, and heat transfer has helped him become a foremost authority in the field of aerodynamics through custom wind tunnel development since his former work at Rolls Royce.
Dr. Susan Felege has employed UAS to study the effects of wind turbines on wild life. Her work has included creating automatic detection algorithms for naturally-camouflaged wildlife. The defense applications for image analysis, camouflage detection, and pattern recognition are unlimited.
Finally, Dr. Jeremiah Neubert's dual roles of roboticist and deep machine learning expertise have come fully to the fore with his work on infrastructure inspection and autonomous flight.
Data Supply Chain
The RIAS Data Supply Chain group has expertise in intelligent sensing, communications, High Performance Computing (HPC)/storage, and techniques for extracting actionable information from a wide variety of data (imagery, large data sets, etc.).
Data Supply Chain Team
Develops intelligent information extraction systems through:
Creation of intelligent systems that allow highly selective data acquisition.
Development of systems that optimize data storage and retrieval.
Creation of systems that efficiently communicate and secure acquired data.
Development of advanced techniques and algorithms for conversion of data into actionable information.
Cyber Security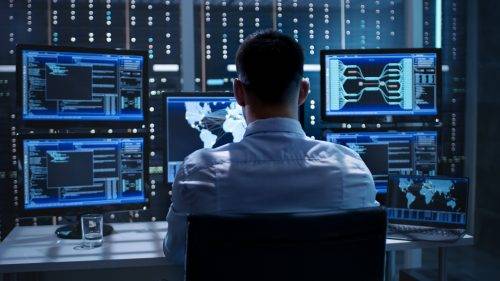 The RIAS Cyber Security group has expertise in autonomous systems operations, communications, storage, analysis, and security. The goal is development of secure systems that can swiftly generate trustworthy and actionable information from autonomous systems.
Cyber Security Team
Develops techniques that secure all aspects of autonomous systems, including data related to operations, communications, storage, and analysis.
Develops detection and mitigation techniques to counter unauthorized autonomous systems.
Develops security protocols that are consistent with legal and ethical standards.
Policy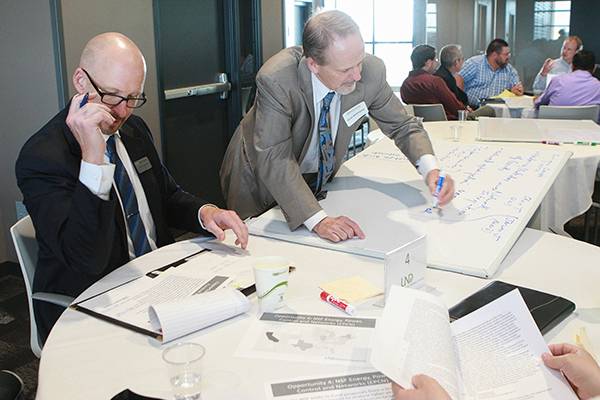 The RIAS policy team is crucial as it leads policy development and is a primary mechanism through which we ensure that autonomous systems development is consistent with ethical and legal standards.
Policy Team
Proposes and evaluates public policies for autonomous systems.

Commercialization of autonomous technologies.
Development and dissemination of public policy.
Collaboration with emerging and existing businesses through serving as a regulatory and ethics resource.

Targets policy research on applications of autonomous systems to inform economic development.
Uses economic and financial analyses on autonomous systems applications to inform investment and business decisions and creation of public policy.