Group Exercise
Group Exercise Classes
The Group Exercise program is essential for creating a social and motivating atmosphere to encourage participation and meet the ACSM and CDC guidelines for physical activity.
Interested in group exercise, but don't know which classes to take? Let the intensity level indicator be your guide. Whether you are at a beginner or advanced level, you will get a great workout in the variety of classes that we offer. You will work hard and have fun in the group exercise classes.
Class limits are set based on safety and equipment availability. Plan to arrive for classes 5-15 minutes prior to the start time to ensure your spot. Participation is first come, first serve.
Morning Ride
Start your day in an enjoyable atmosphere, with a motivating instructor and 45 minutes of sprints, hills, and upbeat music.
Class limit: 20 participants
Vinyasa Yoga
Sanskrit for flow, move in and out of different postures utilizing strength and flexibility. Leave this class feeling better mentally and physically.
Class limit: 40 participants
Night Ride
End your busy day with a relaxing, fun, and effective late-night ride. Together you travel on flat roads, climb hills, sprint, and race! You are kept motivated by the instructor, the people around you, and the music. It is truly a fantastic cardiovascular class!
Class limit: 20 participants
Wake Up & Cycle
Jump-start your morning with us and cycle your way to a great day. Indoor cycling with motivating music, videos, disco lights, and black lights, too! Pedal through a fun cardiovascular workout!
Class limit: 20 participants
Yoga Strength
This Vinyasa style yoga class stretches, strengthens, and tones the entire body. Vinyasa means "to flow with breath" and each pose flows into the next to balance and focus the mind and create energy. Basic yoga poses and sun salutations are combined to provide a well-rounded yoga class. Any member can attend; prior experience is not necessary.
Class limit: 40 participants
Step Aerobics
Although the Reebok Step originated in 1992, there is nothing outdated about it. Participants choose the height of their platform for this fun, challenging and efficient cardio workout. We'll learn a variety of steps and routines to keep things interesting and we'll finish with a few minutes of intense ab work before the cool down. Step up you game and join us for this vintage workout!
Class limit: 30 participants
Cardio Dance
Class limit: 40 participants
Tabata
Tabata—also known as the "4 minute workout"—consists of 20 seconds of high intensity exercise followed by 10 seconds of rest in 4 minute intervals. Paired resistance training exercises are performed to energizing music. Get a great workout, improve your strength and cardiorespiratory fitness, and learn resistance training exercises in a challenging yet fun environment.
Class limit: 25 participants
ZUMBA
ZUMBA is a fun, effective and simple fitness system inspired by Latin Dance! ZUMBA incorporates principles of interval training and resistance training to maximize caloric output, fat burning and total-body toning. It targets areas such as glutes, legs, arms, and ABS! These fitness methods are combined with explosive and exotic Latin music rhythms and dance moves. This dance-fitness fusion creates a PARTY-like atmosphere that motivates everyone to be active, get in shape, and keep coming back for more!
Class limit: 50 participants
Kickboxing
Kickboxing with an edge! This cardio interval based workout combines kickboxing, athletic drills and simple dance moves, into a high energy routine set to the hottest dance music. Kickboxing requires no equipment or previous experience. The killer music and great choreography make this class adaptable to any fitness level!
Class limit: 30 participants
Muscle Pump
Learn to incorporate weights, gliders, and body weight in a full-body workout in a non-intimidating environment. Muscle Pump is a group exercise class that focuses on all major muscle groups with proper form and upbeat music!
Class limit: 30 participants
Tone Up
This 45 minute barbell workout uses low weight load and high repetition to give you a total body workout. Engaging all major muscle groups with weight room exercises will build strength, sculpt muscles and give you a cardiovascular challenge. Come join us if you are looking to strengthen, tone, and define your entire body.
Class limit: 30 participants
WAR
If you're looking for a challenge, this 45-minute total-body battle is just for you! This class was designed for athletes and others looking to maintain or enhance their competitive fitness level. Over a 45 minute period, participants will engage in a variety of exercises designed to increase their competitive fitness level. Participants will rotate through 4-minute-long, HIIT battle stations where they will perform a maximal effort anaerobic exercise for 1 minute and an aerobic exercise for 3 minutes. The use of heart rate monitors is highly encouraged. Are you prepared to go to WAR?
Class limit: 20 participants
Core de Force
Not your typical cardio class - an empowering, core-focused workout, inspired by MMA. This class features MMA-inspired Combinations, Bodyweight Moves and high-intensity Cardio Spikes! This class is super high-energy, and you get cardio, strength, movement and leave feeling really empowered, like you can take on anything!
Class limit: 20 participants
ID Required
Group Exercise Classes are included at no extra charge with your Wellness Center access. However, you must have your ID with you to enter class.
Meet the Instructors
Josie
Classes: TurboKick (kickboxing),
Wake Up & Cycle
Kelli
Classes: Cycling

Olivia
Classes: Barre Fitness
Shawn
Classes: Tabata

Tiffany
Classes: ZUMBA, TurboKick (kickboxing)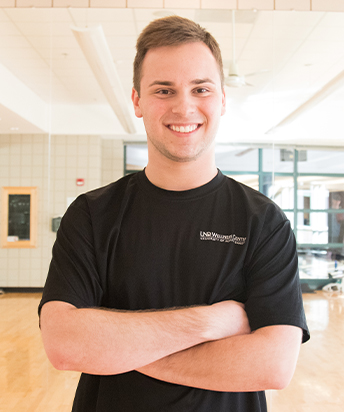 William
Classes: ZUMBA, Cycling