Personal Training
Our personal training program focuses on the physical, emotional, and intellectual dimensions of health and wellness.
Wellness Center personal trainers are nationally certified, which means they are held to a higher standard of care, including confidential training. They are prepared to develop an exercise program specific to your needs and will inspire you to elevate your level of physical fitness.
Benefits of Personal Training
Customized program for your body type, your genetics, and your exercise history.
Safely and efficiently accomplish your goals.
One-on-one motivation and support.
Learn how to correctly lift weights and optimally perform cardiovascular exercises.
Complete confidentiality of all records and workouts.
Personal Training Packages
Goal Consultation
This FREE appointment gives the potential client a chance to meet the trainer they will be working with for their personal training sessions. During this appointment, the trainer and client will discuss the client's medical history to determine exercise readiness, the goals that the client wishes to achieve, and discuss the personal training contract. The end of this appointment provides time to decide which package will work best for the client's goals, and to start the next steps of hiring a trainer to meet their fitness needs.
All Personal Trainers are full and not taking any more clients at this time. If you are interested in added to the waitlist, enter your information using "Request Goal Consultation" button below.
Let's Get Started Package
This package is perfect for the person who wants to kick-start their fitness routine! The package includes:
Comprehensive Fitness Assessment
6 Personal Training Sessions
Cost: $200 (Expires after 8 weeks)
Personal Training Sessions
For those interested in general personal training, we offer reduced rates when you buy more than one personal training session at a time. A comprehensive fitness assessment is required before any personal training sessions can be purchased.
3 Sessions = $85 (Expires after 3 weeks)
6 Sessions = $160 (Expires after 6 weeks)
10 Sessions = $270 (Expires after 10 weeks)
16 Sessions = $400 (Expires after 16 weeks)
Comprehensive Fitness Assessment
The comprehensive fitness assessment is a thorough evaluation of your general wellness, body composition (both skinfold and INBODY assessments), cardiovascular fitness, muscular endurance, and the Functional Movement Screen (identify muscle asymmetries, tightness, weakness, and other risk factors for injury by examining the mobility and stability of the hips, core, shoulders, knees, spine, and ankles). This assessment is required for all personal training packages.
1 Assessment = $55
2 Assessment (Pre & Post) = $97
Personal Training Policies
All participants must be a current member of the UND Wellness Center and maintain their membership for the duration of the personal training package.
All packages/services purchased will expire after 8 weeks unless specified otherwise.
Appointments must be cancelled or rescheduled 24 hours in advance or you will forfeit your session.
Fill out the Personal Training Contract.
If necessary, clients may be required to submit a medical clearance form in order to participate safely in personal training.
Become a Personal Trainer
We are hiring Personal Trainers!
Meet the Personal Trainers
Certifications/Education

American Council on Exercise - Certified Personal Trainer
USA Powerlifting Coach
Certifications/Education

National Strength and Conditioning Association (NSCA) - Certified Personal Trainer
NSCA-Certified Special Population Specialist (CSPS)
Master of Science in Kinesiology
Bachelors of Science in Exercise Science
ViPR Certified Instructor
Stepping On Certified Instructor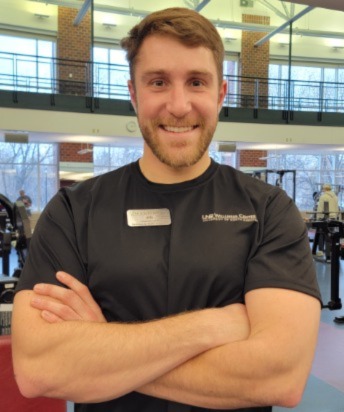 Certifications/Education

International Sports Sciences Association (ISSA) certified personal trainer

Physical Therapy Student