Online Money and Banking College Course
UND's enroll anytime courses are offered online and are open for enrollment any day of the year. These online courses for credit are self-paced, so it's convenient for you to work on your own time and have 3 to 9 months to complete the course.
Economics 303: Money and Banking
Prerequisites:

Microeconomics and Macroeconomics

Credits:

3

Format:

Online - Self-Paced Enroll Anytime

EST. time to complete:

3 to 9 Months

Cost:

$384.88 per credit
Why take the online Money and Banking course?
Money & Banking is an undergraduate college course designed to provide an economic perspective of the financial system and its components at a level consistent with non-economics majors.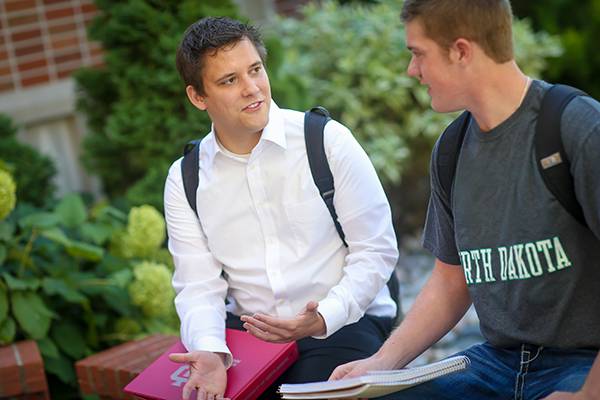 Particular emphasis is placed on the importance of financial markets and institutions within both microeconomic and macroeconomic contexts. You will examine these relationships primarily through the study of the nature, role, and evolution of money and depository institutions in today's rapidly changing society.
Finally, with an eye toward understanding policy implications and how certain macroeconomic goals may be pursued, you will examine the role of the Federal Reserve System.
Through this online money and banking college course, you will explore the:
nature of our current monetary system
functional analysis of commercial bank operations
limits to credit expansion
alternative theories of the value of money
monetary and fiscal policies for control of the business cycle
powers of the Federal Reserve System and the Treasury
mechanics of international payment
balance of payments and other problems
Learning objectives in the Money and Banking college course
If you are interested in business, but your concentration or major is in an area other than economics, the Money & Banking course is designed to equip you with a means of understanding and analyzing the ongoing evolution of the financial system, the Federal Reserve System, and the events that pertain to these institutions.
Underlying these objectives is the fact that business persons are almost always participants in the financial system. In addition, familiarity with the topics covered in this course should increase your probability of being financially successful in your personal affairs.
For the students particularly interested in economics (i.e., economics majors and minors), the above mentioned objectives should aid in furthering their knowledge of economics in general and the efficiency and growth aspects of macroeconomics in particular.
What's required for this online economics course?
The Economics of Money, Banking, and Financial Markets, Business School Edition, Mishkin, Frederic S., 4th ed. Boston: Pearson Publishing, 2016.
ISBN-10: 0-13-385980-0 or
ISBN-13: 978-0-13-385980-5
Lessons & Exams for Econ303 Online Course
You have 3 to 9 months from your enrollment date to complete:
Assignments will include practice exercises, quizzes and exams.
How will the course appear on my transcript?
You may enroll at any time and have 3-9 months to complete this online course. The college credits you earn will be recorded on your transcript in the semester you register.
Why Take Online Classes at UND?
Here are a few reasons why you should take an online enroll anytime course at UND:
Great customer service – Our registration team is ready to answer questions quickly so you can focus on your coursework.
Affordable – UND's enroll anytime courses are priced at North Dakota's affordable, in-state tuition rate.
Accredited – UND is accredited by the Higher Learning Commission.
Easily transfer credits – Transferring credits is always at the discretion of the institution to which the credits are being transferred. In general, credits from schools/universities that are regionally accredited by the Higher Learning Commission transfer to other regionally accredited institutions. UND's online courses appear on your UND transcript in the same way as other courses.
Flexible 100% Online Course
You'll take this online course at your own pace. Some students thrive in this environment, while other students may struggle with setting their own deadlines. If you have successfully taken an independent study or correspondence course previously, UND's enroll anytime courses may be right for you. Still not sure? Take our online quiz to help determine if online enroll anytime courses are right for you.
Course information including tuition, technology requirements, textbooks, lessons and exams is subject to change without notice.