Projects
Projects Basic Overview
All Qualtrics sessions begin on the Projects page – a one-stop shop listing all the XM projects you have created and those that have been shared with you. The Projects page can be accessed by opening the navigation menu on any page of the Qualtrics website and selecting Projects.
See the Projects Basic Overview help article for information on creating, organizing, searching, and collaborating on projects.
Creating a Project
A typical project consists of a survey, a distribution record, responses, and reports. To make it easy to create a new project, Qualtrics gives you five options to guide you along. You can start with:
Blank survey projects.
Copies of existing surveys.
Solution Templates.
Templates in your survey library.
Exported Qualtrics Survey Format (QSF) files.
See the Creating a Project help article for steps to create a project.
Organizing and Viewing your Project
The Projects page displays practical, at-a-glance information to help you organize, view, monitor, track, and sort through your projects. For example: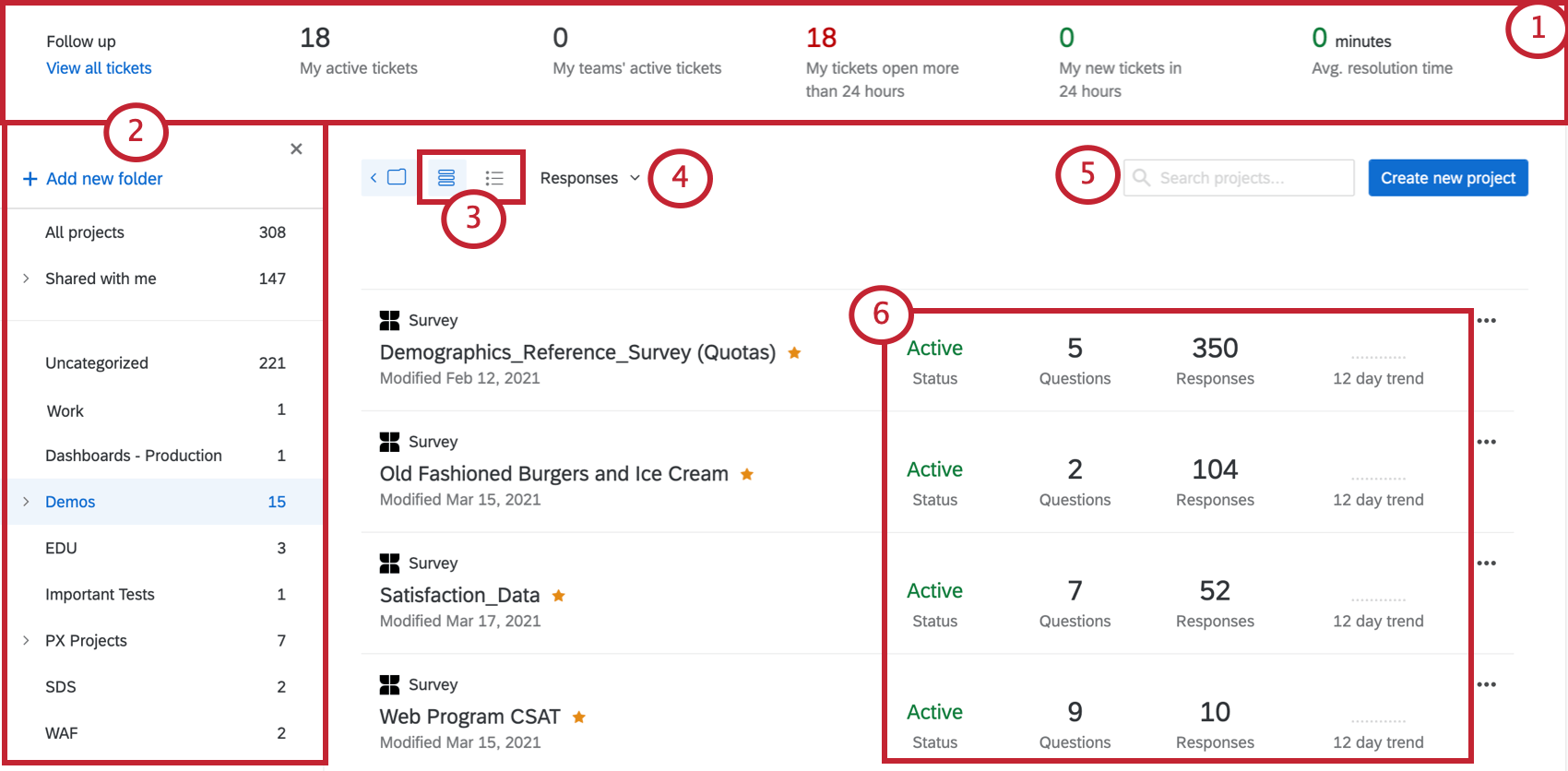 View and organize projects by folder or category.
Expand or collapse your projects for easy viewing.
Sort your projects by various criteria, such as Project Type, Project Name, or Last Modified.
Search for projects by name.
View metrics summarizing your projects.
On the far-right of every project name you'll see three dots that open the project actions dropdown menu, which will greatly facilitate your navigation of that project. From here you can activate, rename, copy, edit, translate, and delete your projects, and more.
See the Organizing & Viewing Your Projects help article for more information.
Collaborating on Projects
The collaborate feature allows you to give other Qualtrics users access to your surveys when they log into their accounts. That way, you can work on the same project without giving out your account information. You can even choose to restrict what type of access other users have to your project. For example, if you have translators working on your project, you can make sure they can upload translation to the survey, but have no access to the data you collect.
See the Collaborating on Projects help article for more information.
Imported Data Projects
Imported data projects allow you to use data from other external sources to analyze in Qualtrics. These project types are particularly useful for analyzing your operational data collected outside Qualtrics with your experience data collected inside Qualtrics.
See the Imported Data Projects help article for more information.