Reports
Results vs. Reports
There are two places to build reports under the Reports tab, each with a separate purpose:
Results: Quickly view and analyze your results in a Default Report consisting of question-based Pages and customizable Visualizations.
Reports: Format Reports from the ground up where you control the layout.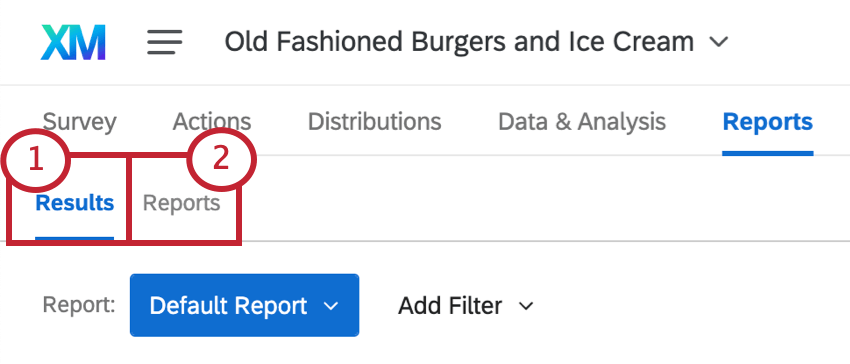 See the About Results vs. Reports help article for more information.
Results-Reports Basic
Results-reports are designed to give you a quick and simple visualization of your survey results. Each question in your survey will have a visualization pre-made for it. However, there are many customization options available to you to help you build a report to fit your needs.
To access results-reports, click Results in your survey project and then go to the Results section.
See the Results-Reports Basic Overview help article for more information.
Result-Report Advanced
The end goal of Advanced-Reports is to create informative online and printed reports to share with your stakeholders.
Advanced-Reports provide the layout tools you'll need to design:
Page Layouts: Collections of visualizations with accompanying headers, themes, color schemes, margins, and fonts.
Visualizations: Individual charts, images, graphs, text areas, or tables pulled from your data set.
Filters: Logic to include or exclude data from your visualizations and reports.
See the Advanced-Reports Basic Overview help article for more information.