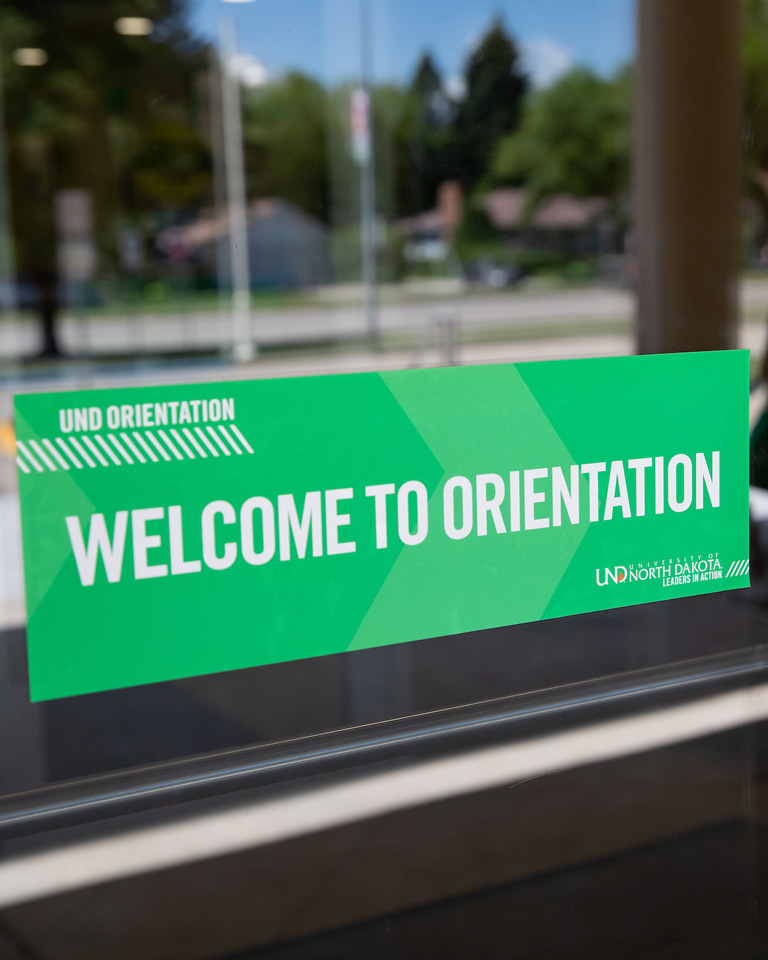 UND Orientation Days
Learn what to expect during your first year at UND.
Orientation is for freshman and transfer students starting fall 2022.
UND Orientation Days | July 18-22, 2022
Orientation will be a day-long event held on the UND campus. At orientation, you'll:
Learn what to expect during your first year at UND
Connect with other new UND students
Explore the UND Resource Fair
Receive your student ID card (if you submit your photo in advance)
Visit with Financial Aid representatives
Get answers to all your questions
Virtual Attendees
Unable to join in person? Livestream of UND Orientation Days took place on Tuesday, July 19. Recorded sessions are available below. In addition, Zoom Student Orientation will be available at the following times:
Orientation Schedule
By attending orientation, you'll be set up for success for your first semester on campus. You'll get your questions answered, meet with Financial Aid representatives, learn about a variety of offices and services available to UND students and meet other students living in your residence hall.
8:00 - 8:45 a.m.

Check-In

Memorial Union - First Floor

Pick-up

Services

Academic Advisors
Dining Fingerprint Scanning
Housing
Student Health Services
One Stop Student Services

8:45 - 9:15 a.m.

Welcome

Memorial Union - First Floor

9:15 - 10:00 a.m.

Setting Yourself Up For Success at UND

Memorial Union - Main Ballroom

10:15 - 11:00 a.m.

Academic College Event & Meet Your Advisor

Chester Fritz Library

11:15 a.m. - 1:00 p.m.

Attendees are divided into two groups

11:15 a.m. - 12:00 p.m.

Group 1 - Lunch (Wilkerson Dining Center)

Group 2 - Residence Hall Tours (Your assigned Residence Hall) / Commuter Student Success Presentation (Chester Fritz Library)

12:15 - 1:00 p.m.

Group 1 - Residence Hall Tours (Your assigned Residence Hall) / Commuter Student Success Presentation (Chester Fritz Library)

Group 2 - Lunch (Wilkerson Dining Center)

1:15 - 2:15 p.m.

Parent Orientation

Memorial Union - Ballroom C/D

Student Orientation

Memorial Union - Ballroom A/B

2:30 - 3:00 p.m.

Resource Fair

Memorial Union - Small Ballroom

Academic & Career Exploration
Athletic Office (NoDak Nation)
Blackboard & Online Course Options
Campus Shuttle
Career Services
CVIC at UND
Dining
International Center and Study Abroad
Housing
Learning Services/Tutoring
Math Active Learning Lab (MALL)
Memorial Union
Parking
Starfish
Student Diversity & Inclusion
Student Employment
Student Government
Student Health Services
Student Involvement & Parent Programs
TRIO/Student Support Services
University Counseling Center
Veteran & Military Services
Wellness & Health Promotion

8:00 - 4:30 p.m.

Additional Opportunities

AeroStop Store
8:00 a.m. - 4:30 p.m. | Robin Hall, Room 123
University of North Dakota Bookstore
8:00 a.m. - 5:00 p.m. | 775 Hamline Street
Dining Services Fingerprint Scanning
3:00 - 4:30 p.m. | Express Convenience Store & Starbucks, Memorial Union Main Floor
John D. Odegard School of Aerospace Sciences Ice Cream Social
3:00 - 4:30 p.m. (Q&A at 3:30 p.m.) | Clifford Hall, Room 210
Visit with Army and Air Force ROTC Programs
3:00 p.m. - 4:30 p.m. | Armory
Wellness Center Tour
3:00 - 4:30 p.m. | Meet in Wellness Center Lobby
Campus Tour
3:15 - 4:15 p.m. | Meet at Orientation Check-In, Memorial Union Main Floor
Tour of McVey Hall
3:15-4:15 p.m. | Meet at Wilkerson Commons Service Center

8:00 - 4:30 p.m.

The following offices will be available to answer questions and meet with students individually

Disability Services for Students 1:1 visits
8:00 a.m. - 4:30 p.m. | McCannel Hall, Room 190
One Stop Student Services 1:1 visits
8:00 a.m. - 4:30 p.m. | Memorial Union Third Floor
Student Health Services 1:1 visits
8:00 a.m. - 4:30 p.m. | McCannel Hall, Room 100
University Counseling Center 1:1 appointments
8:00 a.m. – 4:30 p.m. | McCannel Hall, Room 200
Veteran & Military Services 1:1 appointments
8:00 a.m. - 4:30 p.m. | McCannel Hall, Room 170