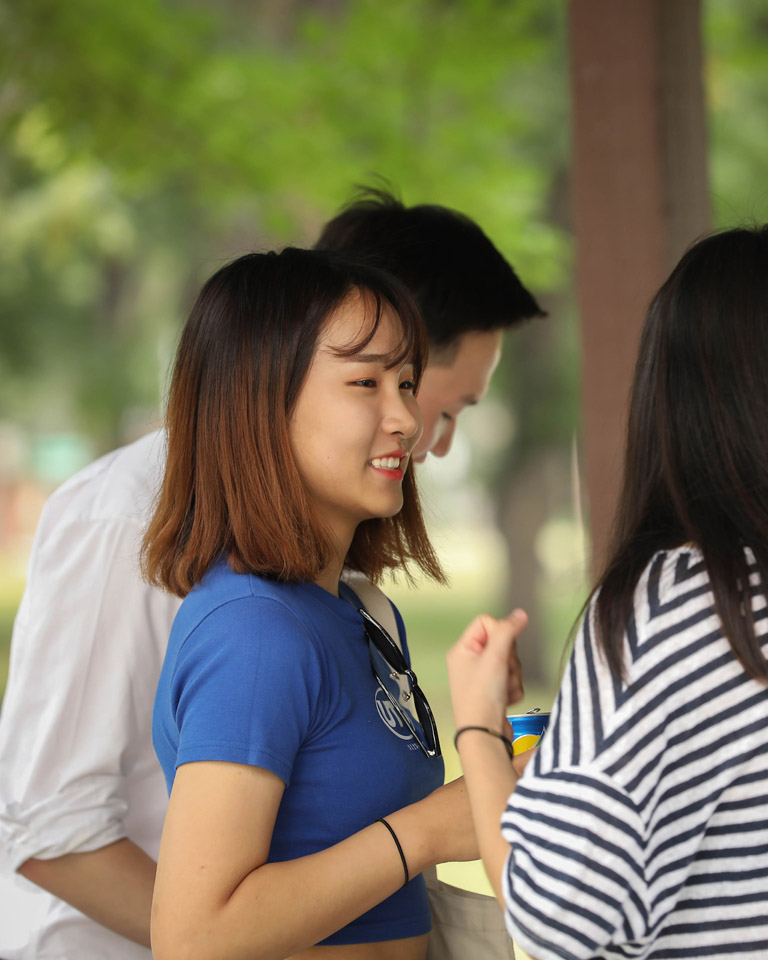 International Student Orientation
International Student Transition Program
Get introduced to student life and other topics at the International Student Transition Program.
International Student Orientation is mandatory for all new students in F-1 and J-1 student status. This includes transfer students. For more resources, visit the International Center.
Fall 2020 International Student Orientation
Students should register for classes before orientation! To register, please sign up for a Virtual Group Registration date during the summer.
Orientation will help you to:
Become familiar with UND and the Grand Forks Community
Learn about important academic issues
Access necessary campus resources
Learn about immigration regulations
Learn about health insurance
Learn about employment in the U.S
Meet other new and returning UND students
Experience new cultures
Get acquainted with the International Center and our staff
What to do BEFORE Orientation
To confirm your enrollment, you must pay a $200 non-refundable deposit (freshman, undergraduate students only) that's applied to your UND bill.
You must claim your account before you can pay your deposit, and you must pay the full deposit before you can register for classes and receive your housing assignment. Make sure you pay your deposit as soon as possible!
Visit the Admitted Students page for more information on paying your deposit. Find step-by-step instructions on how to pay your deposit on Campus Connection.
Please see the top of this page for the International Student Orientation date, time, and location. Sign up is not required!
Registration for classes is done virtually (from your computer at home!) Please reserve your spot in a Virtual Group Registration date, which will take place in May, June or July. Please note, prior to making your reservation for Virtual Group Registration, you must have paid your $200 enrollment confirmation deposit at least two business in advance!
You must complete this step before completing Steps 4-6.
In order to have your card ready by the time you arrive at UND go to the U Card Request page on One-Stop Student Services website. There you can enter your information and upload your photo to have your U Card ready when you arrive.
Students - please note, One-Stop accepts requests during these times:
Registered in Fall classes - August 1 through the end of Fall semester
Registered in Spring classes - December 1 through the end of Spring semester
Registered in Summer classes - May 1 through the end of Summer semester
Register for Early Arrival Housing online prior to your arrival to UND. Early Arrival Housing allows you to live in your residence hall room assignment when you arrive before school starts. The Early Move-In Application is available on the Housing website. Please note it is an additional cost.
Bring the Mandatory Immunizations and TB Screening Form with you to Orientation! There will be an opportunity for you to turn in your form to a Student Health Services professional at Orientation. If you're unable to turn the form in at Orientation, please send to the address on the form.
What to BRING WITH YOU to Orientation
Make sure you bring the following items to Orientation:
Your government-issued passport.
Your Form I-20.
Your Student ID (EMPLID) card. (If you don't have your Student ID card yet, you'll need to know your Student ID number. This number was provided in your official acceptance letter.)
If you haven't submitted your completed Mandatory Health Immunizations and TB Screening Form to UND Student Health Services, you need to bring it with you to Orientation. It's highly recommended that you submit it in advance so it can be verified.
If you plan to transfer college credits or enroll in upper-level coursework during your time at UND, you must bring a copy of your college transcript(s) to Orientation to help with your registration for classes.
Orientations Available