Amber Annis' Journey to Ph.D.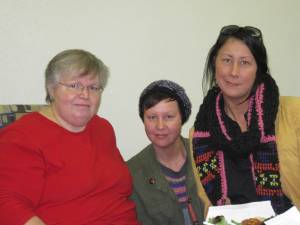 I am currently finishing my dissertation in the Department of American Studies at the University of Minnesota. I will soon defend my dissertation and as I reflect on my journey to the PhD, I realize how fast the time has flown. I do feel like it was just yesterday that Dr. Birgit Hans, my McNair faculty mentor during my undergrad at UND, was telling me how important it was to pursue my PhD. I was not too impressed with how long that road was, so I opted for a Masters in History, which I obtained in 2012. She urged me again; the PhD is important. I was ambivalent to continue onward, but am so thankful I did.
I started at the University of Minnesota in 2012 and have had the most amazing experiences, some difficult, of my academic career. My dissertation, "A Foundation to Stand On: The Militarization and Exploitation of Lakota Resources in the Cheyenne River Lakota Nation," is an examination of the militarization of reservation land, the appropriation of water, and the exploitation of tribal sovereignty of my community and nation, the Cheyenne River Sioux Tribe. I argue that acquisition of the tribe's resources for a military gunnery range and for a national damming project was fundamental to U.S. nation building between the end of WWII and through the Cold War. I place American Indian people at the center of my conversation as I investigate the manner in which American Indian people and resources were fundamental to America's national identity. By highlighting these moments of the Cheyenne River Sioux Tribe our understandings of American Indian sovereignty, World War II and Cold War engagement, militarization, identity, mobility and nation-to-nation race-relations are greatly enhanced. The most important thing to me is that I am Lakota scholar who is researching and writing about my own community. We need more Native people doing this kind of work in academia.
My work is in the fields of American Indian studies and American Studies, but I am also heavily involved in public history and community engagement. While going through the graduate program I continually sought out projects that would take me outside the walls of academia. It is so important to develop skills in collaboration, inclusion and intercultural competency. I was fortunate to become involved with the Honoring Nations Program through the Harvard Project of American Indian Economic Development. This program has taken me across the United States visiting American Indian nations and programs they create to strengthen tribal self-governance. I am also involved with a national project, States of Incarceration, which fosters local dialogue on mass incarceration within our own communities. We are in the middle of developing community programming for an upcoming traveling exhibit, which comes to the Minnesota History Center in November 2018.
I have also done various projects with other organizations in the Twin Cities, all that have led me to my current position at the Minnesota Historical Society in St. Paul, MN. I currently work in the Department of Inclusion and Community Engagement at the Minnesota Historical Society. I work in collaboration with the Heritage Studies and Public History graduate program at the University of Minnesota. My position works with the graduate students to help them find internships with community organizations. A goal of our program is to approach our students as change agents who will leave the program with socially conscious backgrounds and awareness. I also teach core courses and electives within the program. I love my job and I know everything I have been doing these past several years have led me to a career where I can work both inside and outside the classroom!
Throughout this journey, I also acquired two beautiful daughters, an amazing husband, and a sweet dog. If you ever come to the Twin Cities, look us up! Toksa Ake!