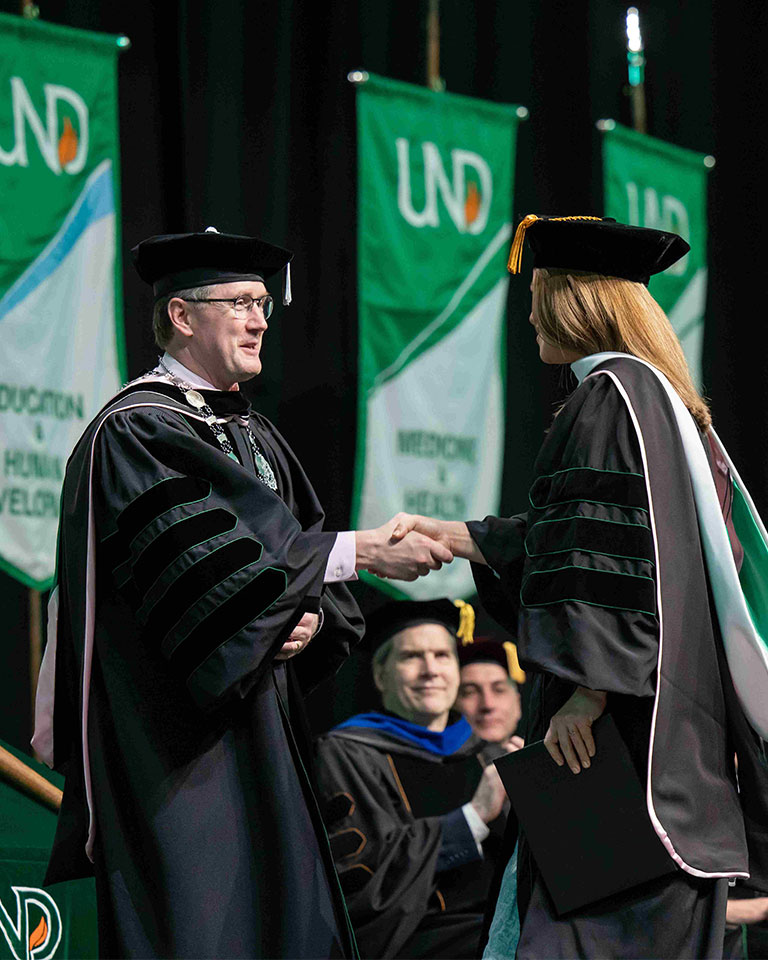 Apply for Graduation
What's the difference between Commencement and Graduation?
Commencement

refers to the ceremony. It is an opportunity for the students to share the excitement and importance of their academic accomplishments with peers, family, and friends. It is also a time for the University, senior administration, faculty and staff to pay special tribute to students for earning their degrees
Graduation

is a process consisting of completing all academic requirements and settling all financial obligations.
Participation in the commencement ceremony is not a guarantee or an indication of degree completion. To officially graduate from UND, students must satisfy all university, college, and department requirements for the specific degree. Your degree becomes official when it is posted to your transcript, not by your participation in commencement.
Academic Requirement Report
Undergraduate students are responsible for ensuring they are eligible to graduate by completing the Academic Requirement Report. Certificate and graduate programs are not included in the Academic Requirement Report.
If you have questions about the completion of this report, please contact your advisor or the Dean's Office of their college or school to confirm that all requirements and/or clarifying actions have been completed.
If you have completed 90 credit hours, you are eligible to apply for graduation. Graduate students, however, need to be advanced by candidacy before they are eligible to apply for graduation. The process for Graduate students entails different things for different students.
Graduation Application Deadlines
Winter 2023
September 29 is the deadline for graduate and undergraduate students.
How to Apply for Graduation
Applying to graduate is done through Campus Connection. Follow the instructions below or use the How to Apply for Graduation instructions with screen shots.
Log into Campus Connection.
Click Academic Records tile
Choose Graduation from the left menu
Click Apply for Graduation
Select term and click Continue
Click Submit Application
Click on View Graduation Status
Edit your Diploma/Certificate Name and Diploma Mailing Address