GEM Program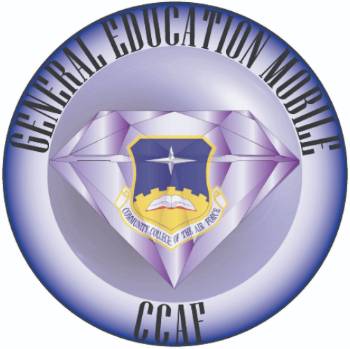 The General Education Mobile (GEM) program is designed to provide general education opportunities for any active Airmen and women of the United States Air Force, Air Force Reserve or Air National Guard pursuing an associate's degree from the Community College of the Air Force (CCAF).
Make the most of your tuition assistance (TA) benefits by completing your general education requirements you need for a CCAF associate's degree.
Through the GEM partnership, you'll be able to complete 15 of your 64 credits at UND. If you choose to pursue further education, you can transfer your CCAF associate's degree credits toward a bachelor's degree at UND.
Tuition Rates and Benefits
UND offers two convenient ways to complete your online courses:
Self-Paced Enroll Anytime
Independent study
Take 3-9 months to complete
NOT eligible for financial aid or tuition assistance
Semester-based Courses
Virtual classroom interaction
Semester structure with deadlines
Eligible for financial aid & tuition assistance
When enrolling in a course, be sure to complete your TA form in the Air Force Virtual Education Center.
UND is pleased to offer an Active Duty Military Tuition rate to Undergraduate students by using federal Tuition Assistance (TA) benefits. To receive this reduced rate, email your TA form to heidi.smart@UND.edu in Student Account Services, and your tuition rate will be adjusted for the term.
GEM Program Options at UND
Our courses are designed to help you gain practical knowledge and high-demand skills to help you advance in your education or career path. You can take the course as semester-based (16 weeks) using your military tuition assistance, or complete them faster with Self-Paced Enroll Anytime (not eligible for TA, federal financial aid, or VA education benefits/GI Bill).
Courses You Could Take
ENGL 110 - College Composition I
ENGL 130 - Composition II: Writing for Public Audiences
Comm 110 - Fundamentals of Public Speaking
MATH 103 - College Algebra
ANTH 171 - Introduction to Cultural Anthropology
GEOG 161 - World Regional Geography
HIST 103 - United States to 1877
HIST 104 - United States since 1877
POLS 115 - American Government I
PSYC 111 - Introduction to Psychology
SOC 110 - Introduction to Sociology
ART 110 - Introduction to the Visual Arts
PHIL 120 - Introduction to Ethics
How to Apply
Visit Military & Veteran Student Admissions for details on the admissions process.
Point of Contact
For questions, details and further information about GEM at UND, please contact UND Veteran & Military Services at 701.777.3363 or vets@UND.edu.