Living Options
Options for every experience and person.
Choose from a traditional or community-style residence hall where you sign an agreement for the room, or select to live in an apartment based on the room or unit.
Living Learning Communities
Students have the opportunity to live in a Living Learning Community. A Living Learning Community is all about finding a group of people to talk with and to do things with, having a sense of belonging, and having the freedom to explore and discover. It's about living and learning together!
Living On Campus Information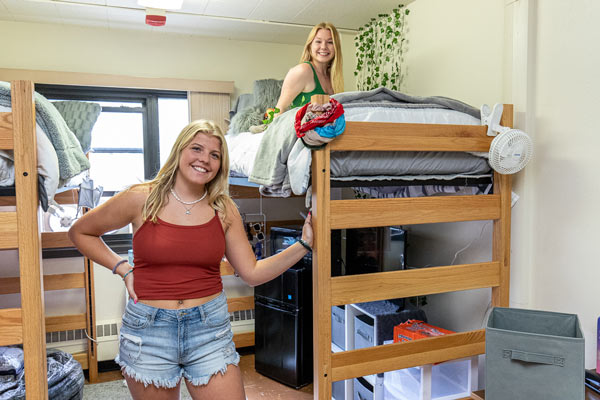 Agreements & Leases
Each person must sign an agreement or lease to live on campus. See the agreement and leasing information for specific details about term length, meal plan requirements, and more.
Policies
Discover the policies for living on campus in the residence halls, apartment-style housing, and on-campus apartments.
Services & Amenities
Learn about the amenities and services that are provided to students who live on campus, including bed lofts, maintenance, internet, laundry, and more.
Cost To Live on Campus
The cost to live on campus varies by living option. Residence Halls are billed similarly, while apartment-style housing and on-campus apartments vary by unit type. Calculate the cost to live on campus by visiting the rates page.
Comparison
| | | | |
| --- | --- | --- | --- |
| | Residence Halls | Apartment-Style Housing | Apartments |
| Available to | All students. | Non-first-year students, both undergraduate and graduate. | Non-first-year students, both undergraduate and graduate. |
| Contract Duration | Academic school year. | Academic year and optional summer extension. | Variable, you are required to provide 60 days vacate notice. |
| Furnishings | All furniture included. | All furniture included. | Both furnished and unfurnished options are available. |
| Staff Support | Resident Assistants by floor, Community Assistants, and Resident Directors | Resident Managers, Community Assistants, and Resident Directors. | Resident Managers by building or area. |
| How it's Billed | By semester, due at the same time as tuition and fees. | By semester, due at the same time as tuition and fees. | Monthly, automatically split amongst roommates. |