Semester Checklist
Get ready for next semester by following this checklist for returning students.
1. Know Dates and Deadlines
Review the UND academic calendar for the upcoming semester.
Download the My UND app and subscribe to the Undergraduate or Graduate Academic Calendar opt-in channel to receive deadline reminders.
2. Complete To-Do Items or Holds
Complete items in Campus Connection that may prevent class registration. Examples may include:
3. Connect with Your Academic Advisor and Register for Classes
Undergraduate Students
Spring 2024
Log into Degree Map to plan your next semester's classes.
Consult with your academic advisor before you register to ensure you're planning to take the correct classes.
Connect with your academic advisor in one of the following ways:

Schedule in Starfish to meet in person or via Zoom.
Call, text or email your academic advisor.
Drop-in academic advising in person or via Zoom.

Beginning Friday, Oct. 27, view your specific day and time to register in Campus Connection.

Manage Classes > Enrollment Dates > Details

On the day and time you're eligible to register, complete your class registration using either Degree Map or Campus Connection.
Graduate Students
Spring 2024
As needed, graduate and professional students should connect with their advisor before registering for courses.
Beginning Monday, Oct. 30 at 7 a.m. (CST), complete your class registration in Campus Connection. Go to Class Search > Enroll.
4. Get Help to Pay for College
Apply for Financial Aid (FAFSA)
Go to studentaid.gov using UND school code 003005 based on the timeline below. FAFSA is not available for international students.
Spring 2024
If you have not done so already, apply for aid by completing the 2023-24 FAFSA.
Opened: Oct. 1, 2022
Complete as soon as possible for the best chance to receive aid.
2024-25 Academic Year
The FAFSA for the following academic year is not yet open. It is anticipated that it will open in December 2023, but an exact date has not been determined.
Please watch for communications from UND when the 2024-25 FAFSA is open.
Accept/Decline Federal Loans
If you received federal loans as part of your financial aid package:
Accept/decline your federal loans in Campus Connection by following these instructions. Complete each academic year if receiving a financial aid offer.
If you haven't already, complete your Master Promissory Note and Entrance Loan Counseling at studentaid.gov. Complete only once; the first time you accept federal loans for your degree program.
Apply for Scholarships
UND Scholarship Central for 2024-25 Academic Year
Apply for 975+ UND scholarships with one application through Scholarship Central.
Opens: Oct. 1, 2023
Deadline: March 1, 2024
National and Non-UND Scholarships
5. Apply for Campus Housing
Check out 1, 2 or 3-bedroom campus apartments with flexible lease agreements. Apply any time.
Complete the Returning Room Sign Up Agreement to reserve a room in a residence hall or apartment-style housing (e.g., University Place) for the 2023-24 academic year.

Opens: Jan. 18, 2023
Priority Deadline: March 31, 2023
6. Purchase Meal Plans
View dining options and purchase meal plans for the upcoming semester.
7. Get Your Textbooks
Log into Campus Connection to see your textbook list by class and order directly through the UND Bookstore.
Manage Classes > View My Classes
On the bottom, click the blue "Buy My Books" button to pull up the UND Bookstore with all your required materials.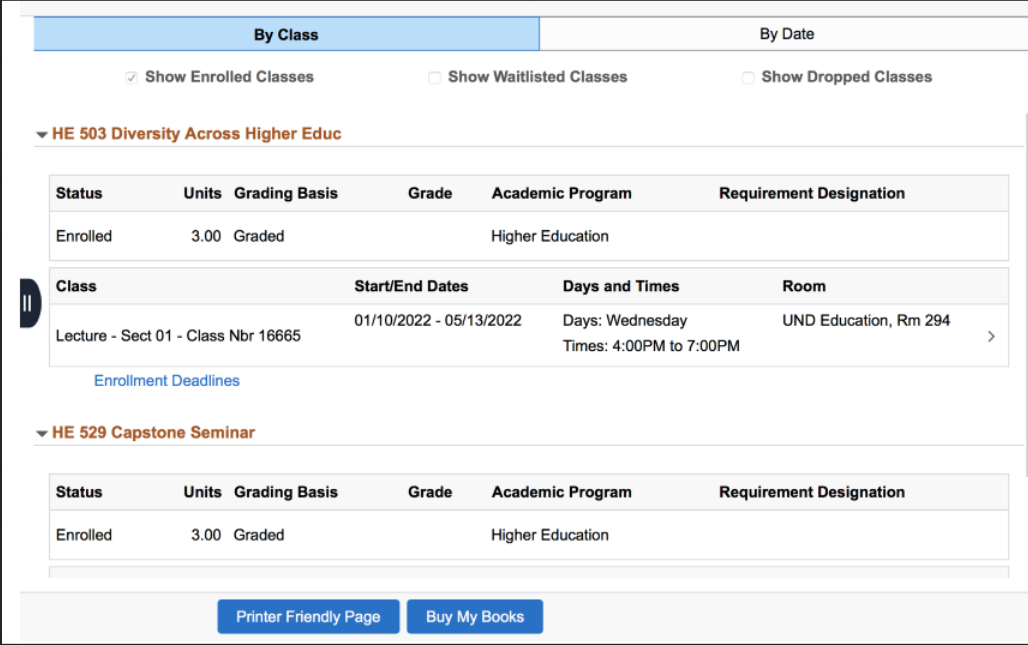 8. Order Parking Pass
Annual parking permits are valid Aug. 1 - July 31. You also may purchase a semester parking pass.
9. Pay Your Bill
Make sure you pay any outstanding UND bills in your Campus Connection account by the following dates to avoid late fees:
Fall: Oct. 15
Spring: March 15
Summer: July 15