Digital Media Studio
TTaDA has a state of the art Digital Media Studio, located on the 3rd floor of O'Kelly Hall, that faculty, staff, GTA's and programs can use for audio/video creation. The Digital Media Studio is sound proof and equipped with high-end cameras, microphones, lighting and a UND branded backdrop to provide a professional environment for creating quality recordings for use on-campus and online. Jonathan Puhl, Digital Media Instructional Designer, is available to assist you with planning, using, and implementing any type of creations you wish to have made from your use of the studio.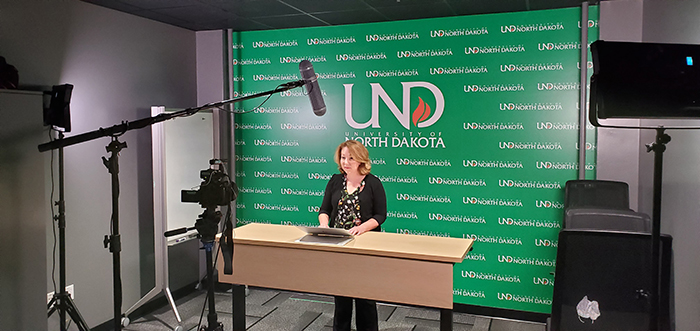 Since the Digital Media Studio opened an array of projects have been created, including:
Course Introduction Videos
Faculty Introduction Videos
Course Material Overview Videos
Presentation Recordings (Audio or Video)
Screen Recordings for software, or similar examples.
Interactive Online Learning Modules
Film type of Recordings
Excited to use the Digital Media Studio?
We're glad to hear that! The first step would be to reach out to Jonathan Puhl, so he can work with you on what you may need to best suit your needs. Feel free to ask any questions that you feel may fit within the Studios uses to Jonathan. Once you are ready to submit a request to use the Digital Media Studio, please send a meeting request to und.okelly330@und.edu. Please note: this needs to be scheduled as a meeting invite via your Outlook Calendar not sent as an email request. You can use the Scheduling Assistant in Outlook to see when the room is available and make an appointment.
COVID-19 Digital Media Studio Guidelines
To ensure the health and safety of all UND Faculty and Staff, please review the Digital Media Cleaning and Operating Process.
Only two people will be allowed into the room at one time, this number includes Jonathan Puhl for initial setup/assistance, so only 1 person is allowed to be filmed/recorded at a time. Face coverings will need to be worn while Jonathan is in the room, otherwise the person recording may take their face covering off and operate and record as normal. Please wear your face covering while in O'Kelly Hall.
Every participant will enter through the north door of O'Kelly (wearing a face covering) and Jonathan or a designated staff member will meet them at the north entrance to the third floor for their specified time and bring them to the Studio. Faculty will be notified of this in their recording reservation via email.
The room will be cleaned by a TTaDA staff member AFTER every participant regardless of time. All appropriate cleaning materials will be available in the Studio. Alcohol wipes will be used on the equipment and Clorox/Disinfecting wipes will be used on the desks and chairs.
Once a session has been completed and the room has been cleaned, a 30 minute no use time frame will be used for air circulation and prep for the next individual.
Once someone has completed their recording they will notify Jonathan (Room 341 with large window), and Jonathan will complete the recording, data offload, and delivery process. Jonathan will notify the individual of the designated exit for O'Kelly 3rd floor.
Once the participant has left Jonathan will then go through his cleaning process and all other prep procedures to get the Studio ready for the next recording.
For the cleaning specifics, Jonathan will have the appropriate cleaning materials for the equipment and surfaces, in addition to, disposable face coverings