Burgers on the Boulevard
UND's favorite summer tradition is returning on June 7!
All faculty, staff, students and the general public are invited to enjoy grilled-to-order burgers, chicken, veggie burgers, and brats on the Memorial Union patio, located on the south side of the building.
Every Wednesday, weather permitting
June 7 through August 2, 2023 (closed July 5th)
11 a.m. - 1 p.m.
Located at the Memorial Union
Weather Closures and Changes
In the event of a closure or changes in operations, updates will be available at the following locations:
How To Order
Grab your friends and head to the Express Convenience Store located on the first floor of the Memorial Union. Follow posted signs for the line formation.
Grab a drink, sides, or other snacks you'd like to purchase before placing your order. Review the menu posted by the till.
Place your cashless order and check out with the cashier at the till. When you place your order, you will be given an order slip.
Bring your order slip to the grill, located on the south side of the Memorial Union, and present it to the chef.
When your grilled item is ready, the chef will call your name.
Pick up your order and enjoy your meal!
Menu and item availability is subject to change. The latest information about menu items will be available when you place your order.
Grilled Entrees
Hamburger
Cheeseburger
Bacon Cheeseburger
Veggie Burger
Veggie Burger with Cheese
Halal Burger*
Halal Burger with Cheese*
Bratwurst
Polish Sausage
All Beef Hot Dog
Taco In A Bag
*Please note if you would like the Halal Burger option on your order slip.
Sides
Macaroni Salad
Potato Salad
Side Salad
Coleslaw
Root Beer Float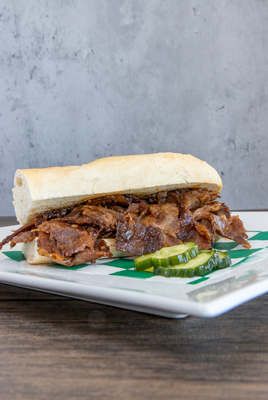 1883 Grill Featured Items
Featured items will rotate and change each week!
Smoked Beef Brisket Sandwich
Available on June 7, June 28, and July 26
Smoked Pulled Pork Sandwich
Available on June 14, July 12, and August 2
Smoked Chicken Sandwich
Available on June 21 and July 19