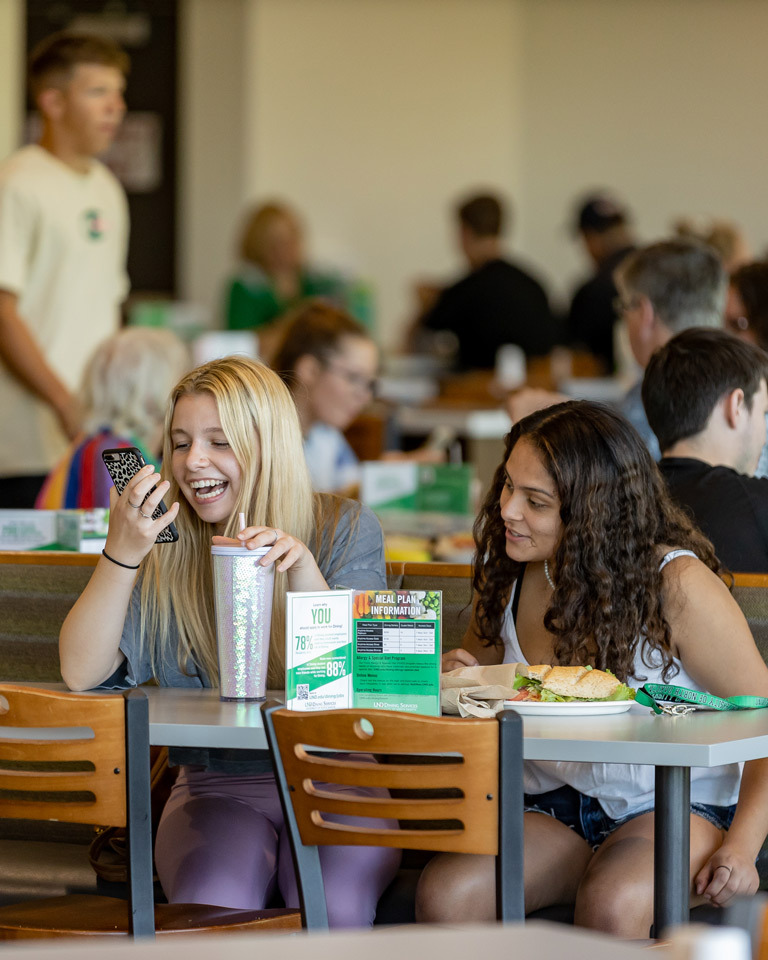 Dining Center Process
Your step-by-step guide to eating at the Dining Centers.
Follow the steps below to easily navigate to and through the dining center.
1.Check the Menu & Hours
2. Choose Dine-in or Takeout
Dine-in is the primary service option at the dining centers. If you would like to dine-in for all-you-care-to-eat, no additional information is needed when you scan your fingerprint in.
Takeout: If you would like to take your food to go, you must tell the cashier at the check stand before you scan in with your fingerprint that you would like to take your food to go. Please see the takeout policies and reminders for more information.
3. Scan In using Fingerprint
Scan in to the dining center using your fingerprint. Students will enroll their unique ID associated with their fingerprint during orientation or by going to the Dining Services Admin Office.
If you're not a meal plan holder, you can pay the per-meal price with U Cash, credit, or debit card. Cash is not accepted.
Absolutely not. This form of identification is called Biometrics, which translated means measurements of human characteristics. This is not fingerprinting. The finger id system is extremely protective of the biometric measurements it makes. The system is one directional. The finger is enrolled and our system takes a variable amount of measurements based on the style of the fingerprint and places these in storage by creating a numeric that represents these measurements.There is no way to reverse the process and be able to recreate a finger print from this information.
4. Select Your Food
Each dining center features multiple food stations and options. Feel free to walk around to see all your options: homestyle comfort food, salads, sandwiches, pizza, noodles, burgers, and more! You can learn more about the food that we serve from our local partnerships in the region.
We are a tray-less facility. You can grab a plate and utensils at the beginning of a concept to serve the food yourself, or if we're serving food, a plate will be provided to you.
Items at The Grille are made-to-order, with exclusive selections available only through Grubhub.
Utensils and napkins are available in multiple places throughout the dining center.
Cups are available by the beverages station.
5. Enjoy!
You can sit wherever you would like in the dining center!
If you dine at Wilkerson, don't forget to check out Wilkerson 202 which is a more private dining space by the dish return and bathrooms.
6. Return Dishes & Enjoy Your Day
When you're done eating, bring your dishes, cups, and utensils to the dish return area by the entrance.
Enjoy the rest of your day!
Takeout containers are limited to:

1 takeout boxes
1 soup cup
1 drink cup

If you decide to take your food to go, you may not eat in the dining center first. You can either dine-in or take out, but not both.
All food must fit within the takeout container limit listed above.