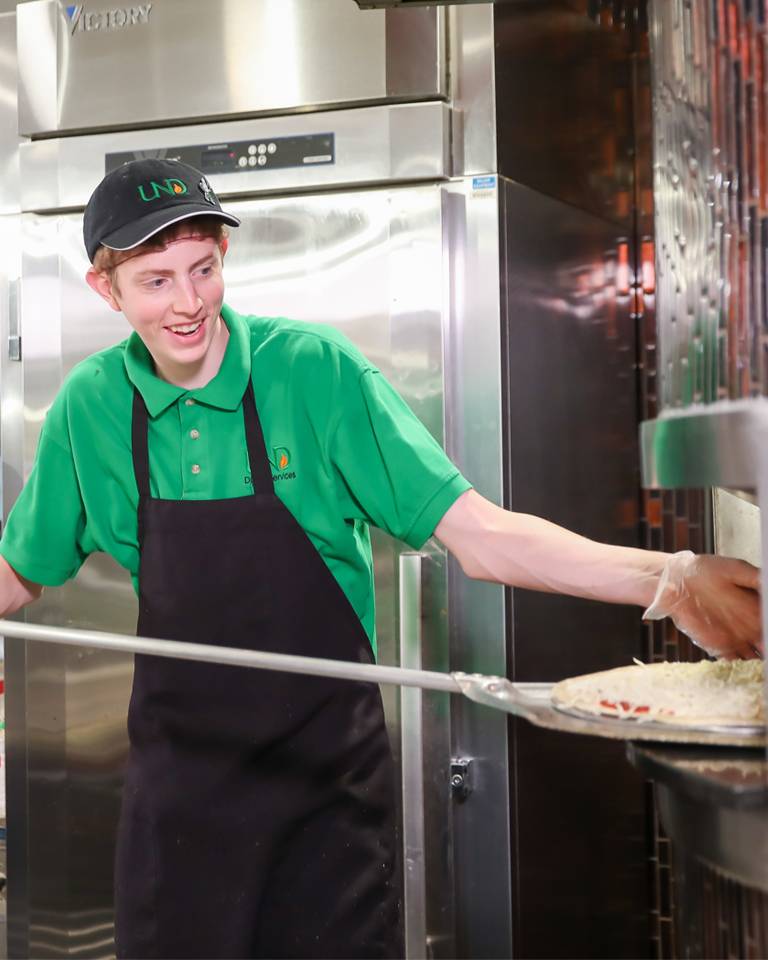 Work for Dining
88% of Dining Student Employees said they made new friends while working for Dining.
When you work for dining, it's more than just a job. It's also about friendship. Join our team and create life-long connections with other students from various majors across campus.
Student Testimony
The first 50 students to accept a job with Dining Services for Fall 2021 by May 6, 2021 are eligible for a $150 bonus!*
Eligibility Details
*Bonus excludes Starbucks, and Stomping Grounds/Xpress Convenience Store.
Newly hired students must:
Be a student at UND.
Be one of the first 50 students to apply and accept a job with Dining Services from April 6, 2021 to May 6, 2021.
Attend spring orientation the week of May 3, 2021 to complete hiring paperwork. Orientation dates:

Wednesday, May 5, 2021: 4:00 pm
Thursday, May 6, 2021: 4:00 pm
Friday, May 7, 2021: 2:00 pm

Work for at least 12+ hours a week until September 30, 2021 in the Fall 2021 semester.
The bonus will be paid via paycheck after all the requirements have been met starting October 15, 2021.
Why Work for Dining
Flexible Schedules
97% of Dining Student Employees said that Dining is very accommodating to working around their class schedule. We know that you're on campus to further your education. We will work around your busy schedule to offer shifts when it works. There are over 180 shifts available daily for students to choose from.
Free Meals
4 out of 5 Dining Student Employees use their free meal with every shift. Enjoy the perks of working for Dining! Each time you work a shift that is more than three hours long, you have the ability to get a FREE meal! You could eat before or after your shift, or if you work more than 5 hours you can eat on your break.
Great Pay
All of our positions start at $10.35 an hour! All positions offer the opportunity to move up as a student leader and increase pay.
Variety of Positions
Everyone is different. We have a variety of positions to offer that accommodate different skills. Dining Services operates the dining centers, University Catering, Memorial Union, and retail operations (Stomping Grounds Coffee Shops, Xpress Convenience Stores). Each area operates a little differently because they all offer a unique experience, which creates many available positions. If you're looking to make a guest's day as a friendly cashier or stay behind the scenes and help keep our spaces clean, we've got a variety of positions that fit with you.
Convenient
All of our positions are located across the campus! You're already going to be on campus for class, so it's easy to use the free time between classes to earn some extra cash. If you work in the dining centers or some retail locations, nothing beats not having to go outside in the winter to make it to your shift!
Grow As A Leader
We need experienced leaders to help keep our operations running. We rely heavily on students to help us do this. There is always an opportunity for students to grow into student leadership positions! Usually once or twice a semester, we request applications for promotion.
Job Locations
Dining Center positions usually open in early summer and as needed throughout the academic year.
There are two dining centers on campus: Wilkerson and Squires.
The dining centers offer a wide variety of position types. You could be serving food, stocking food to serve, preparing food with the chef, helping clean dishware, or greeting people as they enter the facility. Doing one job all the time can get mundane, so there is flexibility in the tasks you may do in a shift.
There are many retail locations across campus. From Stomping Grounds Coffee Shops, to Xpress Convenience Stores.
In retail, some areas operate as convenience stores, coffee shops or restaurants. Each location offers unique opportunities from stocking products on shelves, making specialty coffee drinks, collecting payments or helping to keep the space clean.
The brand new Memorial Union will be home to exciting, new dining locations! This includes:
Chick Fil A
Panda Express
Starbucks
1883 Grill
University Ave Pizza
Dakota Deli
Express Convenience Store
Catering is also apart of the Dining Services operations. This unique area has a lot of needs that are different from the others. This could be setting-up and serving at the many catered events that take place across campus. Events include big days like weddings at the Gorecki Alumni Center, celebration banquets for student organizations, or fun programs for students, staff and faculty in the BRAND NEW Memorial Union!
Dining Student Manager Testimonial
"The best part of working for dining is the people you work with, the experiences you gain, the practical skills you learn - it is a hugely rewarding first job for many. The diversity of campus is reflected in the workforce because of how it brings together people from so many different backgrounds." - Jishnu Basu, Senior
Frequently Asked Questions
All Positions
Each position varies, but every Dining Services Position has at least a $10 per hour starting pay.
All Positions
All student employees are able to get a free meal for each shift if the shift is longer than three hours. You are able to have that free meal before or after your shift.
Catering
You are guaranteed to work multiple positions in catering. Catering is good for someone who likes variety and flexibility. A shift is usually for a whole event, from setting up, serving food, and cleaning up tables or dishes. You will never be bored in catering!
Dining Centers
Doing one task all the time can get to be mundane. With this, students can work more than one position. Some students will do both line serving and dishwashing so they don't get burned out.
Retail Operations
When you work for Retail Operations, you will always be doing a wide variety of tasks. You could be greeting customers at the register, stocking product, cleaning the store, or making food or drinks. As well, there are many different retail locations across campus, and there is an opportunity to cover shifts across all of them.
Catering
Event schedules vary based on the season, time of year, and event type. If you're looking for variety and flexibility, catering is the place for you. Some weeks you could have 15 hours, some weeks could be less. It all depends. There are often opportunities for students to pick up last-minute shifts for events that come up.
Dining Centers
Having a steady income is important, so we do our best to provide 10 to 15 hours a week. Shifts are usually between 2 and 6 hours. A good majority of our shifts are in the 4 to 5 hour range.
Retail
At the beginning of the semester, shifts are usually set in 2 to 4 hour time blocks. Students usually sign up for that shift for the semester. If something comes up and you are unable to work that shift, you will coordinate someone else to work it for you.
All Positions
Being a student, having a social life, and balancing a job can be hard. We want to make sure that you get the most out of your college experience, so we make sure to ask for your availability before scheduling. We can offer this by altering the start or end time of a shift accordingly, or you can get someone else to cover your shift if something comes up.
Catering
With every event having different needs, shifts range from 2 hours to 8 hours. They are also dependent on the event time, which could be in the morning, afternoon, weekend, and even at night. This is great if you're looking to work hours that aren't always the same.
Dining Centers
During the day time hours, shifts will start at random times. Start times are all based on when the most support is needed and could range from 6:00 am to noon. We recognize this time block often will conflict with classes, so these shifts are adjusted the most often to fit around classes.
Afternoon shifts are more structured with the following times:
2:15 pm – 4:30 pm
4:00 pm – 9:00 pm
7:45 pm

–

Midnight or 12:00 am
Retail
Each location and area has a different need based on the season, day of the week, and time of day. When shifts are set up, you get to select the day of the week and time of day based on availability. So shifts are when it is best suited for you!
All Positions
Prior experience is not needed to apply! We offer in-depth training for all of the new positions so they are comfortable with the work they will be doing before getting started.
All Positions
We need experienced leaders to help keep our operations running. We rely heavily on students to help us do this. There is always an opportunity for students to grow into student leadership positions! Usually once or twice a semester, we request applications for promotion.
All Positions
With any position in Dining Services, you will gain skills in the following areas:
Customer Service
Teamwork
Critical Thinking
Communication Skills
Timeliness
Patience
Empathy
Dependability
Adaptability